With the countdown to Requiem (pre-order here), the final book in Lauren Oliver's amazing series, which comes out on March 5th, I am going to use the next two Second Chance Sunday's to rediscover the first two books. I have already read Requiem and it is amazing(review on that to come). It is everything Delirium was with a lot of Pandemonium added. Although I'm sad to see the series end, my love of it still holds strong.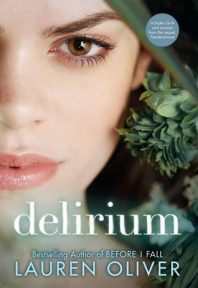 Delirium
by
Lauren Oliver
Series:
Delirium #1
Published by
HarperCollins
Published:
February 7, 2012
Buy on Amazon
Add to Goodreads
There is an alternate cover edition for this ISBN13 here.

In an alternate United States, love has been declared a dangerous disease, and the government forces everyone who reaches eighteen to have a procedure called the Cure. Living with her aunt, uncle, and cousins in Portland, Maine, Lena Haloway is very much looking forward to being cured and living a safe, predictable life. She watched love destroy her mother and isn't about to make the same mistake.

But with ninety-five days left until her treatment, Lena meets enigmatic Alex, a boy from the "Wilds" who lives under the government's radar. What will happen if they do the unthinkable and fall in love?
To say I loved this book would be a huge understatement.  As many can attest I have suggested and pushed this book on any and everyone I encounter.  I've suggested it to friends, acquaintances, and co-workers, some fans of YA literature and dystopian stories and some not.  I have legitimately pushed this book on everyone I know.  Why you may ask? Because it is that freaking good!  And you know what gets me the most now that I have read it twice? I almost didn't know it was so good because I almost didn't read it.
Before this book, I was one of those people that wouldn't read anything that was out of the realm of reality.  If it isn't something that sounds plausible in real life then it was not going to end up on my to-read shelf.  I had successfully dodged the whole vampire phenomenon and managed not to ever pick up a book about magic.  Not my scene, not my thing. But after much pushing from a friend I caved and gave it a shot.  Did I think outlawing love was possible? Not so much, but I figured what the heck, I'll go for it.  And let me tell you, Lauren Oliver made a believer out of me.
At first glance, you read the description and think okay, straight up dystopian story.  Different world, different laws, different time. The United States is completely different. There are borders surrounding it with fences, there is less electricity, not as many cars on the road, less spending. It is a completely made up world at first glance and I guess partly you would be right to think that.  But there is so much more to it then just another dystopian once you get to the core of the story. There is heart and angst and a journey of self-discovery hidden in this "make-believe" world.  It isn't just a story or an alternate reality, it is really a story about a girl that is faced with a truth she never wanted to see and the choices she makes because of it even if it is the opposite of everything she has grown being taught.
Delirium is a story about Lena, an orphaned girl, living with her aunt in Portland, ME.  She is 17 and counting down the days until her 18th birthday so she can get the procedure done that will cure her of the disease, deliria nervosa, we are all born with.  It will cure her of love. In her short 17 years, all she has seen is the destruction love can bring and she wants to forget. She wants to be cured so she can get a free slate and not have to remember what life was like when she felt loved by her mother. She doesn't want to have to worry that the disease will get her too. But what both Lena and the government don't realize is love isn't something you need to be cured from, it is something that makes you strong, something that heals instead of heeds you.  Well, at least Lena didn't realize it until she met Alex.
Alex. What does one say about Alex?! A seemingly normal boy, no different really then a boy in any other book and yet there is something special about him. He is by far one of the best characters I have ever read about. He sees things that others don't see, been through things that he shouldn't have dealt with at his age and yet he believes in love and the power it has.  He believes in Lena and by doing so changes everything Lena thought she wanted, thought she believed in.  He shows her a new world with touching and feeling and laughing and happiness, but he does it in a way that allows her to slowly accept it. He doesn't push or force her to disbelieve everything she was taught and thought was fact. He shows her the world as he sees and, the world he lives in and by doing that he changes Lena as a person and together they become what the meaning of love is truly about.
Honestly, there really aren't enough words in the English language to aptly explain the beauty of this book.  It encompasses so much more than your typical love story.  Oliver truly has written an epic story of beauty and wonder and awe and love. It changed me in the best of ways and I will push for people to read this book for as long as I can because it is that amazing. Please don't be like I was in the beginning and almost miss out on a true work of art.
Related Posts