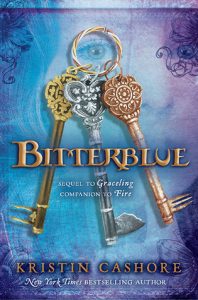 Bitterblue
by
Kristin Cashore
Series:
Graceling Realm #3
Published by
Dial Books
Published:
May 1st 2012
Buy on Amazon
Add to Goodreads
Eight years have passed since the young Princess Bitterblue, and her country, were saved from the vicious King Leck. Now Bitterblue is the queen of Monsea, and her land is at peace.

But the influence of her father, a violent psychopath with mind-altering abilities, lives on. Her advisers, who have run the country on her behalf since Leck's death, believe in a forward-thinking plan: to pardon all of those who committed terrible acts during Leck's reign; and to forget every dark event that ever happened. Monsea's past has become shrouded in mystery, and it's only when Bitterblue begins sneaking out of her castle - curious, disguised and alone - to walk the streets of her own city, that she begins to realise the truth. Her kingdom has been under the thirty-five-year long spell of a madman, and now their only chance to move forward is to revisit the past.

Whatever that past holds.

Two thieves, who have sworn only to steal what has already been stolen, change her life forever. They hold a key to the truth of Leck's reign. And one of them, who possesses an unidentified Grace, may also hold a key to her heart . . .
And the Graceling spark is back! What a great, great ending to a pretty amazing series that I almost never read. If you have read my reviews of Graceling and Fire you know that while I loved Graceling to pieces, Fire was definitely not my favorite. I liked it a lot, but I didn't love it. So with one book left in the series I was scared. I had no idea what I was getting in the final chapter of the story. Well, folks, I got exactly what I hoped for. I got a story that was almost as good as Graceling, faster paced then Fire, and gave me a new love for Queen Bitterblue that I didn't have in Graceling. I got the perfect ending to a fabulous trilogy that managed to pull all three books together in a pretty seamless fashion. Simply put, I got exactly what I was looking for.
Bitterblue takes place 8 years after Graceling and about 3 decades after Fire. It's about Bitterblue, who we first met as a 10-year-old in Graceling who was fleeing from her psychopathic father and is taken into safety by Katsa and Prince Po. Now with her father, Leck dead Bitterblue is Queen of Monsea and has been for some time now. Buried under a mountain of paperwork and the burden of the destruction her father caused Bitterblue yearns to get outside and see her kingdom. Unable to do so thanks to her advisers Bitterblue takes to sneaking out and in the midst uncovers secrets in her kingdom that go back to the time her father ruled Monsea and they are secrets that some people don't want to let out. With the help of some old friends, some commoners and some new friends, Bitterblue has to figure out who to trust and exactly how to move her people forward all while dealing with matters of the heart.
Confession time…I didn't like Bitterblue in Graceling. I know she was a kid, but there was something about her that I found annoying. So basically I was dreading a whole book about her.  But honestly, I fell head over heels for her in Bitterblue. She had grown leaps and bounds since the first time we saw her and man was I ever grateful. She carried the whole book on her back, I mean she had no choice since the book is titled Bitterblue, but you know what I mean. I actually found myself loving her and the power she held and her desire to want to help her people. I loved seeing her work with Katsa, Po, Raffin & Giddon (like the wouldn't make an appearance) and I loved seeing her interact with Sapphire and Teddy. As conflicted as she was about moving forward and away from Leck she knew the right thing to do was try and figure out exactly what went down during his reign. And the addition of Fire, Death and the healer were nice touches.
Was Bitterblue as good as Graceling? No, but I'm not sure many books can be. But what it was was a book all its own that used familiar and not so familiar to tie a trilogy together. It used a good mystery to drag you in and kept it fresh and interesting at the same time. Cashore created a fantasy world that was believable in Graceling, gave some background in Fire and tied it all together in Bitterblue leaving this reader very happy and very satisfied. To all of you out there that convinced me to read this series and take a chance, a humble thank you.
Related Posts