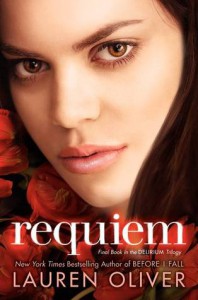 Requiem
by
Lauren Oliver
Series:
Delirium #3
Published by
HarperCollins Children's Books
Published:
March 5, 2013
Buy on Amazon
Add to Goodreads
Now an active member of the resistance, Lena has transformed. The nascent rebellion that was underway in Pandemonium has ignited into an all-out revolution in Requiem, and Lena is at the center of the fight. After rescuing Julian from a death sentence, Lena and her friends fled to the Wilds. But the Wilds are no longer a safe haven. Pockets of rebellion have opened throughout the country, and the government cannot deny the existence of Invalids. Regulators infiltrate the borderlands to stamp out the rebels.

As Lena navigates the increasingly dangerous terrain of the Wilds, her best friend, Hana, lives a safe, loveless life in Portland as the fiancée of the young mayor.Requiem is told from the perspectives of both Lena and her friend Hana. They live side by side in a world that divides them until, at last, their stories converge.

I was lucky, SUPER lucky and got to read this book back in November when a friend lent me her Advanced Readers Copy. To say I devoured it would be a huge understatement.  I read the whole book in probably less than 8 hours and it has taken me 3 months to get my thoughts on paper, 3 months to realize it is over, 3 months to accept that Lena's story is done(well until the TV show starts!).  Why has it taken me so long? Truth: I'm devastated it's over. I loved this series with everything I have and when I turned that last page and read those last words I was slightly heartbroken because it was an ending. Lauren Oliver had crafted such a deep, emotionally story for these characters and I was sad to see them go. From the first page of Delirium to the last page of Requiem I was invested and to say goodbye was hard. But every good beginning must have an end and I'm thrilled to say I'm happy that Requiem was that end.
Much like Delirium, we get to see both Lena and Hana's lives, but this time from both girl's eyes and not just from Lena's perspective. Both girls have chosen different paths in their lives and that is evident almost immediately because neither one of them is the same girl they were at the beginning of the series. Lena is much harder than she was. She has seen things she never imagined she would back in the days she was with Alex. She has had her heart broken and has been thrown for a loop. She feels things more than she ever could have imagined when she left Portland. And then you have Hana. Hana has been living a loveless life in Portland with guilt slowly eating her alive. Once full of life and energy Hana is now a drone fighting her natural urge to feel things. She is torn and restless and yearns for the life that she could have had. Both girls are in two different places in their lives but suddenly on the same path which is about to coverage right while a war is about to begin and everything is about to change.
Amazing really. Requiem is an amazing ending to an amazing series. Each book gave me a different feeling when I was reading it and I think the anxious feeling I got from Requiem was appropriate. It was more action packed and tense than the other two books but had a deep level of emotion as well. I completely understood Lena's motives and Hana's feelings(or lack there off) and why it led each of them to take the actions they did. Lena was stronger than she ever was and Hana was the weak one which in reality was always the case no matter how it appeared. The dynamic between both girls was really spot on.
What I really loved about this book was how you could see the complete growth and maturity of Lena. Oliver managed to show how she became a woman in a subtle yet blatantly apparent way and that was a highlight of this final book. Gone was the uncertain Lena with the school girl like crush on Alex and the envious feelings about her best friend's life. She did what few others had done, she ran and stood up for what she believed in and she was a better person for it.
Bravo Lauren Oliver for opening my eyes to this world and thank you for letting me spend time with these amazing creations. Much like I felt reading that final word, I leave with a smile on my face and tear in my eye.
Related Posts