On Tuesday the final book in the Masque of the Red Death series, Dance of the Red Death by Bethany Griffin, will be released(review on Friday). So I thought what better book for today's Second Chance Sunday then Masque of the Red Death. I really enjoyed this story. It was a very clever take on an Edgar Allen Poe story that was made into a modern dystopian but kept the same creep factor vibe from the original.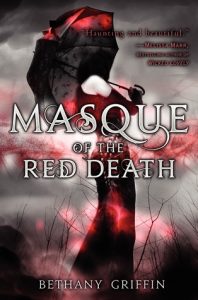 Masque of the Red Death
by
Bethany Griffin
Series:
Masque of the Red Death #1
Published by
Greenwillow Books
Published:
April 24, 2012
Buy on Amazon
Add to Goodreads
Everything is in ruins.

A devastating plague has decimated the population, and those who are left live in fear of catching it as the city crumbles around them.

So what does Araby Worth have to live for?

Nights in the Debauchery Club, beautiful dresses, glittery makeup . . . and tantalizing ways to forget it all.

But in the depths of the club—in the depths of her own despair—Araby will find more than oblivion. She will find Will, the terribly handsome proprietor of the club, and Elliott, the wickedly smart aristocrat. Neither is what he seems. Both have secrets. Everyone does.

And Araby may find not just something to live for, but something to fight for—no matter what it costs her.
Really great start to this story. The characters were interesting, the setting was eerily described and spot on for the plot and the plot was nicely designed to give the reader a glimpse into this series. I enjoyed the twist and turns and the feeling of not knowing who to trust and who was on what side. And it was nice to finally read a book that had a plot twist I didn't see coming from a mile away. It is pretty rare that I can be surprised when reading and this certain part definitely surprised me.
I must admit the part I liked most about this book was the relationships. Between Araby and April, Araby and Will, and Araby and Elliott, not to mention Araby and her parents, the reader really got to see what Araby was about. Each and every relationship was different and showed a different side of her and I enjoyed getting to see that. When she was with April she was the sidekick that was sort of in the shadow of her best friend. With her parents, she was the grief-stricken, guilty girl that survived when her brother couldn't. With Elliott, she was this strong girl that people needed and believe she could hold her own. And with Will, she was a girl, just a simple teenage girl trying to figure everything out. By far her relationship with Will was my favorite. There was something about that Araby that I liked over the rest. Maybe it was the realistic aspect of her just being an uncertain teenage girl, or maybe it was just Will, who I definitely have a little crush on. Whatever it was, it made Araby likable and enjoyable.
The end definitely left me wanting more. Although there were things I could have done without and things I wanted more of, the end pulled stuff together nicely and has me looking forward to book two. Definitely a book to be read.
Related Posts