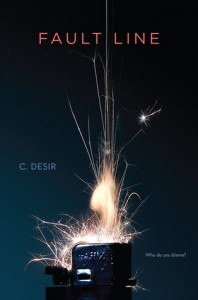 Fault Line
by
C. Desir
Published by
Simon Pulse
Published:
September 30th 2014
Buy on Amazon
Add to Goodreads
Ben could date anyone he wants, but he only has eyes for the new girl — sarcastic free-spirit, Ani. Luckily for Ben, Ani wants him too. She's everything Ben could ever imagine. Everything he could ever want.

But that all changes after the party. The one Ben misses. The one Ani goes to alone.

Now Ani isn't the girl she used to be, and Ben can't sort out the truth from the lies. What really happened, and who is to blame?

Ben wants to help her, but she refuses to be helped. The more she pushes Ben away, the more he wonders if there's anything he can do to save the girl he loves.
I received this book for free in exchange for an honest review. This does not affect my opinion of the book or the content of my review.

Honestly I had a major problem with Fault Line. I found the subject matter intriguing and different but in the end I had trouble with the execution. Ani and Ben were these great characters with depth but I felt everything was just on the surface with them and I never was able to get to the real emotion, to connect with them. And I can't help but wonder if this was because the book was written from Ben's POV when it would have benefited more having been from both POVs.
Fault Line is about Ben, a high school student on the swim team destined to go to Iowa State on scholarship. One night Ben is out with his friends and he meets the new girl Ani and Ben is smitten faster than you can blink. Ani is like no one he has ever met before. She is fun and honest and has a way about her that completely blows Ben over. He falls completely head over heels for her and Ani for him. Then one night Ani goes to a party with a friend that Ben declines to go to. When something happens at the party, Ben and Ani's world is blown apart and both are helpless to pick up the pieces and get back to what they had. As things begin to get progressively worse everything Ben has worked for is about to crumble and he has to decide what is more important, looking for a girl that may not want to be found, or going after what he has worked for his whole life.
For me, there was no connection at all with his characters. I didn't understand either of their motives so I had a hard time feeling sympathy for either. What Ani went through was horrible and awful and I would never wish that on anyone, and how she dealt with it was completely normal in my opinion, but I just didn't feel it. It all felt so clinical which made me sad as I was really excited for this book. I also couldn't get behind Ben at all. He was looking like such a fool a lot of the time and I just didn't understand why. I know he felt guilty, but he wasn't to blame and he was doing all that he could. I just didn't feel any compassion.
Like I said in the beginning I liked the characters as a whole at the start of the book but I just lost it in the middle and the end. I truly believe this is a book that would have benefited from having 2 narrators or the voice of the story being Ani. I really can't say any more than that.
Related Posts