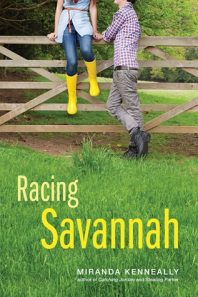 Racing Savannah
by
Miranda Kenneally
Series:
Hundred Oaks #4
Published by
Sourcebooks Fire
Published:
December 3, 2013
Buy on Amazon
Add to Goodreads
They're from two different worlds.

He lives in the estate house, and she spends most of her time in the stables helping her father train horses. In fact, Savannah has always been much more comfortable around horses than boys. Especially boys like Jack Goodwin—cocky, popular and completely out of her league. She knows the rules: no mixing between the staff and the Goodwin family. But Jack has no such boundaries.

With her dream of becoming a horse jockey, Savannah isn't exactly one to follow the rules either. She's not going to let someone tell her a girl isn't tough enough to race. Sure, it's dangerous. Then again, so is dating Jack…
I received this book for free in exchange for an honest review. This does not affect my opinion of the book or the content of my review.

There is nothing I love more than a good Miranda Kenneally story. Since her first book, Catching Jordan, I have fallen in love with her storytelling ability and her interesting and unique characters. She has held me capitated with every single one of her books, and Racing Savannah was no different. I loved Jack and Savannah's, love from the wrong side of the tracks, story. It was fun and had a seriousness to it in the way only Kenneally can seem to do.
Racing Savannah is the story of Savannah, a 17-year-old girl that has been around horses all her life. Moving to a new school and a new farm, where her dad was just hired, Savannah is starting off a little out of her element as the Goodwin family is super rich. Dreaming to become a horse jockey someday Savannah makes an impression on the Goodwin's 17-year-old son Jack. While the sparks fly between the two there is just one problem, the help isn't supposed to get close to the Goodwin family. Trying to reach her dreams Savannah has to decide if it is more important to follow her heart or do what is expected of her when it comes to horse racing and even more so when it comes to Jack.
You know what I think I like the most about Kenneally's writing, is the connection she makes between her characters. There is absolutely nothing similar about Savannah and Jack expect for their love of horses. Everything that connects them is superficial at best and they shouldn't work as a couple. But Kenneally makes it so they do work, so you as the reader are rooting for them. You want them to say screw it and ignore the outside world and just be together. Because let's face it, we all want the opposite attracts, forbidden love story. And Kenneally writes it flawlessly.
Jack could have easily come off as pompous and obnoxious with his rich, playboy attitude and Savannah has the potential to get on your nerves with her woe is me look on life. But together these two really worked and I got where they were coming from. Did Savannah get on my nerves at times? Absolutely. Most main characters do. And did I want to tell Jack he wasn't God's gift? No doubt about it. Nobody likes someone that loves themselves. But thanks to Kenneally's writing abilities I was able to see past that and see the story of young love and two people figuring things out. Add in the awesome bonus of characters past and definitely a winner in my book.
Racing Savannah was just the kind of book I needed. It was serious and deep in places, but it was just a great wrong side of the tracks/two different worlds story. It had heart and made me laugh and smile. And it was undoubtedly a Kenneally book. There is no doubt in my mind that any reader that is familiar with her books would know this was from her without even reading the cover. Brava once again Ms. Kenneally, brava.
Pre-Order Free Gift
From Sourcebooks….
They're from two different worlds, but Savannah isn't exactly one to follow the rules. . . get the next contemporary novel from blockbuster YA novelist Miranda Kenneally: RACING SAVANNAH!
Right before her senior year, Savannah's father whisks the family off to Tennessee to work as head groom at fancy Cedar Hill Farms. Savannah finally sees it as the perfect opportunity to earn extra money as an exercise rider—no matter how many others don't want a girl around the barn.  But she's also caught the eye of Jack Goodwin, the owner's son. She knows the rules: no mixing between the staff and the Goodwin family. But Jack has no such boundaries. With her dream of becoming a jockey, Savannah is not going to let someone tell her a girl isn't tough enough to race. Sure, it's dangerous. Then again, so is dating Jack.
We've put together a fun campaign to thank readers for pre-ordering: send us your proof of pre-order and we'll send you this fabulous horseshoe key chain!
A Gift for You, for Pre-Ordering RACING SAVANNAH by Miranda Kenneally
We have a special offer for U.S. and Canada YA fans for the release of RACING SAVANNAH by Miranda Kenneally in stores in a little over three weeks! If you pre-order the book, we will send you an exclusive horseshoe key chain—perfect for any busy teen on the go! You have until December 2 or until quantities run out.
Here's how to get your charm:
1. Pre-order the book (print or eBook) through any retailer (Barnes & Noble, Amazon, your local independent bookseller/Indiebound, Books-A-Million, Hastings, etc.)
2. Email your proof of purchase (receipt or picture of the receipt) to teenfire@sourcebooks.com. Put "Racing Savannah Pre-Order" in the subject line. Don't forget to include your home address (US & Canada only please) so we can send you the horseshoe key chain! If you've already pre-ordered this book—not a problem! Send us your receipt!
3. You will get an email back confirming when the items have been sent out.
4. Enjoy Racing Savannah when it comes out in December!
Optional: take a pic of you and your horseshoe key chain and share it with Miranda Kenneally or Sourcebooks Fire on Twitter! You can find Miranda @mirandakennealy and Sourcebooks Fire @sourcebooksfire.
Related Posts