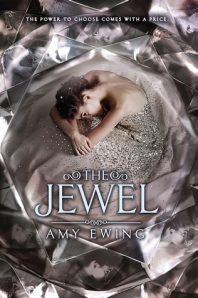 The Jewel
by
Amy Ewing
Series:
The Lone City #1
Published by
HarperTeen
Published:
September 2nd 2014
Buy on Amazon
Add to Goodreads
The Jewel means wealth. The Jewel means beauty. The Jewel means royalty. But for girls like Violet, the Jewel means servitude. Not just any kind of servitude. Violet, born and raised in the Marsh, has been trained as a surrogate for the royalty—because in the Jewel the only thing more important than opulence is offspring.Purchased at the surrogacy auction by the Duchess of the Lake and greeted with a slap to the face, Violet (now known only as #197) quickly learns of the brutal truths that lie beneath the Jewel's glittering facade: the cruelty, backstabbing, and hidden violence that have become the royal way of life.Violet must accept the ugly realities of her existence... and try to stay alive. But then a forbidden romance erupts between Violet and a handsome gentleman hired as a companion to the Duchess's petulant niece. Though his presence makes life in the Jewel a bit brighter, the consequences of their illicit relationship will cost them both more than they bargained for.
I received this book for free in exchange for an honest review. This does not affect my opinion of the book or the content of my review.


What the what was that??? Holy crap I have new book crack.
That was my immediate thought after I finished The Jewel. Which basically summed up my thoughts on the whole book. Simply put, I'm in love!
I was first attracted to The Jewel when I saw the cover. With The Selection series "ending" I knew I was going to need a new book I was addicted to. And when I saw the dress on the cover I hoped The Jewel would fill that void. Then I read what it was about and I was intrigued. I was not a fan of The Handmaids Tale so I was leery since surrogacy was a huge theme in both books, but I wasn't ready to back off. And thank goodness I didn't. This book was just amazing! I was hooked right off the start.
The Jewel is about Violet, a teenager that has been tested for certain abilities and forced into surrogacy. When Violet reaches a certain age she is auctioned off to the royals that live in The Jewel and forced to carry a child for the woman that buys her. With all choices taken away from her Violet has resigned herself to the life she must live of abuse and invisibility. That is until she meets a boy that changes everything. As Violet learns more about The Jewel and the royals and gets closer to the guy she shouldn't her world unravels in a way she never expected leaving her not knowing who to trust and how she will survive.
What really pulled me into The Jewel was the concept. The idea that these poor girls had no say over their bodies, that they became property to these rich women, was both interesting and disgusting. My heart completely ached for Violet. Not all was she taken from everything she knew but she was no longer in control of her own life or her own body. But even with everything against her Violet was still herself. She refused to lose her personality or her drive. She maintained her compassion for others and wasn't afraid to take a chance. Especially when it came to Ash.
Oh Ash, what a complicated story with Ash. First he is just adorable. He did this half smirk, try to hide a smile thing and I swooned. He was just enough parts innocent and arrogant and he was a risk taker for things that mattered. But what really fascinated me about Ash was his job. His character wasn't in a job that is typically connected with the male sex. I thought Ewing's choice to go this way was interesting and a little gutsy. It switched things up and made it fresh and interesting. Plus his chemistry with Violet, insta or not, was spot on. The two of them yearned to want to feel love and to be wanted and not to just be a piece of property that was sold and passed around like they had no feelings or emotions. They both just wanted to be considered in decisions regarding their emotions and their bodies and connected so profoundly because of that. They gave me the tummy flutters guys, tummy flutters!
Anyway, I was basically addicted to The Jewel. It had a compelling plot, great characters and interesting developments that left my mouth hanging open and my heart pounding. I was invested and that's thanks to the amazing narrative Amy Ewing created. I wanted to finish but I knew finishing would suck because I would want more. And more I want. Get on that Ms. Ewing, get on that.
Side note: Pay attention to the character names. It says something about each person that I found pretty cool.
Also, I think this is the first time that I have liked the US cover more than the UK cover. That never seems to happen lately.
Related Posts