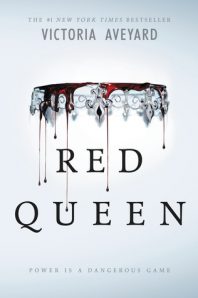 The Red Queen
by
Victoria Aveyard
Series:
Red Queen #1
Published by
Harper Teen
Published:
February 12th 2015
Buy on Amazon
Add to Goodreads
This is a world divided by blood - red or silver.The Reds are commoners, ruled by a Silver elite in possession of god-like superpowers. And to Mare Barrow, a seventeen-year-old Red girl from the poverty-stricken Stilts, it seems like nothing will ever change.That is, until she finds herself working in the Silver Palace. Here, surrounded by the people she hates the most, Mare discovers that, despite her red blood, she possesses a deadly power of her own. One that threatens to destroy the balance of power.Fearful of Mare's potential, the Silvers hide her in plain view, declaring her a long-lost Silver princess, now engaged to a Silver prince. Despite knowing that one misstep would mean her death, Mare works silently to help the Red Guard, a militant resistance group, and bring down the Silver regime.But this is a world of betrayal and lies, and Mare has entered a dangerous dance - Reds against Silvers, prince against prince, and Mare against her own heart . . .
I received this book for free in exchange for an honest review. This does not affect my opinion of the book or the content of my review.
I've been informed that I am now a fantasy reader. Honestly, I'm not sure how it happened, but it did, so now I have a whole bunch more books to potential love. What does that have to do with Red Queen? Well, I wasn't originally planning to read it. I had seen the gorgeous cover, I mean look at that thing!, and kind of passed it by. But then I became a fantasy reader and changed my mind. I picked it up and became intrigued, but not hooked. Then at about 50%, I become hooked and by 70% I needed to see how it would all end. And end it did.
Red Queen is the story of Mare, a girl living in a world separated by blood color. Reds are the lower class disposable class that is sent to fight the war on the front lines while Silvers are the noble blood with powers and money. Mare has only known Red her whole life. That is her life and she knows this. That is until something that happens that brings Mare into the world of Silvers. That makes Mare and anomaly amongst all the people. Mare has powers too. Powers that a Red shouldn't have. Now hiding in plain sight of the royal family Mare has one thing to protect, and that is herself. One wrong move and everything can come tumbling down. Too bad her heart might say something else.
There were parts of Red Queen that I didn't like so much. I found some of the story to be a little rushed at places. There just wasn't enough background at times as the plot moved on. I also was slightly confused by Mare. She has these powers that are new and she doesn't even have trouble controlling them or be afraid to use them. It just didn't seem likely to me that she would just take to it and not be a fish out of water. Sure she was standoffish at times, but still, something felt off. I also wasn't 100% sold on the Hunger Games/Divergent vibe at the end. It didn't seem to naturally fit the rest of the story.
But there were parts of Red Queen that I really liked. First was that it didn't go 100% as I expected in the beginning. Based off of the description I pictured a different book with a super clichéd plot. But I was surprised when it took a different kind of twist. It made it seem a little fresher and new which I appreciated. I also liked the distinct division between the classes. I always find that to be such a fascinating point in society and books. And I also liked the boys in the story. Good or evil, I was entertained by them and curious which way they were going to go and who they really were to the plot.
Even with the stuff, I didn't like, I still found a pretty addictive story. There were parts, like the last half of the book, that the action was raised to the nth level and I loved that. And that end was definitely a doozy. I'm definitely curious where the author will go with this in the next book and how the rest of this story of class lines and deceit will play out in the end. Definitely, one to give a chance to at some point in time.
Related Posts