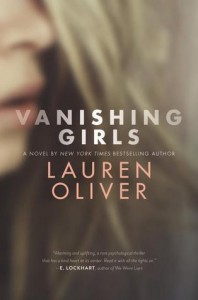 Vanishing Girls
by
Lauren Oliver
Published by
HarperCollins
Published:
March 10th 2015
Buy on Amazon
Add to Goodreads
Dara and Nick used to be inseparable, but that was before the accident that left Dara's beautiful face scarred and the two sisters totally estranged. When Dara vanishes on her birthday, Nick thinks Dara is just playing around. But another girl, nine-year-old Madeline Snow, has vanished, too, and Nick becomes increasingly convinced that the two disappearances are linked. Now Nick has to find her sister, before it's too late.

In this edgy and compelling novel, Lauren Oliver creates a world of intrigue, loss, and suspicion as two sisters search to find themselves, and each other.
I received this book for free in exchange for an honest review. This does not affect my opinion of the book or the content of my review.
I first fell in love with Lauren Oliver's writing when I read Delirium years back. There was something special about the way she wrote the world and the characters. She pulled me right in and I have never looked back. So when I went to one of her signings in early 2014 and she told us about Vanishing Girls it was a no brainer. I mean as soon as it was available I pre-ordered it. One of the best decisions I have ever made. Vanishing Girls was absolutely fantastic. And right up there with my Delirium love if not a tiny bit above it. Oliver outdid herself with this one.
Vanishing Girls is about sisters Nicole and Dara. Although nothing alike, Dara is super popular with a ton of friends while Nick likes to keep to herself with her best friend Parker, the two girls have always been pretty much joined at the hip. Then there is an accident and their relationship is shattered. Nick wants things to go back to the way they were before but she can't get Dara to talk to her. And when Dara goes missing along with a 9 year old little girl Nick is determined to figure out what happened and get her sister back no matter the cost.
It's hard to say what I loved about Vanishing Girls so much. I honestly found the book to be pure genius. It took me by surprise but at the same time it was filled with everything I expect from a Lauren Oliver book. It was fantastic. Oliver 100% nailed it. The plot was there, the characters were there, and the writing was there. Everything just worked for me and gave me a story that stuck and hit me in just the right places. My heart ached for these sisters, this family, all of the people involved. Everything just hurt for them and much like Nick I wasn't sure how to fix the hurt.
The other thing I really enjoyed was the way the story was told. Chapters were told from either Nick or Dara's POV from the past or from the now. Some were told in diary format from Dara's point of view and I think that really added to the story. It gave us some light into Dara's head space before the accident and what kind of things she was keeping from people and what she was feeling. I think that added a lot to the story in the end. It gave an excellent point of reference for when everything is said and done and adds a small mystery to the story which I love in a good book.
I can't say enough how much I loved Vanishing Girls and think everyone should read it. It kept me interested from the beginning to the end and I loved how everything unfolded and connected. Oliver outdid herself with this one. The plot was pretty epic and the whole story just worked for me. Pick this one up. I'm so happy I have.
Related Posts