I'm really excited to be part of the First & Then Superlative Blog Tour hosted by Macmillan. It's a fun take on high school life and fits in with the book (look out for my review soon-ish). We were each assigned a superlative to work with and I got…
I had a little bit of a hard time with this when I first got it. I mean mostly the class clown is a secondary character s I really had to work my brain muscles to come up with some. With a little help from my friends (I mean what is more high school than asking your friends for help with "homework") I was able to add a couple more class clowns to the list I had formed.
To me a class clown isn't always the "funny" guy. Sure he can be. But I also think of people like Pacey Witter from Dawson's Creek and how he was more the guy that didn't take anything seriously. And that is what I based my list on, a combination of the two.
Since You've Been Gone || My Life Next Door || Shatter Me || Angus, Thongs and Full-Frontal Snogging || Meant to Be || The Sea of Tranquility
Besides naming my favorite Class Clowns I got to ask Emma Mills, the author of First & Then, a question about her thoughts on Class Clowns. I went in a different direction with it and I really liked her answer:
Why do you think the class clown is usually the one that ends up alone? Why can't the funny guy be the one that is the "hero" in the end?
Emma: I have to say, I'm a big fan of the class clown being the hero in the end! But I suppose the class clown or the funny person may end up alone because they often serve to ease a group dynamic. The class clown may be more busy thinking about everyone as a whole than focusing on one person specifically. But Chandler landed Monica in the end, so there's definitely hope for the class clown!
Also Macmillan is kind enough to offer one of my readers (US ONLY) a finished copy of First & Then as part of the tour. Enter below!

Want to see what other superlatives are on the tour? Check out the blogs in the awesome graphic below designed by the creative people at Macmillan.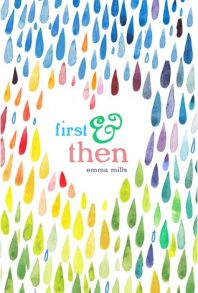 First & Then by Emma Mills
Published by Henry Holt and Co. (BYR)
Published: October 13th 2015
Buy on Amazon
Add to Goodreads

Devon Tennyson wouldn't change a thing. She's happy watching Friday night games from the bleachers, silently crushing on best friend Cas, and blissfully ignoring the future after high school. But the universe has other plans. It delivers Devon's cousin Foster, an unrepentant social outlier with a surprising talent for football, and the obnoxiously superior and maddeningly attractive star running back, Ezra, right where she doesn't want them first into her P.E. class and then into every other aspect of her life.

Pride and Prejudice meets Friday Night Lights in this contemporary novel about falling in love with the unexpected boy, with a new brother, and with yourself.
*besides the tour banner, all graphics made be me on Canva/Picmonkey
Related Posts