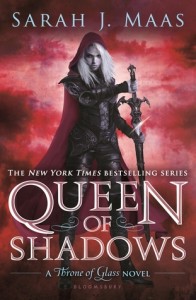 Queen of Shadows
by
Sarah J. Maas
Published by
Bloomsbury USA Childrens
Published:
September 1st 2015
Buy on Amazon
Add to Goodreads
The queen has returned.

Everyone Celaena Sardothien loves has been taken from her. But she's at last returned to the empire—for vengeance, to rescue her once-glorious kingdom, and to confront the shadows of her past . . .

She has embraced her identity as Aelin Galathynius, Queen of Terrasen. But before she can reclaim her throne, she must fight.

She will fight for her cousin, a warrior prepared to die for her. She will fight for her friend, a young man trapped in an unspeakable prison. And she will fight for her people, enslaved to a brutal king and awaiting their lost queen's triumphant return.

The fourth volume in the New York Times bestselling series contrinues Celaena's epic journey and builds to a passionate, agonizing crescendo that might just shatter her world.
Anticipation and expectations go hand in hand when it comes to series and books we love. As a reader you spend days, weeks, months, years (sometimes), waiting for a book to come out and your expectations grow. The problem with expectations is that it is very rare that something can live up to what you build it to be in your head. I mean there is no way for what you imagine will happen to actually happen. But as a reader I have learned to make peace with that. I have learned that you need to take something for what it is and not be upset when a book doesn't go the way you had hoped or imagined. Did Queen of Shadows live up to what I expected it to be? No. What I thought would happen didn't happen at all. What I hoped we would get was not what I got. But you know what? I think it was better than what I expected it to be. Queen of Shadows took the Throne of Glass series and made it grow and I'm actually really thankful for that. When all is said and done I had one thought: That book was fantastic!
Without getting into detail, as I don't want to spoil anything, I guess the thing I liked most in Queen of Shadows was the growth of the characters. Life changes day in and day out. Feelings you had when you were 6 are not the same feeling you will have when you are 36. As you grow and come into your own and figure out who you are feelings change and responsibilities change. I felt like that was the case with the characters in Queen of Shadows. They all started out as these sheep that just followed along with what they were supposed to do or as people hiding from their true responsibilities. But as life and experiences changed they did to and I loved that. Did some of those changes hurt my heart? Sure, at times they did, but I also understood them. They made sense to me and because I that I was able to accept it. (My hope will never die though!)
Basically what I'm saying in my long winded attempt to not give anything away is that I loved Queen of Shadows. It didn't meet my expectations, it surpassed them. Sarah wrote the story in a way that got me on board with anything and everything she decided to do because I understood it and I wanted more of it to see where it will all go. I took my time reading this one so I didn't miss anything and I'm happy I did. It was a really strong addition to a series that is already remarkable and I can't wait for more. I have some theories on what is to come and I can't wait to see how wrong I will be as the series winds down in the final two books.
Related Posts