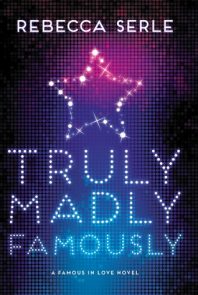 Truly, Madly, Famously
by
Rebecca Serle
Series:
Famous in Love #2
Published by
Poppy
Published:
October 13th 2015
Buy on Amazon
Add to Goodreads
In this romantic sequel to Famous in Love, new Hollywood "It Girl" Paige must navigate love with her co-stars, both on and off screen and all in the public eye.

Lights, camera, love!

After being plucked from obscurity, Hollywood's newest starlet, Paige Townsen, has a hit film to her name and Rainer Devon on her arm. But being half of the world's most famous couple comes with a price, and soon Paige finds herself dodging photographers; hiding her feelings for her other costar, Jordan Wilder; and navigating tabloid scandals that threaten to tear her and Rainer apart-and end her career as quickly as it began.

Rebecca Serle's sequel to Famous in Love is filled with the kind of celebrity drama and swoon-worthy romance fit for the silver screen.
I received this book for free in exchange for an honest review. This does not affect my opinion of the book or the content of my review.
What is it like to live in the bubble of Hollywood? A thought we most likely have all had at one point or another. I mean we hear the stories of the small town girl thrust into the spotlight. We read the magazines on celebrity lifestyles and partying, but we never really know what they could be thinking. What Rebecca Serle does in Famous in Love and Truly Madly Famously is show us what is potentially a celebrities side of it and I must admit it got me wondering if this is really what it is like.
Truly Madly Famously basically picks up where Famous in Love had left off. Paige has now been thrust into the spotlight and is famous. She is dating a celebrity, she is living in Beverly Hills, and she has a hit movie. She is navigating this crazy life without a clue what she is doing but she is enjoying it. But she can't seem to shake her thoughts about a certain someone she can't help but have feelings for. And those thoughts lead her to do something that causes the media to attack. Now caught in a media frenzy Paige needs to figure out how to navigate Hollywood without being America's Sweetheart, how to make friends, who to trust, and which guy is really the soul owner of her heart.
The action was a little slower in this one for me. Not slow in a dull way, but in a real world kind of way. In Truly you get to see what Paige's life is like and how the paparazzi and her decisions and the people she hangs around with affect her perception to the world. Paige starts to change what she does based on this perception and it was fascinating to read about and wonder if people in Hollywood actually do this.
What better location for a book about Hollywood and the media than Los Angeles. I loved the setting of this book so so much! Paige was a fish out of water when it came to Hollywood hotspots and the press. It was awesome to see her at places like The Ivy and to see what was actually behind some of that glitz and glamor. Plus we get to see Hawaii again and a brief visit to Japan. So much fun.
Paige, Rainer and Jordan are my favorite parts of Truly Madly Famously. The three of them and the relationships have changed so much since the first book but they are exactly who they always were but different versions of themselves. They are going through this huge thing together but the tension between all of them complicates things and makes them real have to figure out what they want out of celebrity life and each other. I know a lot of people aren't love triangle fans, but I have to say I really enjoyed this one although I did favor one boy over the other. 😉

I read the first book in this series last May and I loved it. At the time I didn't know there would be another book but after finding out I was beyond thrilled. To be honest I wasn't sure what Rebecca could do to keep it fresh and keep me interested, but she did just that. It was nice to be back in a world with Rainer, Jordan and Paige and I loved how their story unfolded. I heard there may be a 3rd book but I have to be honest, I'm more than happy with how the second ended. Definitely recommend this fun series.

US ONLY
Related Posts