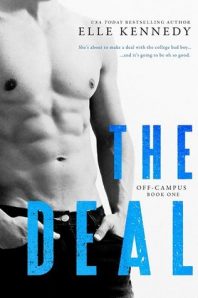 The Deal
by
Elle Kennedy
Series:
Off Campus #1
Published by
Createspace
Published:
April 9th 2015
Buy on Amazon
Add to Goodreads

She's about to make a deal with the college bad boy...
Hannah Wells has finally found someone who turns her on. But while she might be confident in every other area of her life, she's carting around a full set of baggage when it comes to sex and seduction. If she wants to get her crush's attention, she'll have to step out of her comfort zone and make him take notice…even if it means tutoring the annoying, childish, cocky captain of the hockey team in exchange for a pretend date.

...and it's going to be oh so good.
All Garrett Graham has ever wanted is to play professional hockey after graduation, but his plummeting GPA is threatening everything he's worked so hard for. If helping a sarcastic brunette make another guy jealous will help him secure his position on the team, he's all for it. But when one unexpected kiss leads to the wildest sex of both their lives, it doesn't take long for Garrett to realize that pretend isn't going to cut it. Now he just has to convince Hannah that the man she wants looks a lot like him.
I came across The Deal completely randomly. I was looking at what friends were reading and saw a lot where reading it. Since I love books with sports and romance I bought it. BEST DECISION I HAVE EVER MADE! I loved loved loved The Deal. It was such a me book and I couldn't get enough of it.
The Deal is about Hannah Wells and Garrett Graham, two people that couldn't be more different. Hannah is a smart girl that is not well versed in sex and seduction while Garrett is the hockey player hottie that plays the field and has often one night stands as he refuses to settle down. When Garrett needs Hannah's help to keep his GPA up so he can play hockey he offers Hannah a deal; she tutors him and he will pretend to date her so her crush will take notice and get jealous. Hannah is reluctant but agrees and before she knows it she is falling for Garrett in a way she never expected.
Hannah and Garrett. Garrett and Hannah. THEY WERE AMAZING TOGETHER. (Yes I broke out the CAPS LOCK for this.) There was something so natural about these two with their opposites attract vibe and their banter and their friendship. Everything just worked for me. They had fun together and were silly. They fought constantly. But there was a natural attraction that builds while they bantered and flirted and tried to pretend nothing was happening between them. It was amazing to see their relationship grow and blossom and for the two of them to stop hiding from what was in front of them. But it was even better to see them both facing their demons. They were there for each other when they needed to be and that is what endeared me to them.
I'm not going to go on and on about every aspect that I loved about this book because you can see from my rating that it was ALL OF THE BOOK! All you need to know is that you have to read it. If you are looking for a fun story with great characters, sexy/witty banter and a solid back story, then you want The Deal. Actually you know what? You want The Deal anyway. A must read for sure.
The Mistake
by
Elle Kennedy
Series:
Off Campus #2
Published by
Createspace
Buy on Amazon
Add to Goodreads
He's a player in more ways than one…
College junior John Logan can get any girl he wants. For this hockey star, life is a parade of parties and hook-ups, but behind his killer grins and easygoing charm, he hides growing despair about the dead-end road he'll be forced to walk after graduation. A sexy encounter with freshman Grace Ivers is just the distraction he needs, but when a thoughtless mistake pushes her away, Logan plans to spend his final year proving to her that he's worth a second chance.

Now he's going to need to up his game…
After a less than stellar freshman year, Grace is back at Briar University, older, wiser, and so over the arrogant hockey player she nearly handed her V-card to. She's not a charity case, and she's not the quiet butterfly she was when they first hooked up. If Logan expects her to roll over and beg like all his other puck bunnies, he can think again. He wants her back? He'll have to work for it. This time around, she'll be the one in the driver's seat…and she plans on driving him wild.
The first book in the Off Campus series, The Deal, was crazy addictive. I was sucked into that book from the first page. So when I saw it was a series and The Mistake was book two I preordered immediately. Was it that same as my feelings on The Deal? No. Did I still love it? Absolutely! I may not have loved The Mistake or been as addicted to The Mistake as I was to The Deal, but it was book crack all the same.
The Mistake essentially takes places right after The Deal ends. (To be honest It was hard for me to tell how much time passed between the two books.) The story is about John Logan and Grace Ivers. Logan is a hot shot hockey star that walk around campus like a sports god. While Grace on the other had in a quiet freshman that is a little naïve and keeps to herself. When a chance meeting happens between the two a friendship and immediate sparks start up. But when Logan does something stupid Grace washes her hands of the hot hockey player. Now a year later Logan wants Grace back in his life but Grace doesn't know if she should let him. She isn't the same girl she was anymore. With persistence Logan convinces Grace to give him a chance to woo her. But with Grace now running the show just how far will Logan be willing to go to get her back in his life?
There were things I loves about this plot and story and things that I didn't hate but I wasn't crazy about. I didn't love the whole "Logan is in love with Wellsy" story. I just didn't get that he was that kind of guy from his personality and I didn't like the choices he made because of that. But I did love his though process on this when Grace was in the picture and then not in the picture. I loved seeing Logan woo Grace because she knew she deserved it and he knew she deserved. And I loved her not being easy to woo back after he screwed up like he did. That was the best part of the story for me.
I love Briar University. I can't help it. I know it is a made up college but I always like to picture my alma mater when I think about it. It wasn't even close to the same but the campus feels like it could be similar so my mind goes there. Seriously though there is just something about books that take place on college campuses that makes me wish I was college age again. Then you throw sports into the mix and forget about it.
John Logan. What can I say about John Logan? He is arrogant and knows he can get what he wants but is also charming and adorable and a hot hockey player. What is there not to love? All of that and he is human. He makes mistakes and feels bad about it and has insane crazy emotions that he knows aren't right. He is real. And Grace was his perfect counterpart. She didn't really let him get away with anything. She started out naïve but grew and became someone that knew what she was worth. She was strong and just want Logan needed to keep him in his place. Basically I loved them!
In the end I may not have been as addicted as I was to the first book, but I did really love it. I wanted more when all was said and done. It was well written and had a great group of characters. It was everything I hoped for for a follow-up and it made me really look forward to book 3. So book 3, where are you?
Related Posts