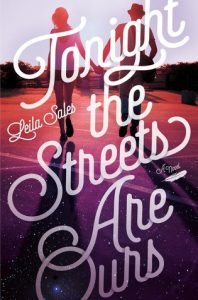 Tonight the Streets Are Ours by Leila Sales
Published: September 15th 2015
Buy on Amazon
Add to Goodreads


Recklessly loyal.

That's how seventeen-year-old Arden Huntley has always thought of herself. Caring for her loved ones is what gives Arden purpose in her life and makes her feel like she matters. But lately she's grown resentful of everyone—including her needy best friend and her absent mom—taking her loyalty for granted.

Then Arden stumbles upon a website called Tonight the Streets Are Ours, the musings of a young New York City writer named Peter, who gives voice to feelings that Arden has never known how to express. He seems to get her in a way that no one else does, and he hasn't even met her. Until Arden sets out on a road trip to find him.

During one crazy night out in New York City filled with parties, dancing, and music—the type of night when anything can happen, and nearly everything does—Arden discovers that Peter isn't exactly who she thought he was. And maybe she isn't exactly who she thought she was, either.
I received this book for free in exchange for an honest review. This does not affect my opinion of the book or the content of my review.
I liked this book, I did. I wasn't crazy in love with it like I had wanted to be after This Song Will Save Your Life, but I liked it. Arden grew a lot in this story. She saw how she wasn't who she thought she was and that there was more to her than expected. That was the part that I really enjoyed. What I didn't like was the Peter part and the "stalking" him in NYC part and his reaction. Personally I found his reaction to the whole thing just odd. It didn't make sense to me that he would be so calm that someone that found him online went to the length Arden did to meet him. That was strange to me. But all in all this was a good book. I didn't hate it but I didn't love it. It did make me want a Just Like Me doll, real bad. 😉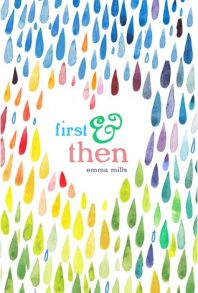 First & Then by Emma Mills
Published by Henry Holt and Co. (BYR)
Buy on Amazon
Add to Goodreads


Devon Tennyson wouldn't change a thing. She's happy watching Friday night games from the bleachers, silently crushing on best friend Cas, and blissfully ignoring the future after high school. But the universe has other plans. It delivers Devon's cousin Foster, an unrepentant social outlier with a surprising talent for football, and the obnoxiously superior and maddeningly attractive star running back, Ezra, right where she doesn't want them first into her P.E. class and then into every other aspect of her life.

Pride and Prejudice meets Friday Night Lights in this contemporary novel about falling in love with the unexpected boy, with a new brother, and with yourself.
I received this book for free in exchange for an honest review. This does not affect my opinion of the book or the content of my review.
I'm not really sure what to say about this one that hasn't been said already. I guess I should start with the fact that I wanted to shake Devon A LOT! She was super judgmental most of the time and it got on my nerves. But the great things about books are the judgmental main characters usually grow and change by the end of the story and Devon certainly did that. She started to open her eyes and see what was what and that she may have over romanticized some situations. When she started to be less of a snob she was actually pretty likable. And I loved her with Ezra and her interaction with Foster, her cousin. That was the highlight for me. I know a lot of people LOVED this book and I think many more will too. I will admit I'm not a huge Jane Austen fan so that might be why I was over the moon for First and Then, but I definitely really liked it. You should check it out if you haven't already.

Hello, Goodbye, and Everything in Between by Jennifer E. Smith
Published by Poppy
Buy on Amazon
Add to Goodreads


On the night before they leave for college, Clare and Aidan have only one thing left to do: figure out whether they should stay together or break up. Over the course of twelve hours, they retrace the steps of their relationship, trying to find something in their past that might help them decide what their future should be. The night leads them to family and friends, familiar landmarks and unexpected places, hard truths and surprising revelations. But as the clock winds down and morning approaches, so does their inevitable goodbye. The question is, will it be goodbye for now or goodbye forever?

Charming, bittersweet, and full of wisdom and heart, this irresistible novel from Jennifer E. Smith, author of The Statistical Probability of Love at First Sight, explores the difficult choices that arise when life and love lead in different directions.
I received this book for free in exchange for an honest review. This does not affect my opinion of the book or the content of my review.
This was possibly one of the most depressing books I have read in a long time. I mean I don't know if I didn't connect with it because I never did the leaving for college thing or the potential break-up because of distance thing, but Clare depressed the crap out of me. She was such doom and gloom through just about every page. She over reacted to everything and expected Aidan to have all the answers and it really got on my nerves. I had to remind myself a few times that I was reading about teenagers which is not something I enjoy when I read a book. I prefer to just read it and not worry about ages but I couldn't do it with this book. The side characters were the bright spot for me (and the end which I wish there was more of in the book). They were way more interesting and weren't wrapped up in themselves so much. I mean I was 50% in and *I* wanted to break-up with Clare. I should have trusted my gut when I saw the mixed reviews but I didn't and found out the hard way that this book was not for me.
Related Posts