I was tagged by the blog tour extraordinaire Hannah, The Irish Banana Reviews, to take part in the fabulous The Secret Life of a Book Blogger tag. I've been kind of lax at doing these tags but what better way then one about blogging.
HOW LONG HAVE YOU BEEN A BLOGGER?
I have been blogging on my own for 3 full years. No seriously I have. You can see it as proof HERE. I started being a co-blogger with a friend and then when she stopped blogging I was talked into running my own. I'm still all like…WOW!
AT WHAT POINT DO YOU THINK YOU'LL STOP BLOGGING?
When it isn't fun anymore. Right now I'm still have loads of fun blogging and when I'm not having fun then I stop. Sure there are the drama moments and the lazy blogger moments but the fun and joy outweighs that so I'm not going anywhere.
WHAT IS THE BEST THING ABOUT BLOGGING?
I mean the book part of blogging doesn't suck. It isn't easy to get books, you do have to do leg work and talk to people, but the books are an excellent perk.
But truly best part of blogging is all of the amazing people I have met. From authors to publishers to bloggers to real life friends. That is something I never thought I would get out of this experience and I will forever be grateful for it. (ALA pictures are not mine. Taken from Gail and Isalys)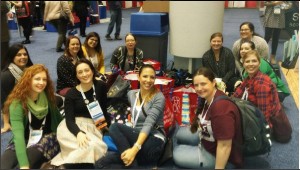 WHAT IS THE WORST THING? WHAT DO YOU DO TO MAKE IT OKAY?
I guess the worst part of blogging is the drama that tends to happen a lot over some really silly things. I hate having to remind people how to be grown-ups and just nice humans in general. When the drama happens I usually hide in my Twitter notifications and stay out of my main feed.
HOW LONG DOES IT TAKE YOU TO CREATE/FIND PICTURES TO USE?
There is no good answer for this. It all depends on if I know what I want to do or the direction I'm going in. Sometimes I have create a picture in like 20 minutes. Other times it can take days. And finding them all depends on how good my Google searching skills are that day.
WHO IS YOUR BOOK CRUSH?
I mean you all have to know this by now, right???
WHAT AUTHOR WOULD YOU LIKE TO HAVE ON YOUR BLOG?
I'll just leave this here and you tell me who I would love to have on my blog:
WHAT DO YOU WEAR WHEN YOU WRITE YOUR BLOG POSTS?
I get to work an hour early and that is typically when I'm doing my blog posts so whatever I wear to work it is.
HOW LONG DOES IT TAKE YOU TO PREPARE?
Again it all depends on the post. Is it something that is a cut and past job? Do I have to format something? Do I have to create pictures? There is no flat out answer for this one.
HOW DO YOU FEEL ABOUT THE BOOK BLOGGER COMMUNITY?
This community is amazing! Like I said before I have met some fantastic people from blogging, people from all over the world. I have made more really great friends. And the book blogging community is one of the most generous groups of people I have ever met.
WHAT DO YOU THINK ONE SHOULD DO TO GET A SUCCESSFUL BLOG?
Be yourself, be polite, be grateful. It is a lot of work to have a successful blog. Some days you will feel like you don't, some days you will feel like you do. Just remember to keep trying. When you get turned down for something be polite and thankful and try again for something else. Blogging is not easy but if you are yourself and polite you can get far in this community.
Thanks again Hannah for the tag. That was fun. Hmm… I tag:
Brittany – The Book Addict's Guide
Gail – Ticket to Anywhere
Danielle – Love at First Page
Lauren – Bookmark Lit
Michelle – Pink Polka Dot Books
Related Posts