Welcome to The ABCs where you can see what accessory, book and clothing item others are lusting after! If you would like more information or would like to sign-up you can click HERE. I've also created a place for authors to sign-up and do the ABCs for one of their main characters. Check that out HERE.
Today we have Katie from Polished Page Turners sharing with us the accessories, books and clothing items she is lusting after.
Now let's give a warm ABCers welcome to Katie!
~~~~~~~~~~~~~~~~~~~~~~~~~~~~~~~~~~~~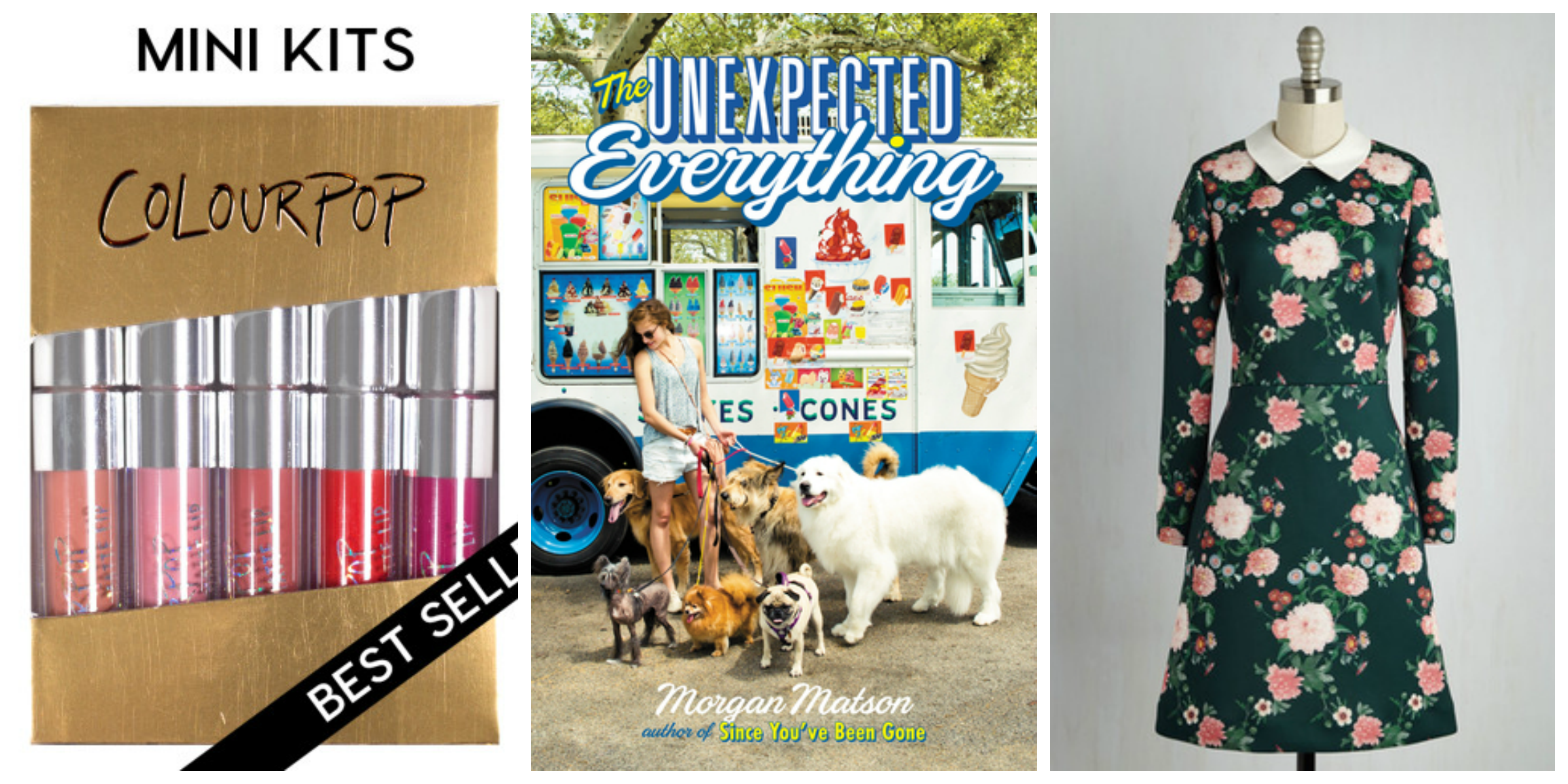 ACCESSORY: Colourpop Ultra Matte Lip
I have been eyeing Colourpop's entire Ultra Matte Lip collection after I saw a few pictures on Instagram. I headed to the Colourpop website and saw all the choices and the affordability. I still haven't quite narrowed my wishlist down (I swear it contains half of the collection) but I watched about 10 different Youtube videos of people swatching them. I cannot wait to place my first order!!
BOOK: The Unexpected Everything by Morgan Matson
I just got this book from work (I'm a bookseller!) and I cannot wait to dive in! Morgan is one of my favorite authors. She writes amazing fun, summery stories that also tackle some serious issues. I want to dive in right now but I'm saving it for an afternoon where I can read the whole book in a single sitting. I know when I start a Morgan Matson book I won't want to put it down!
CLOTHING: Modcloth Like Your Socialite Depends on It Dress
I love wearing dresses. I actually wore jeans the other day and someone said "Katie! I've never seen you wear pants!" I had a good laugh because of how often I wear dresses. So this dress is just a tiny bit out of my price range for what I typically spend on clothing but I can't help but lust after it. The color! The collar! Plus this winter I have really fallen in love with wearing long sleeve dresses and I spend way too much time searching for more dresses to add to my collection. This dress is so pretty and I will keep my eye out for a similar, more affordable one!
~~~~~~~~~~~~~~~~~~~~~~~~~~~~~~~~~~~~
Related Posts