Along with my Goodreads Challenge (you can find my progress on the side bar) I also challenged myself to 3 other challenges for 2016. Every month I will check in with my challenge updates.
Love at First Page and Gone with the Words 2016 Contemporary Romance Reading Challenge. You can find out all the details you need to know HERE. There are different levels to this challenge and I decided to go for the grand slam level.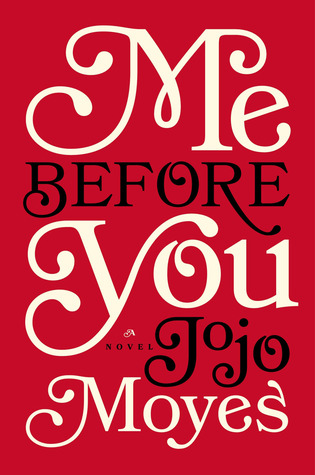 Title: Me Before You
Author: Jojo Moyes
Dates Read: March 30 – April 3
I am still broken from this book and my review still consists of 4 lines and 4 crying gifs. I just can't bring myself to come up with words to accurately describe this beautiful book. It isn't a conventional type of romance but it was a romance all the same in my eyes. The movie will probably kill me and I can't wait.
Title: Make it Count
Author: Megan Erickson
Dates Read: April 8 – 12
This book was sadly not a favorite of mine. It was okay but I got annoyed a lot at the end and rolled my eyes more times than is natural. It didn't live up to my hype in my mind and I honestly don't know if I will continue with the series. But I will mark it a success because I did read something that has been on my TBR list.
I didn't really go all out for this challenge this month. I mean I read a lot of romances but none I really would review (the Cold Fury series for example). I'm okay with it since I have already reached my goal. So far this year I have read 16 for this challenge.
Sarah at The YA Book Traveler is hosting Rock My TBR challenge. It is no secret that as book bloggers we have a lot of books that don't get read. We get busy or getting something new and shiny (we are an easily distracted bunch) and things we were excited about reading don't actually get read. This is my chance to change that and to read some of the books that have been collecting dust since before I was blogging. You can find more information HERE
Title: Violent Ends
Author: Variety of Authors
Dates Read: April 13 – 23
I have been meaning to rread this one for a long time and finally did it. It took a while because it is a heavy story and I couldn't read it all in one sitting or much at once, but it was really well done. Review will be posted next week-ish.
Title: Make it Count
Author: Megan Erickson
Dates Read: April 8 – 12
See Contemporary Challenge
So far I have read 3. Not bad for 4 months and all the new books that have come out.
Lauren from Bookmark Lit is hosting The Must Read in 2016 "Challenge". This challenge isn't really a challenge per say. More a way to push yourself to read some books you were excited about in 2015 that you just never got to. Find out more HERE. This challenge will over lap a lot with Rock My TBR. Because of that I am just going to post a picture of what I read in the month from my original post:
I read 2 of these in April so I feel accomplished. I hope to get to Asunder and How to Love next. I really do hope to get to one of them. We shall see.
How did you do in your April Challenges?
~~~~~~~~~~~~~~~~~~~~~~~~~~~~~~~~~~~~~~~~~~~~~~~~~~~~~~~~~~~~~~~~
April Wrap-Up: Post Edition
Related Posts