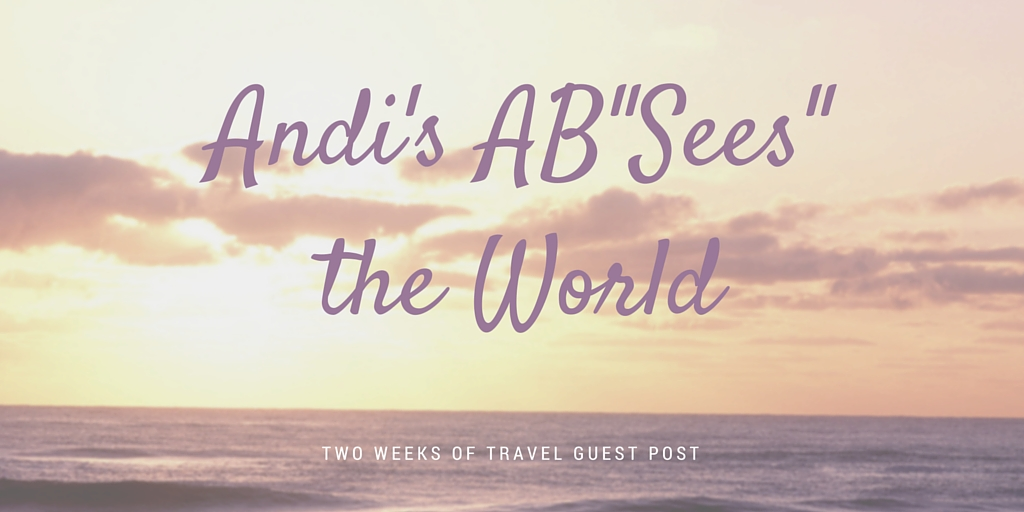 Traveling has always been a passion of mine but it wasn't until recently that I really got the inspiration to start a travel feature on my blog. Every Wednesday I plan to post something related to travel. City guides, packing tips, travel Dos and Don'ts, and city book recs where I'll give book recommendations that make you feel like you've traveled to a certain city even if you can't physically get there yet. I'm really excited to highlight where I've been and what I've learned along the way. I also am super excited to start using the hashtag #WanderlustWednesday on Instagram and I want everyone to participate! You can post a pic of a place you've been, a place you want to go, a travel trinket you have, an inspirational quote, anything that inspires your wanderlust! Hope y'all like my guide to London and join in on Instagram. And a HUGE thanks to Andi for letting me talk travel on her blog!

Hey guys! So this first post is gonna be just a pinch long because 1. Please check out my brand new, beautiful graphic banner thanks to the amazingly talented Rachel from hello, chelly blog! 2. I wanted to thank you all for your feedback and positive words because I have been so incredibly inspired lately! 3. I'm going to do my absolute damnedest to make this a regular post on Wednesdays because 4. I want start doing a a weekly hashtag on Instagram called #WanderlustWednesday and make it unique to me and everybody who wants to participate. That means I'm going to post on Instagram every Wednesday with the hashtag something travel related and I want YOU to join. It can be almost anything–a throwback travel photo of a place you've been, a Google image of where you want to go, an inspirational quote, a travel themed trinket you have, anything that inspires your wanderlust. I know I am incredibly unique and lucky to have the schedule I have and I won't have it forever so I didn't want to make it exclusive. Even if you've never left your hometown you can participate! Sound good? Let's make fetch aka #WanderlustWednesday happen! Ok, moving on!

I have a few general travel posts in the works but I wanted to kick off my new graphic and weekly travel post commitment with a bang. That bang paying tribute to the place a piece of my heart always resides. People ask me all the time what my favorite city is? I have a lot of different answers depending on why they ask/what they're looking for. But gut check, immediate response is London. It might be cliche but London is my absolute favorite city in the entire world. They're are some place I've come to find out that feel like home even if you've never been there or only been there a handful of days. I believe in soul mate cities and London is one of mine. It is the geographical love of my life. So much so that every European trip I've taken, I've made sure I visit London. I'm so crazy in fact that when I decided to spend New Year's Eve in Edinburgh and all flights have to go through London anyways, I made sure I was able to step out into the city. I had a measly 36 hours in my favorite city but that was enough to sustain my heart until next time. I didn't even have any luggage because the airline lost it and lived out of a small backpack for those two days and even that wasn't enough to get me down. I digress.
There are many reasons why my heart calls London home. One of the major ones is my nerdtastic obsession with The Tudors. I spent my high school years lost in Philippa Gregory and Anne Boleyn and all things Henry VIII. I felt like I've been there solely because of my reading. I've branched out for there into other historical fiction and learned a lot of history. Honestly, I think I know more English history than America history and I'm not ashamed to admit it. More than that contemporary books set there also make my heart race. The cottages, the small towns, the greenery, the stones, it's all combined to make me love this city and country more than I could possibly say and I am SO happy that Twitter followers decided they wanted me to write about London first after my travel post hiatus. *rubs hands together* Ok, let's do this.
The Tower of London
It might be a surprise that my favorite place in all of London is the site of the unjustified execution of my historical soulmate, Anne Boleyn, but I love it. There is so much ugliness within those walls but there's a lot of beauty, too. I have been there *cough* three times. The last time, my 36 hour jaunt, I got there 90 minutes before closing and I had to convince the seller it was okay to sell me a ticket because I wouldn't have a lot of time. I actually said to her, listen. I appreciate your concern. I've been here twice before. I need to go to Beauchamp Tower, the chapel, Bloody Tower, and sit in front of the Execution Green for awhile. I got this. She says, You don't want to see the Crown Jewel. Me: No. Been there, done that, I'm good. Her: Well, ok. Enjoy your visit. Me: Oh, I will.
Why I Love It? 
The history. It is the site of all executions under Henry VIII and there is a BEAUTIFUL piece of artwork with a poem commemorating those who were killed. It makes me cry every single time. Yes–I get weird looks. No–I give zero fucks. Lady Jane Grey, Queen for Nine Days, was held in Beauchamp Tower, as well as the Dudley family. Anne Boleyn was held here, Elizabeth I, EVERYONE! The Bloody Tower is where the two princes of Elizabeth Woodville and Edward IV disappeared. Ok, I'm done but I could go on for a LONG while. It's history come to life. Everything I've read in books is here. It's an indescribable feeling to visit places you have read about for years and feel connected to on a cellular level. It's weird but it's my thing, I make no apologies. Oh, and I there's some pretty cool jewelry there, too. And torture chambers. If you're into that.
A 30 min train ride outside of London from Waterloo station, I have visited Hampton Court Palace twice, my second time when I only had the one full day. I love it that much. The setting for almost any novel featuring Henry VIII, they have his apartments, the chapel, great hall, it's all brilliant. Not to mention the gardens. Oh, my gosh! I am convinced Lewis Carroll got his idea for Wonderland after visiting these Garden. They're whimsical and beautiful and I can't say enough about them. See below. It's just inspiring. I can walk in the footsteps of my homegirl Anne Boleyn. I can imagine them seeing these walls, going to the chapel I am standing in, walking the through the gardens I'm looking at. It is my historical dream come to life. Between the Tower and Hampton Court Palace, I could spend days wandering the halls.
Why I Love It? 
It's a bit of a trek out there but so worth it if you love history or palaces. They're are other exhibits depending on what they're featuring but my favorite are the Henry VIII apartments and the kitchens which are featured in The Boleyn King series by Laura Andersen. It is another place where history comes to life for me.
There are…absolutely no words to explain the Nirvana level of experience this tour is. I actually cannot even describe how incredible it is. The first time I went to London it had just opened that month and I was with my high school best friend who is as obsessed with Harry Potter as I am. We spent our high school and early college years literally asking trivia questions we came up back and forth. We're fucking (amazing) weirdos. So to experience this with her just added to the magic. They said average time to go through is like 3 hours…we were there for 5.5 hours. And we barely spoke the entire time. It was like we were in church and had to be quiet in order to absorb all that was around us. Epic is the most minimal word I could use to describe this experience. It was perfect. In the beginning they show two videos highlighting the books and moves and tears, you guys. Actual tears running down my face. It was that powerful. I would have probably sold my first born had they asked as admittance. It's that good. It's also super well organized. You buy a ticket for a certain time and they give you explicit directions how to get there that included a train out of London and a bus that will pick you up directly from the station and take you to the studio. It is perfection.
Why I Love It? 
See above. I have no more words.
I'm a little embarrassed to admit I actually really love these bus tours…but then I remember I give zero fucks and I will say I really love them. A lot of people knock them and say it's too touristy for them and I'd tell them to first, fuck off and second, not to be a snob. First of all, it's free transportation in said city ALL DAY to all major tourist attractions AND I think it gives you a feel for the city. What it looks like all over, major attractions, the history, and you can figure out where you want to go back to and what you can skip. I love them and I think London's is one of the best.
Why I Love It? 
I'm a total architecture and sculptures obsessor and I got to see a lot of amazing stuff I never would have walking or on my own. Plus I'm kinda lazy and I love people telling me history I didn't know before that I haven't read myself. And did I mention FREE TRAVEL all day to all the major attractions? Your ticket lasts all day and you can *ahem* hop on and hop off all day.
I am ashamed to say I have yet to be inside. It was on my agenda the last time I was there but it closed before I could get there. It was on Boxing Day and it literally got dark in London at fucking 4 pm. My time before that I walked around it and it is so beautiful. I can only imagine being inside it. Next time.
Why I Love It? 
Site of coronations, duh. And William and Kate got married there. Even without having been inside, I put this on my list of favorites.
One of the iconic attractions of London, it's definitely something to be seen in person. It's a total tourist thing but it's a given and the view is something you cannot compare. While it's not something I would skip other things for, it's like a rite of passage so I would def do this if you have time.
Why I Love It? 
It's iconic. It's London. And it's something you can check off your bucket list.
I was lucky enough my second time in London to see two shows. Let It Be is basically a Beatles concert where they play all their popular songs in chronological order. You can see the physical and style changes the band members went through. To be honest, I didn't like it. It was 4 randoms playing Beatles songs and that was it. I thought there was a story involved like Jersey Boys but it wasn't. I wouldn't recommend this one. I also saw We Will Rock You which isn't playing anymore, I don't think but it was AMAZING! I wanted to see Wicked when I was there in December but it was sold out.
Tip: Look online for whatever show you want to see and see when they sell day of show discounted tickets. For We Will Rock You it was like 2-4pm on the day of the show. We got amazing seats, obviously what was left so depending on the day you might luck out you might not, for cheap. Same with Let It Be.
Why I Love It? 
I've always been a huge fan of musicals and to see two West End productions was incredible. Especially We Will Rock You. I grew up listening to Queen music and to see it in London was an experience I will never forget.
Ok so stay tuned because I'll have another short post going up next week about London as well. Featuring general London how to's including where I like to stay, where I did not like to stay, neighborhoods where to eat, etc..

Oh, and keep in mind with this post and all other. These are just the places *I* love! There are a thousand things to do in this amazing city and these are just my favorite suggestions! I've got a few more coming in the next post, so stay tuned!
One-Way First Class Ticket
If I could, I would move there if I could and nurses didn't make pennies and they actually granted me a work visa…which they won't…I've tried…no, seriously. I had a job almost in the bag as a Tour Leader with Topdeck Travel and I couldn't get a work visa so I couldn't get the job. Depressing doesn't begin to describe that bitter pill I had to swallow. Le sigh.
~~~~~~~~~~~~~~~~~~~~~~~~~~~~~~~~~~~~~~~~~~~
Thanks Kelly for guest posting!
You can find her here:
Blog | Twitter | Instagram
Related Posts