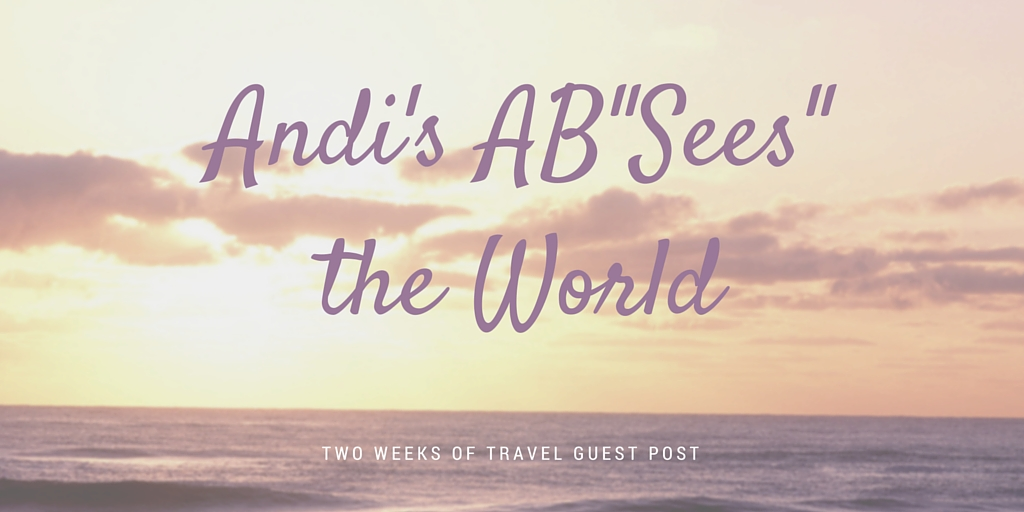 I complain a lot about living in Connecticut. There's not much to do on a daily basis and all of the nearby towns (including the one where I grew up) is just farmland everywhere. Our capital city – Hartford – is best known for scary, not great city statistics instead of the ones I'd like to see. I usually avoid it like the plague. My boyfriend and I are always wondering what to do on the weekend and we ache for faraway places that just aren't here.
However, there are some perks to living in this boring state. The biggest perk? Being able to leave it SUPER easily! From where we are in Connecticut (about 10 minutes from the border of Massachusetts), we can get to any other state in New England (plus New York state and New Jersey) within three hours. It's so easy to take a day trip to anywhere but Connecticut.
Andi's wonderful home city of Boston is only an hour and a half away from us. It's a really easy route too, right up the highway into the city. I'm not a person who likes driving in the city (especially Boston's crazy streets), so I always take the T. There are a couple of nearby train stations within an hour and a half from me. I just drive there, park, and take the T into the heart of the city. There are plenty of things to do in Boston.
Things I've done in Boston:
Family vacations and high school field trips
Shopping and eating around Quincy Market
Duck Boat tours
Cruise on the Boston Harbor
Boston Red Sox games
Concert at the Blue Hills Bank Pavilion
Freedom Trail historic tour
Visiting my friend in Brookline
Bookish events (ALA Midwinter)
While I'm more of a Boston girl than NYC, I do like to make the occasional trip into the bigger city nearby. It takes a bit more effort to get into New York than Boston because of where we're located in Connecticut. We have to drive an hour to New Haven to catch a Metro North train into the city, which takes somewhere around 1.5 hours. We usually make bigger, longer day trips happen if we're going into NYC. There's plenty to do but I'm not as familiar with the Subway there compared to the T in Boston, so we take a lot of cabs.
Things I've done in New York City:
Broadway play with my chorus class in middle school
The Strand bookstore <3
Top of the Empire State Building
Toys R Us in Times Square (wah!)
Times Square shopping
Little Italy
Central Park area
As much as I like visiting the city sometimes, I would much rather take a trip to another nearby state! Between all of the states in New England, New York state, and New Jersey, I have so many other places to choose from. We can get to any of these states in two hours or less. Like I said, Mass is so close to me (especially from my hometown – we lived on the border) that I would literally drive up there, three minutes away, just to get cheaper gas! We can hit Vermont within about 3 hours, New York in 2.5 hours, parts of Maine within 2.5 to 3 hours, New Jersey in about 3 to 3.5 hours, Rhode Island in 1.5 hours, and New Hampshire within 2 hours.
Things I've done in New York state:
Albany for a concert
Vacations at Lake George
Things I've done in Maine:
Grandma lives in Kennebunk
Friend has a house in York
Nubble Point Lighthouse
Shopping in Kittery at the outlets
Fourth of July fireworks on the beach
Beach, shopping, and eating everywhere
Things I've done in New Hampshire:
Visited family
Vacations at Hampton Beach
Things I've done in Massachusetts:
Went to the gas station (really! I live that close where I just buy cheap gas there)
Visited family and friends
Vacations at Cape Cod and Martha's Vineyard
Bookstore trips
Eric Carle Museum
Met up with Chris while at college
Things I've done in Vermont:
Skiing at Mount Snow
Vacation in Burlington
Eating dinner on the New Hampshire/Vermont line
Things I've done in New Jersey:
Lego conventions
Visiting my friend
Heading into NYC with my friend from NJ
Vacation on the Jersey shore
Things I've done in Rhode Island:
Went to college
Visited friends and stayed in Providence
Newport for day trips
Misquamicut Beach
Even though I complain about living in the tiny, boring state of Connecticut, I love being able to easily access SO many other states in the area. If and when we move away for a little while, we'll definitely miss having so many options nearby. We love planning vacations in other states and absolutely take advantage of having everything so close.
Connecticut does have a few things to offer though. I love having Mystic and other towns on the shore available for a close beach. There's an aquarium and fun old-time village down there as well. Hartford has some fun museums and good restaurants when I feel like venturing there. We like to take some trips down to other parts of the state for great seafood and bookstores.
Thanks for hosting me, Andi! <3
~~~~~~~~~~~~~~~~~~~~~~~~~~~~~~~~~~~~~~~~~~~
Thanks Lauren for guest posting!
You can find her here:
Website | Twitter | Instagram | Goodreads
Related Posts