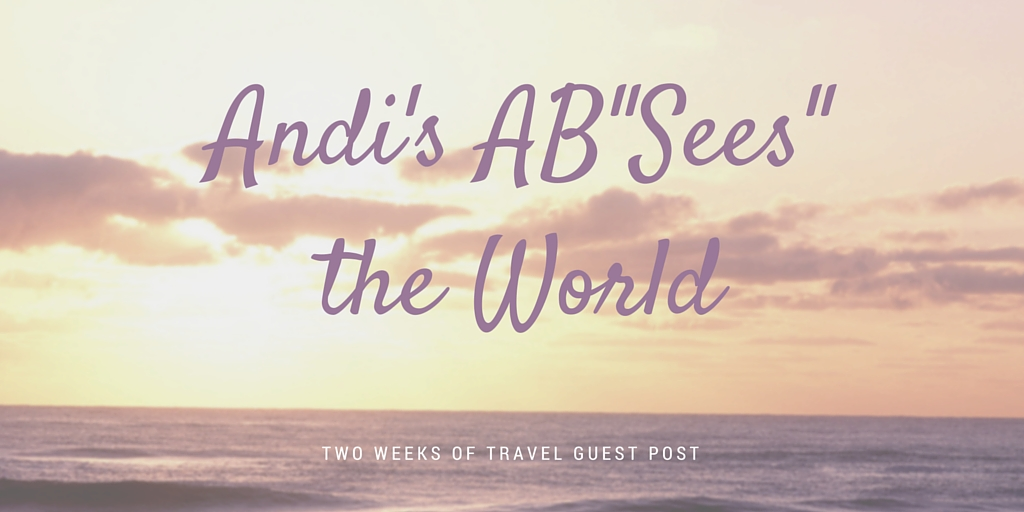 My Seven Wonders of the World
Okay, so most people know what the Seven Wonders of the World are (and I'll admit that I'm a bit of a sucker for the Great Pyramid of Giza and the Hanging Gardens of Babylon). They're really fancy and cool places that Dudes from History have deemed important enough to call the "Seven Wonders."
But my Seven Wonders are not lighthouses or temples or humongous statues. Nope.
Andi asked for some people to shoot her travel post ideas for while she's on vacation (which was an awesome idea), and I knew immediately what I was going to talk about: my Seven Wonders of the World. Basically just really cool and interesting places to me that I can't wait to visit in my lifetime!
1. The Strand Bookstore in Manhattan, New York
Okay so I'm pretty sure everyone talks about Strand Bookstore (usually just called The Strand). If you're a bookworm, I'm pretty sure you know all about The Strand. For one thing: it's old. 86! Maybe it's because I live in Vegas and the oldest bookstore here is like 18 years old, but 86 years and counting seems like a lot.
Second, it's located in Manhattan aka New York City aka My Favorite City Ever. Seriously, I love New York. I love cities and I love its history and I love all of its hustle and bustle and I even like the traffic. So naturally I'm a little biased about The Strand; I just would love to go to a NYC bookstore and think I might just put it on my list next time I'm visiting the East Coast.
THEY HAVE TWO AND A HALF MILLION BOOKS. EIGHTEEN MILES. OF. BOOKS. Please, someone hold me. I could spend a year in this bookstore. They have rare books, used books, new books… it's also three and a half floors so sign me up.
2. Barnes & Noble at The Grove, CA
Clearly bookstores with more than one story are my weakness but oh my god this bookstore. I work for Barnes & Noble, live one state next to California, and have somehow NEVER been to the B&N at The Grove, which is where pretty much every author goes on tour (especially if they're "big"). It's just The Place for book signings it seems, right next to anywhere in NYC. I've added it to this list because I'm pretty sure it's the most impressive Barnes & Noble I have ever seen (not including the ones in NYC which are also impressive). I'm just so in love with this one and can't wait to add it to my California travel plans!
(Side note: I was in California in 2015 and almost went to the Grove B&N but was foiled by not being the driver and being roughly an hour from it. Boooo.)
3. HarperCollins's Publishing Office
Okay so I'm pretty sure everyone knows about the infamous HarperCollins publishing office: modern, sleek, a wall of books in cool-looking shelves, full of natural lighting… What more could there be? It's just unbelievably gorgeous to me!
Since I want to get into publishing I obviously ogle publishing houses (Scholastic is another one), but I think HarperCollins might be one of my favorites. I just love the way it looks when you walk in, so fresh and clean and open. That's one of my favorite atmospheres! I'm not a fan of dark offices or small spaces, so walking in to something that is so open and bright is awesome (@HarperCollins hire me).
4. Buckingham Palace
Talk about a 180! I went from books to Buckingham Palace… but hey, these are my Sever Wonders. 😉 That being said: BUCKINGHAM PALACE. I'm almost positive you can't actually go in the Palace (someone please tell me I'm wrong), but just standing outside it would be awesome. There's so much history here! Kings and queens, princes, royalty, wars… England is just a really cool and interesting place to me.
I threw this on my Seven Wonders list for a very particular reason: I'm a huge England fan. I just love it. Obviously their accents, but I love their cities, too. England is hundreds of years older than America which means a lot of their architecture, cities, and buildings scream "history" at their visitors and residents. I love this (as a closet history buff).
5. BookExpo America
Okay, so here's why I'm throwing BookExpo America (BEA) on this list:
– IT'S HUGE. Literally the #1 pub hub (that's what I like to call these conventions) around. ALA probably comes in second to BEA, which is one of the biggest conventions I've seen besides San Diego Comic Con. It is just made for book lovers, industry professionals, and authors. I know BEA has a lot of "craziness" that comes along with it, but as someone looking to come at it from a more professional side it's the dream place.
– I won't be able to go for some time! I live in Nevada which means all of BEA's destinations are far. Whether it's in NYC or Chicago it's one hell of a trip for me. It's also during my university's finals week, which presents some scheduling issues. But I'm crossing my fingers for the possibility of a trip in the future!
Maybe BEA isn't one of your Seven Wonders, but I can definitely say that as a bookworm this place is Heaven. Oh, look, there's HarperCollins again. (@HarperCollins hire me)
6. Highclere Castle
Bam! Let's throw another random one at you! Highclere Castle, or, if you're familiar with Brit dramas, Downton Abbey's biggest set piece. Owned by the Countess of Carnavron (okay is that a cool name or what?), Highclere Castle is also where Downton Abbey is filmed! And isn't it gorgeous? What I'd give to live in a place like that…
I put this one on my Seven Wonders list for a few reasons, but the first is that it's a place of serious history. A lot of what happens in Downton Abbey really did happen in a lot of family homes like Highclere! Royalty and "hierarchy" aren't as honored anymore in England, but counts and countesses are still looked up to as interesting figures. I'd just love to take a look inside and get to see every room and floor (though I doubt that'll happen since someone, y'know, lives there).
7. The Colosseum in Rome
Was I the only one SUPER PISSED when those two girls drew on the Colosseum walls and then took a selfie? No? Yes? Whatever. I WAS PISSED. Why? Because I love Ancient Rome. (I'm currently powering through SPQR by Mary Beard, which is a history of Ancient Rome and really cool if you're looking for historical nonfiction!) I'm just fascinated with their mythology, their rulers, and the brutality of their military. Sorry, but the Romans are really freaking fascinating.
I'd love to just go to Rome itself, but I would spend hours walking around the Colosseum, learning as much about its history as I possibly could. Ancient historical monuments such as these are so important to our history, and I think it's amazing that it is still standing after two thousand years. That's amazing to me.
There are only three buildings on this list, but I feel that the Colosseum is #7 and is the one thing I'd love to see the most. You can visit bookstores a hundred times, or see Buckingham Palace every time you visit England, but I feel that the Colosseum holds a seriously true amount of history in it that will be a travesty to lose if it ever comes to that. I really hope I can see it in my lifetime!
Alright, that's it for my Seven Wonders! I had such a fun time compiling all of these different places, each one of them more interesting to me than the last. They're not in any particular order or rank, and at the end of the day if I could go see them all I'd have lived a really cool life, I think. Maybe to the "average" person bookstores don't belong on a Seven Wonders list, but to me they're amazing, wonderful things, and I want to see as many unique ones as I possibly can! (Others would also include Books of Wonder, Anderson's Bookshop, and Waterstones.)
Thank you so much to Andi for having me, and I hope you enjoyed my Seven Wonders! Do you have any "Seven Wonders"? They can be anything that wows you! (I mean, I put a convention so…really, anything is possible at this point.)
~~~~~~~~~~~~~~~~~~~~~~~~~~~~~~~~~~~~~~~~~~~
Thanks Sydney for guest posting!
You can find her here:
Goodreads | Twitter
Related Posts