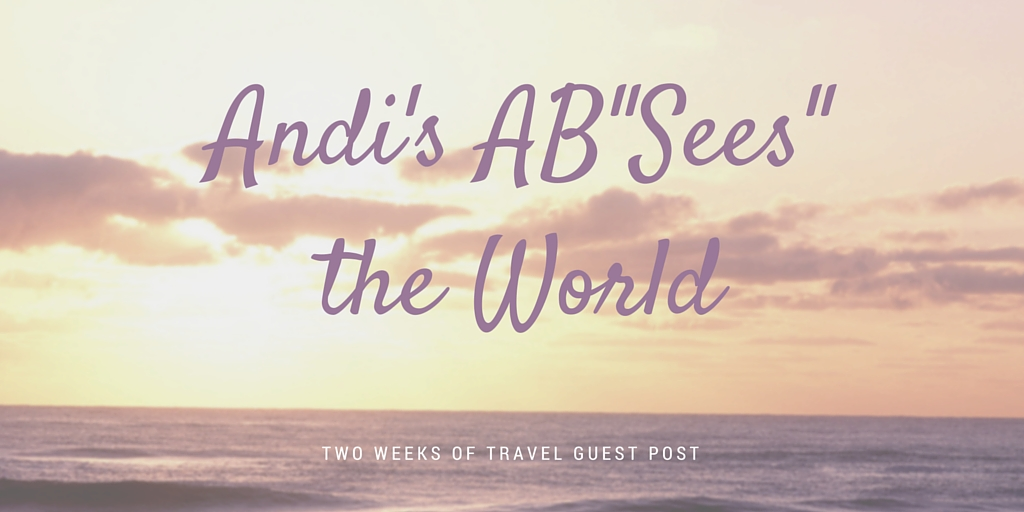 Hey guys, it's me again! Sarah from What Sarah Read! I'm back with another guest post for Andi's AB "Sees The World" feature. Last time I talked about my bookish bucket list, but today I wanted to share a little bit about one of my very favorite travel destinations!
DISNEY WORLD!!!
There is so much I love about "The Happiest Place on Earth" and I'm so excited to talk about all of my favorite rides, sights, sounds and bites! Let's start off with The Magic Kingdom! It's a sentimental favorite for my husband and I. We love the classic Disney feel to it and it's always the first park we go to when we arrive to Disney World. There's nothing better than the feeling of walking through those gates, hearing the classic Disney music and looking down Main Street USA to Cinderella's Castle. Ummm…no….YOU get teary eyed every time!
Our favorite rides at this park are old-school Disney classics! They are original to Disneyland Park out in California and I am so happy they brought these favorites out to Orlando when they first built the parks. Splash Mountain is such a blast with all of the funny scenes throughout, and who doesn't love a big plunge at the end with the very real chance of getting completely soaked? I'm a total diva and suit myself up in a poncho before we hop in our log. As much as I LOVE this ride I really don't want to walk around the park afterwards soaked from head to toe. Out of all the parks in all of Disney World our absolute favorite ride is Pirates of the Caribbean. Don't ask me why cause I don't really have a reason for you. It's probably because it's the first ride we went on together during our first trip to Disney together, but we always rides it at least twice a day when we're at the Magic Kingdom.
Animal Kingdom is another favorite park of mine because they really do an amazing job of immersing you into the experience. The theming is top notch…I mean would you look at this view!
My favorite rides at Animal Kingdom are Expedition Everest and Primeval Whirl. Expedition Everest is this amazing roller coaster that takes you through the Himalayan Mountains on a broken track and the mythical Yeti to attack! It's a fast-paced and fun roller coaster with some of the best ride theming in all of Disney World. My other favorite ride is Primeval Whirl, and although it may be classified as a "kiddie coaster" this ride makes laugh so hard with all of its sudden twists and turns. Both coasters are a MUST ride for my hubby and I when at The Animal Kingdom.
Next up we have Disney's Hollywood Studios! This park is like stepping onto an old Hollywood movie set. I love all the neon lights and art deco architecture. It's my husband's favorite park theme-wise and I must say, it's absolutely gorgeous at night.
My very favorite THRILL ride in all of Disney is here as well…Tower of Terror! I love to hate this ride! When I get into that elevator car I seriously start to freak out and wonder what the heck I was thinking. But the second I hear that bell *DING* and the elevator drops I remember why I love the ride so much. You've also got Rock 'n' Roller Coaster at this park and if you love indoor coasters this one is for you. Plus, it's all themed to the music of Aerosmith and this 80's kid loves that!
Ohhh Epcot, I mean, I do love you. You're in Disney after all! I just wish you had some newer and more relevant attractions. Out of all four parks Epcot would have to be my least favorite. Don't get me wrong I still enjoy my time spent there but the theming really doesn't do it for me and none of the rides really get me overly excited.
What I DO love about Epcot is The World Showcase! I am a wanderlust at heart and have such an appreciation for different cultures, varieties of food and unique architecture, so World Showcase is like someone dropped me in the middle of travel bug heaven. I can get a margarita at the Mexico pavilion, a glass of wine in Paris, or a stein of beer in Germany! Are you sensing a theme here? The World Showcase at Epcot is such a beautiful area to stroll through and take in all the sights. Stopping at each pavilion to get a taste or a sip of something that each country is known for. Quick bit of advice, it's better to go in the evening when the temperatures are cooler and you can check out the amazing fireworks show that takes place out on the lagoon.
So, there you have it! Some pretty great reasons why I love Disney World so much! Be sure to check out the hashtag #sarahsdisneyvacay on Instagram for lots of photos from my latest trip back in February! I just can't help but take a million photos when I'm surrounded by the happiness and magic that is Disney World! Here's some of my faves…
Thanks so much for having me again, Andi! I always love to find an excuse to tell people all about my love for Disney World. If you're planning an upcoming trip and need some tips, tricks, or help with planning, don't hesitate to reach out to me on Twitter!
"Laughter is timeless, imagination has no age,
dreams are forever."
– Walt Disney
All of the gorgeous professional photos in this post are courtesy of the fabulously talented Tom Bricker of the Disney Tourist Blog!
~~~~~~~~~~~~~~~~~~~~~~~~~~~~~~~~~~~~~~~~~~~
Thanks Sarah for guest posting!
You can find her here:
Blog | Twitter | Instagram
Related Posts