As book bloggers and readers we have a ton of books. At any given time I have about 100 books I want to read at once which we all know isn't possible. But with those 100 books I usually have a few in mind that I want to read (unless I'm in a mood reading phase). Currently I have 6 books that I have my eye on to read next, and one that I am desperate to show up on Edelweiss so I can download it and the read the crap out of it.
Tell Me Three Things
by
Julie Buxbaum
Published by
Delacorte Press
Published:
April 5th 2016
Buy on Amazon
Add to Goodreads
Everything about Jessie is wrong. At least, that's what it feels like during her first week of junior year at her new ultra-intimidating prep school in Los Angeles. Just when she's thinking about hightailing it back to Chicago, she gets an email from a person calling themselves Somebody/Nobody (SN for short), offering to help her navigate the wilds of Wood Valley High School. Is it an elaborate hoax? Or can she rely on SN for some much-needed help?

It's been barely two years since her mother's death, and because her father eloped with a woman he met online, Jessie has been forced to move across the country to live with her stepmonster and her pretentious teenage son.

In a leap of faith—or an act of complete desperation—Jessie begins to rely on SN, and SN quickly becomes her lifeline and closest ally. Jessie can't help wanting to meet SN in person. But are some mysteries better left unsolved?

Julie Buxbaum mixes comedy and tragedy, love and loss, pain and elation, in her debut YA novel filled with characters who will come to feel like friends.
~~~~~~~~~~~~~~~~~~~~~~~
Wait for Me
by
Caroline Leech
Published by
HarperTeen
Buy on Amazon
Add to Goodreads
Set on a Scottish farm in the spring of 1945, Wait for Me begins as Paul, a severely burned German prisoner-of-war, is sent to the farm to work. Lorna, the farmer's teenage daughter, soon discovers that in wartime, your family and your allies might not actually be your friends, and your enemy might turn out to be the love of your life. Lorna's friendship with Paul, and their developing love for each other, is challenged by Lorna's own prejudices and by the intolerance of her soldier brother and her friends in the village. Ultimately, the events which bring peace to Europe will tear Lorna and Paul apart. What will Lorna have to give up in order to find Paul again?
~~~~~~~~~~~~~~~~~~~~~~~
Caraval (Untitled, #1) by Stephanie Garber
Published by Flatiron Books
Buy on Amazon
Add to Goodreads

Before you enter the world of Caraval, you must remember that it's all a game . . .

Scarlett has never left the tiny island where she and her beloved sister, Tella, live with their ruthless father. Now Scarlett's father has arranged a marriage for her, and Scarlett thinks her dreams of seeing Caraval, the legendary, once-a-year performance where the audience participates in the show, are over.

Then, Scarlett's long-dreamt of invitation to Caraval finally arrives. So, Tella enlists a mysterious sailor's help to whisk Scarlett away to this year's show. But as soon as the trio arrives, Tella is kidnapped by Caraval's mastermind organizer, Legend.

Scarlett has been told that everything that happens during Caraval is only an elaborate performance. But she nonetheless soon becomes enmeshed in a game of love, heartbreak, and magic with her sister, with Legend, and with the other players in the game. And whether Caraval is real or not, she must find Tella before the five nights of the game are over, a dangerous domino effect of consequences is set off, and her sister disappears forever.
~~~~~~~~~~~~~~~~~~~~~~~
The Problem with Forever by Jennifer L. Armentrout
Published by Harlequin Teen
Buy on Amazon
Add to Goodreads

For some people, silence is a weapon. For Mallory "Mouse" Dodge, it's a shield. Growing up, she learned that the best way to survive was to say nothing. And even though it's been four years since her nightmare ended, she's beginning to worry that the fear that holds her back will last a lifetime.

Now, after years of homeschooling with loving adoptive parents, Mallory must face a new milestone—spending her senior year at public high school. But of all the terrifying and exhilarating scenarios she's imagined, there's one she never dreamed of—that she'd run into Rider Stark, the friend and protector she hasn't seen since childhood, on her very first day.

It doesn't take long for Mallory to realize that the connection she shared with Rider never really faded. Yet the deeper their bond grows, the more it becomes apparent that she's not the only one grappling with the lingering scars from the past. And as she watches Rider's life spiral out of control, Mallory faces a choice between staying silent and speaking out—for the people she loves, the life she wants, and the truths that need to be heard.
~~~~~~~~~~~~~~~~~~~~~~~
For This Life Only by Stacey Kade
Published by Simon & Schuster Books for Young Readers
Buy on Amazon
Add to Goodreads

A young man struggles to move forward after the death of his twin brother in this gripping, coming-of-age tale about loss, redemption, love, and the moment you begin to see the world differently.

Three minutes.

Jacob Palmer died for three life-changing minutes.

And when he woke up, nothing was the same. Elijah, his twin brother, is dead, and his family is broken. Jace's planned future is crushed, along with his pitching arm. Everyone keeps telling him that Eli's in a better place, but Jace isn't so sure. Because in those three minutes, there was nothing.

Overwhelmed by guilt and doubt, Jace struggles to adjust to this new version of the world, one without his brother, one without the certainties he once relied on. And then Thera comes into his life.
She's the last girl he should be turning to for help.

But she's also the first person to truly see him.
~~~~~~~~~~~~~~~~~~~~~~~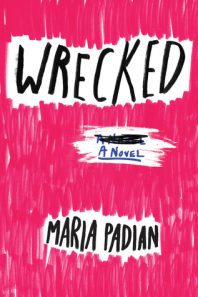 Wrecked by Maria Padian
Published by Algonquin Young Readers
Buy on Amazon
Add to Goodreads

Everyone has heard a different version of what happened that night at MacCallum College. Haley was already in bed when her roommate, Jenny, arrived home shell-shocked from the wild Conundrum House party. Richard heard his housemate Jordan brag about the cute freshman he hooked up with. When Jenny formally accuses Jordan of rape, Haley and Richard find themselves pushed onto opposite sides of the school's investigation. But conflicting interests fueling conflicting versions of the story may make bringing the truth to light nearly impossible--especially when reputations, relationships, and whole futures are riding on the verdict.
~~~~~~~~~~~~~~~~~~~~~~~
This is the book I am desperate to show up on Edelweiss. I'm about half way through the first and I need more!
Corruption (Disruption, #2) by Jessica Shirvington
Published by HarperCollins
Buy on Amazon
Add to Goodreads

The thrilling finale to bestselling author Jessica Shirvington's Disruption series.

How do you live with yourself when you've deceived the one you love?
How do you move on when the person you've been fighting to save betrays you?
Two years ago, Maggie Stevens began the hunt.
Four weeks ago, Maggie's world fell apart, when she finally found what she'd been looking for. And when Quentin, who had blindly trusted her, unravelled her web of lies.
Now, Maggie lives in the dark. But she's not about to stay there. Not when she still has to bring M-Corp down. Not when there is still a chance she could win him back.
In the exhilarating conclusion to Disruption, Maggie must do whatever it takes to show the world the truth. And the price for her quest?
Everything.
But for who?
What are the books on your radar?
Save
Save
Save
Save
Save
Save
Save
Save
Save
Save
Save
Save
Related Posts