Cherry
by
Lindsey Rosin
Published by
Simon Pulse
Published:
August 16th 2016
Buy on Amazon
Add to Goodreads
In this honest, frank, and funny debut novel, four best friends make a pact during their senior year of high school to lose their virginities—and end up finding friendship, love, and self-discovery along the way.

To be honest, the sex pact wasn't always part of the plan.

Layla started it. She announced it super casually to the rest of the girls between bites of frozen yogurt, as if it was just simply another addition to her massive, ever-evolving To Do List. She is determined to have sex for the first time before the end of high school. Initially, the rest of the crew is scandalized, but, once they all admit to wanting to lose their v-cards too, they embark on a quest to do the deed together... separately.

Layla's got it in the bag. Her serious boyfriend, Logan, has been asking for months.

Alex has already done it. Or so she says.

Emma doesn't know what the fuss is all about, but sure, she'll give it a shot.

And Zoe, well, Zoe can't even say the o word without bursting into giggles.

Will everything go according to plan? Probably not. But at least the girls have each other every hilarious, heart-warming, cringe-inducing step of the way.
I received this book for free in exchange for an honest review. This does not affect my opinion of the book or the content of my review.
I was really excited for Cherry. It seemed like a book that would be something different in the YA book world and it was. It was very sex positive for females taking control of their bodies and what they want. It also had a great friendship aspect which I have said more than once I think I lacking in YA. All of that really worked for me. But when all was said in done I ended up being disappointed. The entire book is written in 3rd person but for 4 different people's stories. Because of that I found myself being pulled out of the book. It felt so clinical and like it was being told at me and not to me. It lost some of the greatness about it for me because of this. Also it was super long for the kind of story it was. In the end I was just meh about Cherry and that made me sad.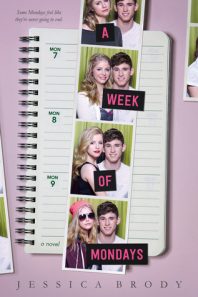 A Week of Mondays by Jessica Brody
Buy on Amazon
Add to Goodreads



When I made the wish, I just wanted a do-over. Another chance to make things right. I never, in a million years, thought it might actually come true...


Sixteen-year-old Ellison Sparks is having a serious case of the Mondays. She gets a ticket for running a red light, she manages to take the world's worst school picture, she bombs softball try-outs and her class election speech (note to self: never trust a cheerleader when she swears there are no nuts in her bake-sale banana bread), and to top it all off, Tristan, her gorgeous rocker boyfriend suddenly dumps her. For no good reason!

As far as Mondays go, it doesn't get much worse than this. And Ellie is positive that if she could just do it all over again, she would get it right. So when she wakes up the next morning to find she's reliving the exact same day, she knows what she has to do: stop her boyfriend from breaking up with her. But it seems no matter how many do-overs she gets or how hard Ellie tries to repair her relationship, Tristan always seems bent set on ending it. Will Ellie ever figure out how to fix this broken day? Or will she be stuck in this nightmare of a Monday forever?
I received this book for free in exchange for an honest review. This does not affect my opinion of the book or the content of my review.
I admit at first I wasn't sure if this book would work. After reading the same day twice I was scared the book would run out of steam by the time I got to the 4th Monday. Instead I was pleasantly surprised. The days didn't get boring and monotonous, they got more and more interesting. They became a way for Ellison to find out who she really was and see how capable she was to do things. That is what I really liked about Mondays. With Ellison not having any consequences she was able to really see who she was and what she wanted out of life. Instead of the book being boring I ended up really want to know what would happen and excited for there to be a new day for things to get messy. Plus Ellie's BFF? Oh how I hearted him! In the end A Week of the Mondays was a fun read that kept me entertained and one I think you will enjoy too.

Rookie Move by Sarina Bowen
Series: Brooklyn/Brooklyn Bruisers #1
Published by Berkley
Buy on Amazon
Add to Goodreads


The first novel in a sexy new series featuring the hockey players of the Brooklyn Bruisers and the women who win their hearts—from the USA Today bestselling author of the Ivy Years series.


In high school they were the perfect couple—until the day Georgia left Leo in the cold...


Hockey player Leo Trevi has spent the last six years trying to do two things: get over the girl who broke his heart, and succeed in the NHL. But on the first day he's called up to the newly franchised Brooklyn Bruisers, Leo gets checked on both sides, first by the team's coach—who has a long simmering grudge, and then by the Bruisers' sexy, icy publicist—his former girlfriend Georgia Worthington. Saying goodbye to Leo was one of the hardest things Georgia ever had to do—and saying hello again isn't much easier. Georgia is determined to keep their relationship strictly professional, but when a press conference microphone catches Leo declaring his feelings for her, things get really personal, really fast....
I received this book for free in exchange for an honest review. This does not affect my opinion of the book or the content of my review.
I didn't love Rookie Move as much as I wanted to. Don't get me wrong, it wasn't painful to read nor did I hate it, I just didn't grab me in a way other sports NA/romances have and that was a letdown. I guess what was really bothersome through the whole book was the coach. I didn't really understand him nor why he was doing what he was doing to Leo. As a grown-up and person of authority he should have known better. Plus he had no idea what he was even talking about which was really annoying to me. I did really like Georgia and Leo together. They had a great chemistry that sparked. But all in all something just felt off. I am eager to read the read of the boys books and to see who Sarina Bowen will give us next. Mark this one as just okay.
Save
Save
Save
Related Posts