In July, I had done a post about 6 books (and 1 dream book) that were on my radar that I planned to read. Truthfully I did pretty well. I'm currently reading the 4th book from that list leaving just 2. Not too bad. Since that seemed to help me narrow down the million books I want to read I figured might as well do it again. Here are the books on my radar (not including the 2 from the last post):
The Only Thing Worse Than Me Is You
by
Lily Anderson
Published by
St. Martin's Griffin
Published:
May 17th 2016
Buy on Amazon
Add to Goodreads
Trixie Watson has two very important goals for senior year: to finally save enough to buy the set of Doctor Who figurines at the local comic books store, and to place third in her class and knock Ben West--and his horrendous new mustache that he spent all summer growing--down to number four.

Trixie will do anything to get her name ranked over Ben's, including give up sleep and comic books--well, maybe not comic books--but definitely sleep. After all, the war of Watson v. West is as vicious as the Doctor v. Daleks and Browncoats v. Alliance combined, and it goes all the way back to the infamous monkey bars incident in the first grade. Over a decade later, it's time to declare a champion once and for all.

The war is Trixie's for the winning, until her best friend starts dating Ben's best friend and the two are unceremoniously dumped together and told to play nice. Finding common ground is odious and tooth-pullingly-painful, but Trixie and Ben's cautious truce slowly transforms into a fandom-based tentative friendship. When Trixie's best friend gets expelled for cheating and Trixie cries foul play, however, they have to choose who to believe and which side they're on--and they might not pick the same side.
~~~~~~~~~~~~~~~~~~~~~~~
Last Seen Leaving
by
Caleb Roehrig
Published by
Feiwel & Friends
Buy on Amazon
Add to Goodreads
Flynn's girlfriend has disappeared. How can he uncover her secrets without revealing his own?

Flynn's girlfriend, January, is missing. The cops are asking questions he can't answer, and her friends are telling stories that don't add up. All eyes are on Flynn—as January's boyfriend, he must know something.

But Flynn has a secret of his own. And as he struggles to uncover the truth about January's disappearance, he must also face the truth about himself.
~~~~~~~~~~~~~~~~~~~~~~~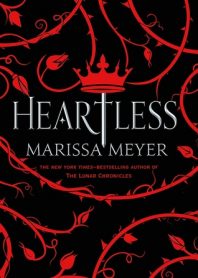 Heartless by Marissa Meyer
Published by Feiwel and Friends
Buy on Amazon
Add to Goodreads

Long before she was the terror of Wonderland―the infamous Queen of Hearts―she was just a girl who wanted to fall in love.

Long before she was the terror of Wonderland, she was just a girl who wanted to fall in love. Catherine may be one of the most desired girls in Wonderland, and a favorite of the unmarried King of Hearts, but her interests lie elsewhere. A talented baker, all she wants is to open a shop with her best friend. But according to her mother, such a goal is unthinkable for the young woman who could be the next queen.

Then Cath meets Jest, the handsome and mysterious court joker. For the first time, she feels the pull of true attraction. At the risk of offending the king and infuriating her parents, she and Jest enter into an intense, secret courtship. Cath is determined to define her own destiny and fall in love on her terms. But in a land thriving with magic, madness, and monsters, fate has other plans.

In her first stand-alone teen novel, the New York Times-bestselling author dazzles us with a prequel to Alice's Adventures in Wonderland.
~~~~~~~~~~~~~~~~~~~~~~~
Empire of Storms (Throne of Glass, #5) by Sarah J. Maas
Published by Bloomsbury USA Childrens
Buy on Amazon
Add to Goodreads

Kingdoms collide in Sarah J. Maas's epic fifth installment in the New York Times bestselling Throne of Glass series.

The long path to the throne has only just begun for Aelin Galathynius. Loyalties have been broken and bought, friends have been lost and gained, and those who possess magic find themselves at odds with those who don't.

With her heart sworn to the warrior-prince by her side, and her fealty pledged to the people she is determined to save, Aelin will delve into the depths of her power to protect those she loves. But as monsters emerge from the horrors of the past, and dark forces become poised to claim her world, the only chance for salvation will lie in a desperate quest that may mark the end of everything Aelin holds dear.

In this breathtaking fifth installment of the New York Times bestselling Throne of Glass series, Aelin will have to choose what -- and who -- to sacrifice if she's to keep the world of Erilea from breaking apart.
~~~~~~~~~~~~~~~~~~~~~~~
The Raven Boys (The Raven Cycle, #1) by Maggie Stiefvater
Published by Scholastic Press
Buy on Amazon
Add to Goodreads

Every year, Blue Sargent stands next to her clairvoyant mother as the soon-to-be dead walk past. Blue never sees them--until this year, when a boy emerges from the dark and speaks to her.

His name is Gansey, a rich student at Aglionby, the local private school. Blue has a policy of staying away from Aglionby boys. Known as Raven Boys, they can only mean trouble.

But Blue is drawn to Gansey, in a way she can't entirely explain. He is on a quest that has encompassed three other Raven Boys: Adam, the scholarship student who resents the privilege around him; Ronan, the fierce soul whose emotions range from anger to despair; and Noah, the taciturn watcher who notices many things but says very little.

For as long as she can remember, Blue has been warned that she will cause her true love to die. She doesn't believe in true love, and never thought this would be a problem. But as her life becomes caught up in the strange and sinister world of the Raven Boys, she's not so sure anymore.
~~~~~~~~~~~~~~~~~~~~~~~
It Started With Goodbye by Christina June
Published by Blink/HarperCollins
Buy on Amazon
Add to Goodreads

Sixteen-year-old Tatum Elsea is bracing for the worst summer of her life. After being falsely accused of a crime, she's stuck under stepmother-imposed house arrest and her BFF's gone ghost. Tatum fills her newfound free time with community service by day and working at her covert graphic design business at night (which includes trading emails with a cute cello-playing client).

When Tatum discovers she's not the only one in the house keeping secrets, she finds she has the chance to make amends with her family and friends. Equipped with a new perspective, and assisted by her feisty step-abuela/fairy-godmother, Tatum is ready to start fresh and maybe even get her happy ending along the way.

A modern play on the Cinderella story arc, IT STARTED WITH GOODBYE shows us that sometimes going after what you want means breaking the rules.

IT STARTED WITH GOODBYE will appeal to fans of Sarah Dessen, Stephanie Perkins, and Jennifer E. Smith.
~~~~~~~~~~~~~~~~~~~~~~~
This is the book I am desperate to show up on Edelweiss.
The Adjustment (The Program, #3) by Suzanne Young
Published by Simon Pulse
Buy on Amazon
Add to Goodreads

Tatum Masterson never went through The Program. She never had her memory stripped, never had to fight to remain herself. But when Weston, her longtime boyfriend and love of her life, was taken by handlers, she hoped he'd remember her somehow—that their love would be strong enough.

It wasn't.

Like all returners, Weston came back a blank canvas. The years he and Tatum spent together were forgotten, as well as the week when he mysteriously disappeared before The Program came for him.

Regardless of his memory loss, Tatum fights to get Weston to remember her. And just as they start to build a new love, they hear about the Adjustment—a new therapy that implants memories from a donor. Despite the risks, Tatum and Weston agree to go through the process. Tatum donates her memories from their time together.

But the problem with memories is that they are all a matter of perspective. So although Weston can now remember dating Tatum, his emotions don't match the experiences. And this discrepancy is slowly starting to unravel him, worse than anything The Program could have done.

And as the truth of their life together becomes clear, Tatum will have to decide if she loves Weston enough to let him go, or to continue to live the lie they'd build together.

Prepare for your Adjustment.
What are the books on your radar?
Save
Save
Save
Save
Save
Save
Save
Save
Related Posts