I'm a YouTube addict. I look at YouTube at least 3 times a day and see if there are any new crafty videos. I search high and low for things that I think I can make and that will be fun, easy and maybe even a little useful. During one of my sessions I came across a tutorial for a book box and I was immediately hooked. All I could think was…I can totally do that. And I did. I made my very first one. (You can see the post HERE)
After that one I made one for my godchild for her graduation since I couldn't fit her card in an envelope.
After I did that one I got a little more creative and decided I would try one and do my own measurements. To be honest it was trickier than I thought I would be and it didn't turn out perfect but Sarvenaz Tash loved it so that is all that matters.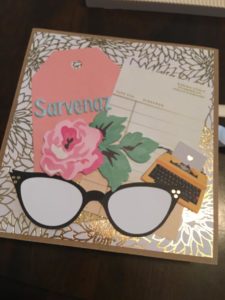 Since then I have gotten great feedback on these fun little boxes and I decided I wanted to share one with one of my lovely ABC readers. So here is your chance to win a personalized Book Box by me.
Giveaway is US only (Sorry international friends, but shipping is hard). Ends 11:59PM EST on 9/8/16.  Enter away!

Save
Save
Related Posts