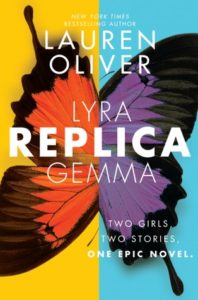 Replica
by
Lauren Oliver
Series:
Replica #1
Published by
HarperCollins
Published:
October 4th 2016
Buy on Amazon
Add to Goodreads
Gemma has been in and out of hospitals since she was born. 'A sickly child', her lonely life to date has revolved around her home, school and one best friend, Alice. But when she discovers her father's connection to the top secret Haven research facility, currently hitting the headlines and under siege by religious fanatics, Gemma decides to leave the sanctuary she's always known to find the institute and determine what is going on there and why her father's name seems inextricably linked to it.

Amidst the frenzy outside the institute's walls, Lyra - or number 24 as she is known as at Haven - and a fellow experimental subject known only as 72, manage to escape. Encountering a world they never knew existed outside the walls of their secluded upbringing , they meet Gemma and, as they try to understand Haven's purpose together, they uncover some earth-shattering secrets that will change the lives of both girls forever...
I received this book for free in exchange for an honest review. This does not affect my opinion of the book or the content of my review.
As a massive Lauren Oliver fan I was really excited to see she had a new book coming out. Delirium will forever be one of my favorite books and Vanishing Girls still blows me away. So when I heard about Replica and its unique concept I was immediately sold. Two books in one with different ways of reading an option? Yes please! And in the end…I really enjoyed the story. I didn't love it as much as I did past Oliver books but I was enthralled and captivated by Lyra and Gemma's stories.
When started Replica I had two options reading; I could read alternate chapters of each girl's story or I could read one girl and then the other. I started reading alt chapters but made it 3 before changing my mind. Instead I read Lyra and then Gemma. I can't really say how you decide to read it will change your reading experience but I can tell you that the way I read it I liked Gemma more than Lyra.
Lyra – 3.5 stars
Lyra was an interesting character to get into. Truthfully I had some trouble with her story. I felt like there were parts missing and I couldn't really get to know her. I mean I liked her enough, but she was hard to get into and to really sympathize with. I don't know if this was because of her not having much human interaction or what, but she was a big struggle for me, especially her bluntness. I also wanted more background. Instead the book just jumped into it. In the end though I did find her interesting and I want to know exactly where her story will lead and how everything that happened to her will affect her in the future.
Gemma – 4 stars
Gemma on the other hand I immediately liked. I liked her story and the sort of mystery that she found herself involved in. Basically I found Gemma to be more likable and her story more interesting. There was something just so basically real about her and I couldn't help but root for her to be the brave, beautiful girl she was. Her story unfolding really was interesting and 100% kept me invested.
Together I loved how these two girls' stories intersected and how they entwined. They made for an interesting story when combined and all the pieces were put together. I may not have loved it as much as Delirium and other Oliver books, but I am interested in knowing more and maybe rereading it with alternating chapters instead of reading one girl and then the other.
Related Posts