There are a lot of really fantastic books coming out in 2017 that I am so excited to read. Some of my favorite authors have new books that I just need to gets my hands on desperately. With that said there are some I just really want more than others, so much in fact I stalk Netgalley and Edelweiss for them and I'm not ashamed of this at all. What are those books? Funny you should ask. I have a handy list right here:
Corruption
by
Jessica Shirvington
Published by
HarperCollins
Published:
March 7th 2017
Buy on Amazon
Add to Goodreads
The thrilling finale to bestselling author Jessica Shirvington's Disruption series.

How do you live with yourself when you've deceived the one you love?
How do you move on when the person you've been fighting to save betrays you?

Two years ago, Maggie Stevens began the hunt. Four weeks ago, Maggie's world fell apart, when she finally found what she'd been looking for. And when Quentin, who had blindly trusted her, unraveled her web of lies.
Now, Maggie lives in the dark. But she's not about to stay there. Not when she still has to bring M-Corp down. Not when there is still a chance she could win him back.

In the exhilarating conclusion to Disruption, Maggie must do whatever it takes to show the world the truth. And the price for her quest? Everything.
But for who?
~~~~~~~~~~~~~~~~~~~~~~~
The Adjustment
by
Suzanne Young
Series:
The Program #3
Published by
Simon Pulse
Buy on Amazon
Add to Goodreads
How do you go back to a life you can't remember? Find out in this follow up to the New York Times bestselling The Program and The Treatment.

Tatum Masterson never went through The Program. She never had her memory stripped, never had to fight to remain herself. But when Weston, her longtime boyfriend and love of her life, was taken by handlers, she hoped he'd remember her somehow—that their love would be strong enough.

It wasn't.

Like all returners, Weston came back a blank canvas. The years he and Tatum spent together were forgotten, as well as the week when he mysteriously disappeared before The Program came for him.
Regardless of his memory loss, Tatum fights to get Weston to remember her. And just as they start to build a new love, they hear about the Adjustment—a new therapy that implants memories from a donor. Despite the risks, Tatum and Weston agree to go through the process. Tatum donates her memories from their time together.

But the problem with memories is that they are all a matter of perspective. So although Weston can now remember dating Tatum, his emotions don't match the experiences. And this discrepancy is slowly starting to unravel him, worse than anything The Program could have done.

And as the truth of their life together becomes clear, Tatum will have to decide if she loves Weston enough to let him go, or to continue to live the lie they'd build together.

Prepare for your Adjustment.
~~~~~~~~~~~~~~~~~~~~~~~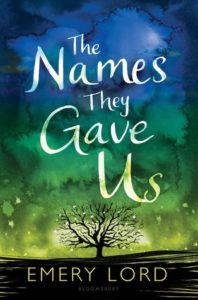 The Names They Gave Us by Emery Lord
Published by Bloomsbury USA Childrens
Buy on Amazon
Add to Goodreads

From acclaimed author Emery Lord comes a vibrant, compelling story of love, loss, faith, and friendship.

Lucy Hansson was ready for a perfect summer with her boyfriend, working at her childhood Bible camp on the lake. But when her mom's cancer reappears, Lucy falters—in faith, in love, and in her ability to cope. When her boyfriend "pauses" their relationship and her summer job switches to a different camp—one for troubled kids—Lucy isn't sure how much more she can handle. Attempting to accept a new normal, Lucy slowly regains footing among her vibrant, diverse coworkers, Sundays with her mom, and a crush on a fellow counselor. But when long-hidden family secrets emerge, can Lucy set aside her problems and discover what grace really means?

Emotionally-charged and unforgettable, Emery Lord's storytelling shines with the promise of new love and true friendship, even in the face of life's biggest challenges.
~~~~~~~~~~~~~~~~~~~~~~~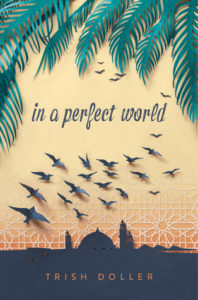 In a Perfect World by Trish Doller
Published by Simon Pulse
Buy on Amazon
Add to Goodreads

From critically acclaimed author Trish Doller comes a gorgeous, hopeful, and heartbreaking novel, set in Cairo, Egypt, about the barriers we tear down for the people and places we love most.

Caroline Kelly is excited to be spending her summer vacation working at the local amusement park with her best friend, exploring weird Ohio with her boyfriend, and attending soccer camp with the hope she'll be her team's captain in the fall.

But when Caroline's mother is hired to open an eye clinic in Cairo, Egypt, Caroline's plans are upended. Caroline is now expected to spend her summer and her senior year in a foreign country, away from her friends, her home, and everything she's ever known.

With this move, Caroline predicts she'll spend her time navigating crowded streets, eating unfamiliar food, and having terrible bouts of homesickness. But when she finds instead is a culture that surprises her, a city that astounds her, and a charming, unpredictable boy who challenges everything she thought she knew about life, love, and privilege.
~~~~~~~~~~~~~~~~~~~~~~~
Bad Romance by Heather Demetrios
Published by Henry Holt and Co. (BYR)
Buy on Amazon
Add to Goodreads

Grace wants out. Out of her house, where her stepfather wields fear like a weapon and her mother makes her scrub imaginary dirt off the floors. Out of her California town, too small to contain her big city dreams. Out of her life, and into the role of Parisian artist, New York director—anything but scared and alone.

Enter Gavin: charming, talented, adored. Controlling. Dangerous. When Grace and Gavin fall in love, Grace is sure it's too good to be true. She has no idea their relationship will become a prison she's unable to escape.

Deeply affecting and unflinchingly honest, this is a story about spiraling into darkness—and emerging into the light again.
~~~~~~~~~~~~~~~~~~~~~~~
Untitled by Sarah J. Maas
Series: A Court of Thorns and Roses #3
Published by Bloomsbury USA Childrens
Buy on Amazon
Add to Goodreads

Looming war threatens all Feyre holds dear in the third volume of the #1 New York Times bestselling A Court of Thorns and Roses series.

Feyre has returned to the Spring Court, determined to gather information on Tamlin's maneuverings and the invading king threatening to bring Prythian to its knees. But to do so she must play a deadly game of deceit-and one slip may spell doom not only for Feyre, but for her world as well.

As war bears down upon them all, Feyre must decide who to trust amongst the dazzling and lethal High Lords-and hunt for allies in unexpected places.
In this thrilling third book in the #1 New York Times bestselling series from Sarah J. Maas, the earth will be painted red as mighty armies grapple for power over the one thing that could destroy them all.
~~~~~~~~~~~~~~~~~~~~~~~
What are the 2017 books on your radar?
Related Posts