With a new year coming in a couple of months my 2017 TBR shelf if about to be blown up with new additions. Between emails and new books added by friends on Goodreads and tweets from publishers (I'm looking at you Epic Reads), all the books will be added. Recently, okay, yesterday, I added 12 new books to my TBR. Since I can't show you all 12, here are the last 5.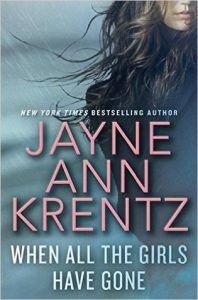 When All The Girls Have Gone
by
Jayne Ann Krentz
Published by
Berkley
Published:
November 29th 2016
Add to Goodreads
Jayne Ann Krentz, the New York Times bestselling author of Secret Sisters, delivers a thrilling novel of the deceptions we hide behind, the passions we surrender to, and the lengths we'll go to for the truth...

When Charlotte Sawyer is unable to contact her step-sister, Jocelyn, to tell her that one her closest friends was found dead, she discovers that Jocelyn has vanished.

Beautiful, brilliant—and reckless—Jocelyn has gone off the grid before, but never like this. In a desperate effort to find her, Charlotte joins forces with Max Cutler, a struggling PI who recently moved to Seattle after his previous career as a criminal profiler went down in flames—literally. Burned out, divorced and almost broke, Max needs the job.

After surviving a near-fatal attack, Charlotte and Max turn to Jocelyn's closest friends, women in a Seattle-based online investment club, for answers. But what they find is chilling…

When her uneasy alliance with Max turns into a full-blown affair, Charlotte has no choice but to trust him with her life. For the shadows of Jocelyn's past are threatening to consume her—and anyone else who gets in their way...
~~~~~~~~~~~~~~~~~~~~~~~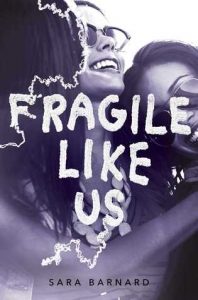 Fragile Like Us
by
Sara Barnard
Published by
Simon Pulse
Add to Goodreads
In the tradition of Sarah Dessen and Morgan Matson comes a pitch perfect novel about friendship and what it takes to break the bonds between friends.

Caddy and Rosie have always been inseparable. But that was before Suzanne. Now the twosome has become a triangle with constantly shifting alliances.

Caddy's ready to be more than just the quiet one. She wants something to happen. Suzanne is trying to escape her past and be someone different, someone free. But sometimes downward spirals have a momentum of their own. And no one can break your heart like a best friend.
~~~~~~~~~~~~~~~~~~~~~~~
Bombshell by Rowan Maness
Published by Simon Pulse
Add to Goodreads

In real life, Joss Wyatt is an ordinary teenage girl, with a tight-knit group of friends and a potential boyfriend. But online, she's an art restorer in Washington, DC, a model jet-setting around Europe, a southern beauty queen trapped in a loveless marriage. Online, she's anyone she wants to be.

For years, Joss has maintained a varied set of alternative lives, using them to escape the boredom that is her existence in a generic Arizona suburb. But when she starts receiving anonymous messages threatening to reveal her identity to everyone she knows—both in real life and online—Joss's carefully constructed worlds begin to unravel. Can Joss catch her stalker before all of her worlds collapse?
~~~~~~~~~~~~~~~~~~~~~~~
You Don't Know Me but I Know You by Rebecca Barrow
Published by HarperTeen
Add to Goodreads

There's a box in the back of Audrey's closet that she rarely thinks about.

Inside is a letter, seventeen years old, from a mother she's never met, handed to her by the woman she's called Mom her whole life.

Being adopted, though, is just one piece in the puzzle of Audrey's life—the picture painstakingly put together by Audrey herself, consisting not only of the greatest family ever but of a snarky, loyal, sometimes infuriating best friend, Rose; a sweet, smart musician boyfriend, Julian; and a beloved camera that turns the most fleeting moments of her day-to-day routine into precious, permanent memories.

But when Audrey realizes that she's pregnant, she feels something—a tightly sealed box in the closet corners of her heart—crack open, spilling her dormant fears and unanswered questions all over the life she loves.

Almost two decades ago, a girl in Audrey's situation made a choice, one that started Audrey's entire story. Now Audrey is paralyzed by her own what-ifs and terrified by the distance she feels growing between her and Rose. Down every possible path is a different unfamiliar version of her life, and as she weighs the options in her mind, she starts to wonder—what does it even mean to be Audrey Spencer?

Rebecca Barrow's bright, honest debut novel about chance, choice, and unconditional love is a heartfelt testament to creating the future you truly want, one puzzle piece at a time.
~~~~~~~~~~~~~~~~~~~~~~~
This Is How It Happened by Paula Stokes
Published by HarperTeen
Add to Goodreads


Somehow I've become a liar. A coward. Here's how it happened.


When Genevieve Grace wakes up from a coma, she can't remember the car crash that injured her and killed her boyfriend Dallas, a YouTube star who had just released his first album. Genevieve knows she was there, and that there was another driver, a man named Brad Freeman, who everyone assumes is guilty. But as she slowly pieces together the night of the accident, Genevieve is hit with a sickening sense of dread—that maybe she had something to do with what happened.

As the internet rages against Brad Freeman, condemning him in a brutal trial by social media, Genevieve escapes to her father's house, where she can hide from reporters and spend the summer volunteering in beautiful Zion National Park. But she quickly realizes that she can't run away from the accident, or the terrible aftermath of it all.

Incredibly thought-provoking and beautifully told, Paula Stokes's story will compel readers to examine the consequences of making mistakes in a world where the internet is always watching…and judging.
~~~~~~~~~~~~~~~~~~~~~~~
If you would like to see the other books I have added, check out my Goodreads TBR HERE
So tell me, what have you added recently to you TBR?
Related Posts