I'm sure by now you have noticed I'm a fan of the reread. I feel like it is an underappreciated art form. I know we all have a ton of books we want to read or are excited to read, but sometimes you just need to read that book that just made you feel things. Or that book you can't get out of your head. Sometimes you just need the comfort of the known inside of the wonder if you will be disappointed in a book. I'm a fan of the reread and I plan to reread a lot this year, not because I have to for a challenge (I'm not doing any challenges this year) but because it is something that is important to me.
What books do I plan to reread this year? Well since you asked:
Anna and the French Kiss: I actually already reread this on January 1st and 2nd. It was my 13th read since it has come out. I may actually read it again this year.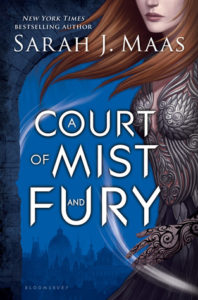 A Court of Mist and Fury: I'm currently rereading this one. I started it on audio and then I couldn't get it out of my head so I went all in. Yes I am insane to reread a 600+ page book but I love it so much.
All in Pieces: One of my FAVORITE reads of 2016. In fact I have already read it twice, and that was before it was even out. There is something about it that just connects with me.
Free to Fall: Last year I read Lauren's Parallel again (FAVE!) so this year I want to tackle Free to Fall again. I just love her writing so much.
The Lies About Truth (Goodreads): I have been meaning to read this again so I can review it and I haven't done it yet. This year it happens. This book was so good!
I'll Meet You There: By far my favorite Heather Demetrios book. I'm kind of obsessed with Josh and Skylar and how everything unfolds for them.
All Our Yesterdays: Since Cristin Terrill has a new book coming out soonish it is about time I revist the book that made me fall in love with time travel books.
Those 7 are just a sample of what I want to reread. I hope to reread at least 12 books, one for each month, but we'll see how it goes.
Do you have a go to reread? Do you reread books?
PS. Here is my post on how to add rereads to Goodreads. It has been a challenge life saver for me.
Related Posts