I have a "rule", I don't write reviews for books I'm reading again if I have already reviewed it. I have never re-reviewed Anna and the French Kiss or Parallel or Twenty Boy Summer. I leave my original reviews as they were and hold on to my love. But since I am trying to show the beauty of the reread I figured I could point out some of the things
Last week I mentioned I was rereading A Court of Mist and Fury. I finished it this weekend and it was just as amazing as it was the first time. The thing about rereads is you always learn something new or have a new way of appreciating the book and the characters and the author. That is part of the magic of rereading and what made my ACOMAF reading experience so much better.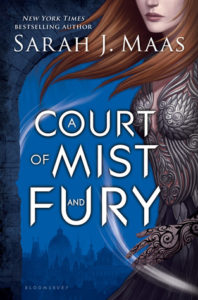 I devoured it this time: When I read ACOMAF in May of 2016 It took me two weeks. Granted I was in Mexico for one of those weeks, but I felt like I read it super slow so I could take it all in. This time I was done in a week. Actually it would have been sooner but life interrupted some reading time.
The more you know: Like a movie that you have already seen, you find all new things when you know how it is going to play out. While I was reading ACOMAF I noticed a lot more than I did the first time. I noticed things characters said and things that seemed to be mentioned in passing but really meant something else.
Focus on the characters: This time I was able to really focus on the characters and the stories attached to them. The first read I basically focused on the story trying to see where it was going to go and how it effected what I thought I knew from book 1. This time I was actually able to look at each character and feel for them and understand them.
Places: Another thing I really got to have a better understanding for was the settings. In a first read they are kind of just there, in the foreground. But this time I actually realized that the settings and places are characters in the book. They mean just as much as Feyre, Rhysand, Tamlin and the others. They are essential to feeling a sense of security and I didn't realize that last may.
Honestly I walked away from ACOMAF feeling better about it than I did the first time I read it and I truly loved it then. It just became more powerful and epic after a reread and got me excited for book 3.
What do you learn when you read a book for the second time?
Related Posts