I am on a staycation this week so I hope to get a lot of reading done. Will that be the case? Time will tell since I have some cards to make (thanks for the order Kelsey!) and a hockey game to attend (I'm going today) and some other things to do. But I do like to get some morning reading in and with some caffeine some late night reading too.
When I plan to spend some time reading I like to have some idea as to what I want to spend time on. Here are about 4 books that are currently in my head to start and one that I need to finish (I took a break to read a crack book).
Salt to the Sea
by
Ruta Sepetys
Published by
Philomel Books
Published:
February 2nd 2016
Buy on Amazon
Add to Goodreads
Winter, 1945. Four teenagers. Four secrets.

Each one born of a different homeland; each one hunted, and haunted, by tragedy, lies…and war.

As thousands of desperate refugees flock to the coast in the midst of a Soviet advance, four paths converge, vying for passage aboard the Wilhelm Gustloff, a ship that promises safety and freedom.
Yet not all promises can be kept.

Inspired by the single greatest tragedy in maritime history, bestselling and award-winning author Ruta Sepetys (Between Shades of Gray) lifts the veil on a shockingly little-known casualty of World War II. An illuminating and life-affirming tale of heart and hope.
~~~~~~~~~~~~~~~~~~~~~~~
The Long Game (The Fixer, #2)
by
Jennifer Lynn Barnes
Published by
Bloomsbury USA Childrens
Buy on Amazon
Add to Goodreads
The Kendricks help make the problems of the Washington elite disappear…but some secrets won't stay buried.

For Tess Kendrick, a junior at the elite Hardwicke School in Washington, D.C., fixing runs in the family. But Tess has another legacy, too, one that involves power and the making of political dynasties. When Tess is asked to run a classmate's campaign for student council, she agrees. But when the candidates are children of politicians, even a high school election can involve life-shattering secrets.

Meanwhile, Tess's guardian has also taken on an impossible case, as a terrorist attack calls into doubt who can—and cannot—be trusted on Capitol Hill. Tess knows better than most that power is currency in D.C., but she's about to discover firsthand that power always comes with a price.
~~~~~~~~~~~~~~~~~~~~~~~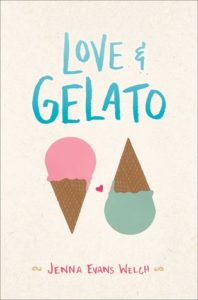 Love & Gelato by Jenna Evans Welch
Published by Simon Pulse
Buy on Amazon
Add to Goodreads

"I made the wrong choice."

Lina is spending the summer in Tuscany, but she isn't in the mood for Italy's famous sunshine and fairy-tale landscape. She's only there because it was her mother's dying wish that she get to know her father. But what kind of father isn't around for sixteen years? All Lina wants to do is get back home.

But then she is given a journal that her mom had kept when she lived in Italy. Suddenly Lina's uncovering a magical world of secret romances, art, and hidden bakeries. A world that inspires Lina, along with the ever-so-charming Ren, to follow in her mother's footsteps and unearth a secret that has been kept for far too long. It's a secret that will change everything she knew about her mother, her father—and even herself.

People come to Italy for love and gelato, someone tells her, but sometimes they discover much more.
~~~~~~~~~~~~~~~~~~~~~~~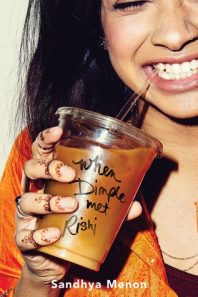 When Dimple Met Rishi by Sandhya Menon
Published by Simon Pulse
Buy on Amazon
Add to Goodreads

A laugh-out-loud, heartfelt YA romantic comedy, told in alternating perspectives, about two Indian-American teens whose parents have arranged for them to be married.

Dimple Shah has it all figured out. With graduation behind her, she's more than ready for a break from her family, from Mamma's inexplicable obsession with her finding the "Ideal Indian Husband." Ugh. Dimple knows they must respect her principles on some level, though. If they truly believed she needed a husband right now, they wouldn't have paid for her to attend a summer program for aspiring web developers…right?

Rishi Patel is a hopeless romantic. So when his parents tell him that his future wife will be attending the same summer program as him—wherein he'll have to woo her—he's totally on board. Because as silly as it sounds to most people in his life, Rishi wants to be arranged, believes in the power of tradition, stability, and being a part of something much bigger than himself.
The Shahs and Patels didn't mean to start turning the wheels on this "suggested arrangement" so early in their children's lives, but when they noticed them both gravitate toward the same summer program, they figured, Why not?

Dimple and Rishi may think they have each other figured out. But when opposites clash, love works hard to prove itself in the most unexpected ways.
~~~~~~~~~~~~~~~~~~~~~~~
Coming Up for Air (Hundred Oaks, #8) by Miranda Kenneally
Published by Sourcebooks Fire
Buy on Amazon
Add to Goodreads

Swim. Eat. Shower. School. Snack. Swim. Swim. Swim. Dinner. Homework. Bed. Repeat.

All of Maggie's focus and free time is spent swimming. She's not only striving to earn scholarships—she's training to qualify for the Olympics. It helps that her best friend, Levi, is also on the team and cheers her on. But Levi's already earned an Olympic try out, so she feels even more pressure to succeed. And it's not until Maggie's away on a college visit that she realizes how much of the "typical" high school experience she's missed by being in the pool.

Not one to shy away from a challenge, Maggie decides to squeeze the most out of her senior year. First up? Making out with a guy. And Levi could be the perfect candidate. After all, they already spend a lot of time together. But as Maggie slowly starts to uncover new feelings for Levi, how much is she willing to lose to win?
~~~~~~~~~~~~~~~~~~~~~~~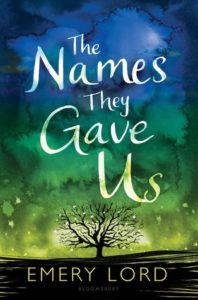 The Names They Gave Us by Emery Lord
Published by Bloomsbury USA Childrens
Buy on Amazon
Add to Goodreads

Lucy Hansson was ready for a perfect summer with her boyfriend, working at her childhood Bible camp on the lake and spending quality time with her parents. But when her mom's cancer reappears, Lucy falters-in her faith and in her ability to cope. When her boyfriend "pauses" their relationship and her summer job switches to a different camp-one for troubled kids-Lucy isn't sure how much more she can handle. Attempting to accept a new normal, Lucy slowly regains footing among her vibrant, diverse coworkers, Sundays with her mom, and a crush on a fellow counselor. But when long-hidden family secrets emerge, can Lucy set aside her problems and discover what grace really means?

Emotionally-charged and unforgettable, Emery Lord's storytelling shines with the promise of new love and true friendship, even in the face of life's biggest challenges.
I know I won't read them all and finishing Salt to the Sea will be accomplishment enough, but a girl can dream.
What's on your book radar?
Related Posts