Last Monday I posted about my book reading plan while I was on staycation. I knew the chances of reading all this books was slim, but I liked that I had options. As we all know though, reading plans never end up as we thought.
So how did I do with my reading? Well, I think I did pretty okay…all things considered.
Title: When Dimple Met Rishi
Author: Sandhya Menon
Thoughts: I was told this book was a me book and they were right. It really was such a great book. There were a couple of side stories that I could have done without, but it really was an adorable book about first love and finding out who you are and how to compromise.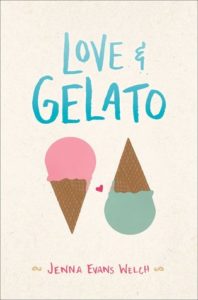 Title: Love & Gelato
Author: Jenna Evans Welch
Thoughts: Another book I was told to read and another book I was told to move up on my TBR. It was a quick read and I enjoyed it, but it was one of those rare books that I think the romance did a disservice to the story. It was cute and all and I didn't mind it to a point, but I think the book would have been stronger without that aspect. Truly though it made me want to go to Italy and see all the things.
Title: Words in Deep Blue
Author: Cath Crowley
Thoughts: This one wasn't on my Staycation read list, but I was lent to me the Sunday of vacation and I just had to start it. I really loved Cath's book Graffiti Moon so I was excited to have this in my possession. So far it is hitting me right in the feels. Add this to your TBR. I still have 80% left and I know it will be fantastic.
All considered I didn't do too bad.
What's next on your TBR?
Related Posts