I have been trying to be so good when it comes to requesting ARCs or downloading eGalleys. I have stuck to my "only buying Kindle books" ban since last fall which has been nice (not that I haven't added any physical books to my collection, but I haven't bought any). But then there was a recent drop of available books on Edelweiss and I saw all the new shiny and I just couldn't help myself.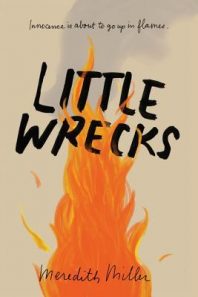 Little Wrecks
by
Meredith Miller
Published by
HarperCollins
Published:
June 27th 2017
Buy on Amazon
Add to Goodreads
Ruth, Magda, and Isabel are different from everyone else. They can see beneath the seemingly perfect, cookie-cutter exterior of their small town of Highbone, Long Island. They know that below the surface, each house is filled with secrets, indifference, and violence.

These girls refuse to become willing participants of these fake lives. Instead, they are determined to fight every condescending comment, every unwelcome touch, and every lie they've been told.

When the opportunity to commit the perfect crime appears, the girls finally start to see their way out of Highbone. But for the first time, Ruth, Magda, and Isabel are keeping secrets from each other. As they drift apart, the weight of reality starts to set in. These girls can't save each other. They might not even be able to save themselves.
~~~~~~~~~~~~~~~~~~~~~~~
16 Ways to Break A Heart
by
Lauren Strasnick
Published by
Katherine Tegen Books
Buy on Amazon
Add to Goodreads
Natalie and Dan were electric from the moment they met. Witty banter and sizzling chemistry made falling in love easy—even inevitable. He was in awe of her subversive art and contagious zest for life; she was drawn to his good-guy charm and drive to succeed as a documentary filmmaker.

But that was before. Before hot tempers turned to blowout fights. Before a few little lies turned to broken trust. Before a hundred tiny slights broke them open and exposed the ugly truth of their relationship.

And now Natalie wants Dan to know just how much he broke her.

Over the course of one fateful day, Dan reads sixteen letters that Natalie has secretly, brilliantly hidden in places only he will find. And as he pieces together her version of their love story, he realizes that she has one final message for him. One that might just send his carefully constructed life tumbling down.

Unfolding through letters, texts, and chats, Lauren Strasnick's smart, sexy, page-turning new novel is the ultimate he said/she said breakdown of a relationship gone wrong.
~~~~~~~~~~~~~~~~~~~~~~~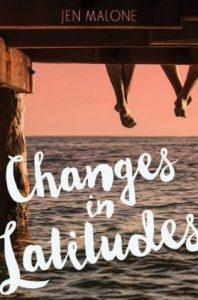 Changes in Latitudes by Jen Malone
Published by HarperTeen
Buy on Amazon
Add to Goodreads

A "road" trip romance that takes place at sea!

All Cassie wants is to get some solid ground under her feet following the shock of her parents' divorce. So when she learns of her mom's plans to take Cassie and her brother, Drew, on a four-month sailing trip from Oregon to Mexico, she's stunned. There is absolutely nothing solid about the Pacific Ocean.

Cassie is furious. And nervous. It's been hard enough keeping Drew sheltered from what Cassie knows about her mother's role in breaking their family apart, but living in such close quarters threatens to push her anger past its tipping point. Enter Jonah, a whip-smart deckhand who's as gorgeous as he is flirtatious. Cassie tries to keep him at a distance, but the more time they spend together--wandering San Francisco, riding beachside roller coasters, and exploring the California coastline--the harder it is to fight the attraction.

​Cassie wants to let herself go, but her parents' split has left her feeling adrift in a sea of questions she can't even begin to answer. Can she forgive her mom? Will home ever feel the same? Should she take a chance on Jonah? With life's unpredictable tides working against her, Cassie must decide whether to swim against them... or dive right in.
~~~~~~~~~~~~~~~~~~~~~~~
How To Disappear by Sharon Huss Roat
Published by HarperTeen
Buy on Amazon
Add to Goodreads

Vicky Decker has perfected the art of hiding in plain sight, quietly navigating the halls of her high school undetected except by her best (and only) friend, Jenna. But when Jenna moves away, Vicky's isolation becomes unbearable.

So she decides to invent a social life by Photoshopping herself into other people's pictures, posting them on Instagram under the screen name Vicurious. Instantly, she begins to get followers, so she adds herself to more photos from all over the world with all types of people. And as Vicurious's online followers multiply, Vicky realizes she can make a whole life for herself without ever leaving her bedroom. But the more followers she finds online, the clearer it becomes that there are a lot of people out there who feel like her— #alone and #ignored in real life.

To help them, and herself, Vicky must find the courage to face her fear of being "seen," because only then can she stop living vicariously and truly bring the magic of Vicurious to life.
~~~~~~~~~~~~~~~~~~~~~~~
This Is How It Happened by Paula Stokes
Published by HarperTeen
Buy on Amazon
Add to Goodreads

Somehow I've become a liar. A coward. Here's how it happened.

When Genevieve Grace wakes up from a coma, she can't remember the car crash that injured her and killed her boyfriend Dallas, a YouTube star who had just released his first album. Genevieve knows she was there, and that there was another driver, a man named Brad Freeman, who everyone assumes is guilty. But as she slowly pieces together the night of the accident, Genevieve is hit with a sickening sense of dread—that maybe she had something to do with what happened.

As the internet rages against Brad Freeman, condemning him in a brutal trial by social media, Genevieve escapes to her father's house, where she can hide from reporters and spend the summer volunteering in beautiful Zion National Park. But she quickly realizes that she can't run away from the accident, or the terrible aftermath of it all.

Incredibly thought-provoking and beautifully told, Paula Stokes's story will compel readers to examine the consequences of making mistakes in a world where the internet is always watching…and judging.
~~~~~~~~~~~~~~~~~~~~~~~
These Things I've Done by Rebecca Phillips
Published by HarperTeen
Buy on Amazon
Add to Goodreads

Before:
Dara and Aubrey have been inseparable since they became best friends in sixth grade. However, as they begin their sophomore year of high school, cracks in their friendship begin to form, testing the bond they always thought was unbreakable.

After:
It's been fifteen months since the accident that killed Aubrey, and not a day goes by that Dara isn't racked with guilt over her role in her best friend's death. Dara thought nothing could be worse than confronting the memories of Aubrey that relentlessly haunt her, but she soon realizes it isn't half as difficult as seeing Ethan, Aubrey's brother, every day. Not just because he's a walking reminder of what she did, but because the more her feelings for him change, the more she knows she's betraying her best friend one final time.
~~~~~~~~~~~~~~~~~~~~~~~
What books have you recently added to your collection?
Save
Save
Save
Save
Save
Save
Save
Save
Save
Save
Save
Related Posts