Summer weather is slowly starting to show up all over the country. In Boston is has been 90+ the past couple of days (it will be back to normal this weekend). With summer around the corner it means summer months are going to be starting which means new releases.
Currently there are 15 books I am excited for in June. Some I have already read and others I'm excited to check out. With June a week and a half away I thought I would highlight a few of the books I'm really excited to either read or see out in the wild
Here Lies Daniel Tate
by
Cristin Terrill
Published by
Simon & Schuster Books for Young Readers
Published:
June 6th 2017
Buy on Amazon
Add to Goodreads
A young, street-savvy runaway looking for a place to call home realized he might have conned his way into the wrong family in this fast-paced and thrilling novel from award-winning author Cristin Terrill.

When ten-year-old Daniel Tate went missing from one of California's most elite communities, he left no trace. He simply vanished.

Six years later, when he resurfaces on a snowy street in Vancouver, he's no longer the same boy. His sandy hair is darker, the freckles are gone, and he's initially too traumatized to speak, but he's alive. His overjoyed family brings him home to a world of luxury and comfort he can barely remember. In time, they assure him, he'll recover his memories; all that matters now is they're together again.

It's perfect. A miracle. Except for one thing.

He isn't Daniel Tate.

He's a petty con artist who accidentally stumbled into the scam of a lifetime, and he soon learns he's not the only one in the Tate household with something to hide. The family has as many secrets as they have millions in the bank, and one of them might be ready to kill to keep the worst one buried.
~~~~~~~~~~~~~~~~~~~~~~~
Once and for All
by
Sarah Dessen
Published by
Viking Books for Young Readers
Published:
June 6th 2017
Buy on Amazon
Add to Goodreads
As bubbly as champagne and delectable as wedding cake, Once and for All, Sarah Dessen's thirteenth novel, is set in the world of wedding planning, where crises are routine.

Louna, daughter of famed wedding planner Natalie Barrett, has seen every sort of wedding: on the beach, at historic mansions, in fancy hotels and clubs. Perhaps that's why she's cynical about happily-ever-after endings, especially since her own first love ended tragically. When Louna meets charming, happy-go-lucky serial dater Ambrose, she holds him at arm's length. But Ambrose isn't about to be discouraged, now that he's met the one girl he really wants.

Sarah Dessen's many, many fans will adore her latest, a richly satisfying, enormously entertaining story that has everything—humor, romance, and an ending both happy and imperfect, just like life itself.
~~~~~~~~~~~~~~~~~~~~~~~
The Evaporation of Sofi Snow by Mary Weber
Published by Thomas Nelson
Published: June 6th 2017
Buy on Amazon
Add to Goodreads

Ever since the Delonese ice-planet arrived eleven years ago, Sofi's dreams have been vivid. Alien. In a system where Earth's corporations rule in place of governments and the humanoid race orbiting the moon are allies, her only constant has been her younger brother, Shilo. As an online gamer, Sofi battles behind the scenes of Earth's Fantasy Fighting arena where Shilo is forced to compete in a mix of real and virtual blood sport. But when a bomb takes out a quarter of the arena, Sofi's the only one who believes Shilo survived. She has dreams of him. And she's convinced he's been taken to the ice-planet.

Except no one but ambassadors are allowed there.

For Miguel--Earth's charming young playboy--the games are of a different sort. As Ambassador to the Delonese, his career has been built on trading secrets and seduction. Until the Fantasy Fight's bomb goes off. Now the tables have turned and he's a target for blackmail. The game is simple: Help the blackmailers, or lose more than anyone can fathom, or Earth can afford.

From the award-winning author of the Storm Siren Trilogy, step into a diverse cast of characters spanning from the electric metropolises of earth to the chilling alien planet above, in a story of re-finding yourself in the midst of losing the one thing you love. Before it all evaporates.
~~~~~~~~~~~~~~~~~~~~~~~
Bad Romance by Heather Demetrios
Published by Henry Holt and Co. (BYR)
Published: June 13th 2017
Buy on Amazon
Add to Goodreads

Grace wants out. Out of her house, where her stepfather wields fear like a weapon and her mother makes her scrub imaginary dirt off the floors. Out of her California town, too small to contain her big city dreams. Out of her life, and into the role of Parisian artist, New York director—anything but scared and alone.

Enter Gavin: charming, talented, adored. Controlling. Dangerous. When Grace and Gavin fall in love, Grace is sure it's too good to be true. She has no idea their relationship will become a prison she's unable to escape.
Deeply affecting and unflinchingly honest, this is a story about spiraling into darkness—and emerging into the light again.
~~~~~~~~~~~~~~~~~~~~~~~
Words in Deep Blue by Cath Crowley
Published by Knopf Books for Young Readers
Published: June 6th 2017
Buy on Amazon
Add to Goodreads

Years ago, Rachel had a crush on Henry Jones. The day before she moved away, she tucked a love letter into his favorite book in his family's bookshop. She waited. But Henry never came.

Now Rachel has returned to the city—and to the bookshop—to work alongside the boy she'd rather not see, if at all possible, for the rest of her life. But Rachel needs the distraction. Her brother drowned months ago, and she can't feel anything anymore.

As Henry and Rachel work side by side—surrounded by books, watching love stories unfold, exchanging letters between the pages—they find hope in each other. Because life may be uncontrollable, even unbearable sometimes. But it's possible that words, and love, and second chances are enough.
~~~~~~~~~~~~~~~~~~~~~~~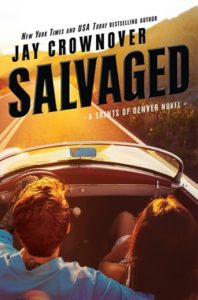 Salvaged by Jay Crownover
Series: Saints of Denver #3
Published by William Morrow Paperbacks
Published: June 20th 2017
Buy on Amazon
Add to Goodreads

Hudson Wheeler is a nice guy. Everyone knows it, including his fiancée who left him with a canceled wedding and a baby on the way. He's tired of finishing last and is ready to start living in the moment with nights soaked in whiskey, fast cars, and even faster girls. He's set to start living on the edge, but when he meets Poppy Cruz, her sad eyes in the most gorgeous face he's ever seen hook him in right away. Wheeler can see Poppy's pain and all he wants to do is take care of her and make her smile, whatever it takes.

Poppy can't remember a time when she didn't see strangers as the enemy. After a lifetime of being hurt from the men who swore to protect her, Poppy's determined to keep herself safe by keeping everyone else at arm's length. Wheeler's sexy grin and rough hands from hours restoring classic cars shouldn't captivate her, but every time she's with him, she can't help being pulled closer to him. Though she's terrified to trust again, Poppy soon realizes it might hurt even more to shut Wheeler out—and the intense feelings pulsing through her are making it near impossible to resist him.

The only thing Poppy is sure of is that her heart is in need of some serious repair, and the more time she spends with Wheeler, the more she's convinced he's the only man with the tools to fix it.
~~~~~~~~~~~~~~~~~~~~~~~
And I just realized most of these come out on June 6th. OOPS. Hope you are ready to get your read on.
If you are looking for other books on my radar you can check out my June shelf on Goodreads HERE.
What's on your radar in June?
Related Posts