A lot of good books have been brought to my attention and like any good book nerd I have added them to my TBR. I mean let's be honest, we all want to keep our TBR down to a minimum, but in this reading world it is almost impossible to do. I have learned to embrace it and just go with it. Here are 6 books I have recently added to my TBR from direct suggestions or tweets that I happened to catch:
The Girl with the Red Balloon (The Balloonmakers, #1)
by
Katherine Locke
Published by
Albert Whitman Company
Published:
September 1st 2017
Buy on Amazon
Add to Goodreads
When sixteen-year-old Ellie Baum accidentally time-travels via red balloon to 1988 East Berlin, she's caught up in a conspiracy of history and magic. She meets members of an underground guild in East Berlin who use balloons and magic to help people escape over the Wall—but even to the balloon makers, Ellie's time travel is a mystery. When it becomes clear that someone is using dark magic to change history, Ellie must risk everything—including her only way home—to stop the process.
~~~~~~~~~~~~~~~~~~~~~~~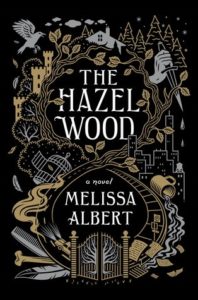 The Hazel Wood
by
Melissa Albert
Published by
Flatiron Books
Published:
January 30th 2018
Buy on Amazon
Add to Goodreads
Seventeen-year-old Alice and her mother have spent most of Alice's life on the road, always a step ahead of the uncanny bad luck biting at their heels. But when Alice's grandmother, the reclusive author of a cult-classic book of pitch-dark fairy tales, dies alone on her estate, the Hazel Wood, Alice learns how bad her luck can really get: Her mother is stolen away―by a figure who claims to come from the Hinterland, the cruel supernatural world where her grandmother's stories are set. Alice's only lead is the message her mother left behind: "Stay away from the Hazel Wood."

Alice has long steered clear of her grandmother's cultish fans. But now she has no choice but to ally with classmate Ellery Finch, a Hinterland superfan who may have his own reasons for wanting to help her. To retrieve her mother, Alice must venture first to the Hazel Wood, then into the world where her grandmother's tales began―and where she might find out how her own story went so wrong.
~~~~~~~~~~~~~~~~~~~~~~~
All Rights Reserved (Word$ #1) by Gregory Scott Katsoulis
Published by Harlequin Teen
Published: August 29th 2017
Buy on Amazon
Add to Goodreads

In a world where every word and gesture is copyrighted, patented or trademarked, one girl elects to remain silent rather than pay to speak, and her defiant and unexpected silence threatens to unravel the very fabric of society.

Speth Jime is anxious to deliver her Last Day speech and celebrate her transition into adulthood. The moment she turns fifteen, Speth must pay for every word she speaks ("Sorry" is a flat ten dollars and a legal admission of guilt), for every nod ($0.99/sec), for every scream ($0.99/sec) and even every gesture of affection. She's been raised to know the consequences of falling into debt, and can't begin to imagine the pain of having her eyes shocked for speaking words that she's unable to afford.

But when Speth's friend Beecher commits suicide rather than work off his family's crippling debt, she can't express her shock and dismay without breaking her Last Day contract and sending her family into Collection. Backed into a corner, Speth finds a loophole: rather than read her speechrather than say anything at allshe closes her mouth and vows never to speak again. Speth's unexpected defiance of tradition sparks a media frenzy, inspiring others to follow in her footsteps, and threatens to destroy her, her family and the entire city around them.

"
~~~~~~~~~~~~~~~~~~~~~~~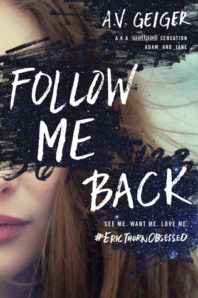 Follow Me Back (Follow Me Back, #1) by A.V. Geiger
Published by Sourcebooks Fire
Published: June 6th 2017
Buy on Amazon
Add to Goodreads

Tessa Hart's world feels very small. Confined to her bedroom with agoraphobia, her one escape is the online fandom for pop sensation Eric Thorn. When he tweets to his fans, it's like his speaking directly to her…

Eric Thorn is frightened by his obsessive fans. They take their devotion way too far. It doesn't help that his PR team keeps posting to encourage their fantasies.

When a fellow pop star is murdered at the hands of a fan, Eric knows he has to do something to shatter his online image fast—like take down one of his top Twitter followers. But Eric's plan to troll @TessaHeartsEric unexpectedly evolves into an online relationship deeper than either could have imagined. And when the two arrange to meet IRL, what should have made for the world's best episode of Catfish takes a deadly turn…


Told through tweets, direct messages, and police transcripts.

~~~~~~~~~~~~~~~~~~~~~~~
Prisoner of Ice and Snow by Ruth Lauren
Published by Bloomsbury USA Childrens
Published: April 4th 2017
Buy on Amazon
Add to Goodreads

In a thrilling fantasy that's equal parts Prison Break and Frozen, Valor attempts the impossible—breaking her sister out of prison.

When Valor is arrested, she couldn't be happier. Demidova's prison for criminal children is exactly where she wants to be. Valor's sister Sasha is already serving a life sentence for stealing from the royal family and Valor is going to help her escape . . . from the inside.

Never mind that no one has escaped in three hundred years. Valor has a plan and resources most could only dream about. But she didn't count on having to outsmart both the guards and her fellow prisoners. If Valor's plan is to succeed, she'll need to make unlikely allies. And if the plan fails, she and Sasha could end up with fates worse than prison.

This fresh and exciting middle-grade debut effortlessly melds an unforgettable protagonist, a breathless plot, and stunning world-building—and is impossible to put down.
~~~~~~~~~~~~~~~~~~~~
Starry Eyes by Jenn Bennett
Published by Simon Pulse
Published: April 3rd 2018
Buy on Amazon
Add to Goodreads

In this romantic dramedy from the author of Alex, Approximately, a teen girl's way-too-ordinary life is driven off the beaten path when she's abandoned in the wilderness with her worst adversary—the boy who broke her heart.

Ever since last year's homecoming dance, best friends-turned-best enemies Zorie and Lennon have made an art of avoiding each other. It doesn't hurt that their families are the modern day, Californian version of the Montagues and Capulets.

But when a group camping trip goes south, Zorie and Lennon find themselves stranded in the wilderness. Alone. Together.

What could go wrong?

With no one but each other for company, Zorie and Lennon have no choice but to hash out their issues via witty jabs and insults as they try to make their way to safety. But fighting each other while also fighting off the forces of nature makes getting out of the woods in one piece less and less likely.

And as the two travel deeper into Northern California's rugged backcountry, secrets and hidden feelings surface. But can Zorie and Lennon's rekindled connection survive out in the real world? Or was it just a result of the fresh forest air and the magic of the twinkling stars?
~~~~~~~~~~~~~~~~~~~~
What have you recently added to your TBR? Have you read any of these?
Related Posts