I admit I am far behind on this series. Ginger at GReads! bought me Sweet Filthy Boy for my birthday about 3 years ago (I think) and I never read it. She told me over and over again to read it because I would love it and I said I would and then got distracted by new shiny. Well this year I promised her I would read it over the summer and I did and I'm hooked on the series.
I read book 1 over a couple of days in late June and immediately requested book 2 from the library. Although I wasn't crazy in love with Mia, I loved Ansel and all the friends that Mia and Ansel brought to the table. So when book 2, Dirty Rowdy Thing, came in from the library over the weekend I was thrilled. I read it yesterday and devoured the whole book instead of doing other things I needed to do. It was just that good. It was fun and sexy and the chemistry between Harlow and Finn was AMAZING!
Currently I am "patiently" waiting for book 3, Dark Wild Night, to arrive from the library, but until then I wanted to make sure you have these fun romance books on your radar or some summer beach/pool reading!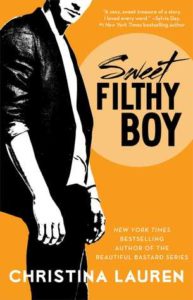 Sweet Filthy Boy
by
Christina Lauren
Published by
Gallery Books
Published:
May 13th 2014
Buy on Amazon
Add to Goodreads
One-night stands are supposed to be with someone convenient, or wickedly persuasive, or regrettable. They aren't supposed to be with someone like him.

But after a crazy Vegas weekend celebrating her college graduation—and terrified of the future path she knows is a cop-out—Mia Holland makes the wildest decision of her life: follow Ansel Guillaume—her sweet, filthy fling—to France for the summer and just…play.

When feelings begin to develop behind the provocative roles they take on, and their temporary masquerade adventures begin to feel real, Mia will have to decide if she belongs in the life she left because it was all wrong, or in the strange new one that seems worlds away.
~~~~~~~~~~~~~~~~~~~~~~~
Dirty Rowdy Thing
by
Christina Lauren
Published by
Gallery Books
Published:
November 4th 2014
Buy on Amazon
Add to Goodreads
Librarian's Note: Alternate cover for this ISBN can be found here.

From the New York Times best-selling author of Beautiful Bastard, Beautiful Stranger, and Beautiful Player, Book Two of the brand-new Wild Seasons series that started with Sweet Filthy Boy - a story of friends, love, and lust.

Despite their rowdy hookups, Harlow and Finn don't even like each other... which would explain why their marriage lasted only 12 hours. He needs to be in charge and takes whatever he wants. She lives by the Want-something-done? Do-it-yourself mantra. Maybe she's too similar to the rugged fisherman - or just what he needs.
~~~~~~~~~~~~~~~~~~~~~~~
Dark Wild Night by Christina Lauren
Published by Gallery Books
Published: September 15th 2015
Add to Goodreads

Librarian's Note: Alternate cover for this ISBN can be found here.


What happens in Vegas, stays in Vegas.But what didn't happen in Vegas seems to follow them everywhere.


Lola and Oliver like to congratulate themselves on having the good sense to not consummate their drunken Las Vegas wedding. If they'd doubled-down on that mistake, their Just Friends situation might not be half as great as it is now.

... Or so goes the official line.

In reality, Lola's wanted Oliver since day one—and over time has only fallen harder for his sexy Aussie accent and easygoing ability to take her as she comes. More at home in her studio than in baring herself to people, Lola's instinctive comfort around Oliver nearly seems too good to be true. So why ruin a good thing?

Even as geek girls fawn over him, Oliver can't get his mind off what he didn't do with Lola when he had the chance. He knows what he wants with her now ... and it's far outside the friend zone. When Lola's graphic novel starts getting national acclaim—and is then fast-tracked for a major motion picture—Oliver steps up to be there for her whenever she needs him. After all, she's not the kind of girl who likes all that attention, but maybe she's the kind who'll eventually like him.

Sometimes seeing what's right in front of us takes a great leap of faith. And sometimes a dark wild night in Vegas isn't just the end of a day, but the beginning of a bright new life...
~~~~~~~~~~~~~~~~~~~~~~~
Wicked Sexy Liar by Christina Lauren
Published by Gallery Books
Published: February 2nd 2016
Add to Goodreads

When three college besties meet three hot guys in Vegas, anything can—and does—happen. Book Four in the New York Times Wild Seasons series that began with Sweet Filthy Boy (the Romantic Times book of the year that Sylvia Day called "a sexy, sweet treasure of a story"), Dirty Rowdy Thing, and Dark Wild Night.

For two people ambivalent about dating and love, they sure get naked around each other an awful lot . . .

London Hughes is very content to surf daily, tend bar, hang out with her group of friends, and slowly orient herself in the years after college. Everything's going great and according to the non-plan.

But when a wave knocks her for a loop one morning, then Luke Sutter's flirtatious smile knocks her for another that evening, she veers slightly off course…and into his path. Sure, he's a total player, but the Why not—it's only one night is a persistent voice in her ear.

For his part, Luke's been on hookup autopilot for so long that he rarely ever pauses to consider what he's doing. But after an amazing time with London, he realizes that he hasn't been moving on from a devastating heartbreak so much as he's been drifting to wherever—and whomever—the current takes him. With London he wants more.

Every relationship involves two people…plus their pasts. And as much as she enjoys her fling with Luke, when London learns about his past—more specifically, who's in it—everything becomes the brand of complicated she strives to avoid. It's up to Luke then to change some things in order to try and ensure he's not something she'll outright avoid as well.
~~~~~~~~~~~~~~~~~~~~~~~
Have you read these books? Are they on your radar yet?
Related Posts