I sometimes, all the time, get stressed out by the shear amount of books I own or want to read. It can be very overwhelming to look at all the options available to me. Because of this I often forget that I want to read something and then start something else. It is a vicious cycle and I try desperately to break it. I have yet to be successful but I still try. Will that being said there are 6 books that are high on my TBR priority list. Wonder how this will go.
Jane, Unlimited
by
Kristin Cashore
Published by
Kathy Dawson Books
Published:
September 19th 2017
Add to Goodreads
Jane has lived an ordinary life, raised by her aunt Magnolia—an adjunct professor and deep sea photographer. Jane counted on Magnolia to make the world feel expansive and to turn life into an adventure. But Aunt Magnolia was lost a few months ago in Antarctica on one of her expeditions.

Now, with no direction, a year out of high school, and obsessed with making umbrellas that look like her own dreams (but mostly just mourning her aunt), she is easily swept away by Kiran Thrash—a glamorous, capricious acquaintance who shows up and asks Jane to accompany her to a gala at her family's island mansion called Tu Reviens.

Jane remembers her aunt telling her: "If anyone ever invites to you to Tu Reviens, promise me that you'll go." With nothing but a trunkful of umbrella parts to her name, Jane ventures out to the Thrash estate. Then her story takes a turn, or rather, five turns. What Jane doesn't know is that Tu Reviens will offer her choices that can ultimately determine the course of her untethered life. But at Tu Reviens, every choice comes with a reward, or a price.
~~~~~~~~~~~~~~~~~~~~~~~
Little & Lion
by
Brandy Colbert
Published:
August 8th 2017
Buy on Amazon
Add to Goodreads
A stunning novel on love, loss, identity, and redemption, from Publishers Weekly Flying Start author Brandy Colbert

When Suzette comes home to Los Angeles from her boarding school in New England, she isn't sure if she'll ever want to go back. L.A. is where her friends and family are (along with her crush, Emil). And her stepbrother, Lionel, who has been diagnosed with bipolar disorder, needs her emotional support.

But as she settles into her old life, Suzette finds herself falling for someone new...the same girl her brother is in love with. When Lionel's disorder spirals out of control, Suzette is forced to confront her past mistakes and find a way to help her brother before he hurts himself--or worse.
~~~~~~~~~~~~~~~~~~~~~~~
Wicked Sexy Liar (Wild Seasons, #4) by Christina Lauren
Published by Gallery Books
Published: February 2nd 2016
Buy on Amazon
Add to Goodreads

When three college besties meet three hot guys in Vegas, anything can—and does—happen. Book Four in the New York Times Wild Seasons series that began with Sweet Filthy Boy (the Romantic Times book of the year that Sylvia Day called "a sexy, sweet treasure of a story"), Dirty Rowdy Thing, and Dark Wild Night.

For two people ambivalent about dating and love, they sure get naked around each other an awful lot . . .

London Hughes is very content to surf daily, tend bar, hang out with her group of friends, and slowly orient herself in the years after college. Everything's going great and according to the non-plan.

But when a wave knocks her for a loop one morning, then Luke Sutter's flirtatious smile knocks her for another that evening, she veers slightly off course…and into his path. Sure, he's a total player, but the Why not—it's only one night is a persistent voice in her ear.

For his part, Luke's been on hookup autopilot for so long that he rarely ever pauses to consider what he's doing. But after an amazing time with London, he realizes that he hasn't been moving on from a devastating heartbreak so much as he's been drifting to wherever—and whomever—the current takes him. With London he wants more.

Every relationship involves two people…plus their pasts. And as much as she enjoys her fling with Luke, when London learns about his past—more specifically, who's in it—everything becomes the brand of complicated she strives to avoid. It's up to Luke then to change some things in order to try and ensure he's not something she'll outright avoid as well.
~~~~~~~~~~~~~~~~~~~~~~~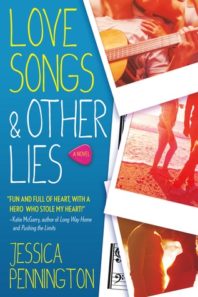 Love Songs & Other Lies by Jessica Pennington
Published by Tor Teen
Published: April 24th 2018
Buy on Amazon
Add to Goodreads

It's summer romance and second chances, the songs that stay in your head, and the boy you'll never forget.

Two years after rock-song-worthy heartbreak, Virginia Miller is looking forward to a fun, carefree summer. Her friends just landed a spot on a battling bands reality show, and Vee is joining them for her dream internship on tour. Three months with future rockstars seems like an epic summer plan. Until she learns she'll also be sharing the bus with Cam. Her first love, and her first heartbreak. Now Vee has more than just cameras to dodge, and Cam's determination to win her forgiveness is causing TMZ-worthy problems for both of them. With cameras rolling, she'll have to decide if her favorite breakup anthem deserves a new ending. And if she's brave enough to expose her own secrets to keep Cam's under wraps.
~~~~~~~~~~~~~~~~~~~~~~~
The Knowing (The Forgetting, #2) by Sharon Cameron
Published by Scholastic Press
Published: October 10th 2017
Buy on Amazon
Add to Goodreads

Samara doesn't forget. And she isn't the only one. Safe underground in the city of New Canaan, she lives in a privileged world free from the Forgetting. Yet she wonders if she really is free, with the memories that plague her and secrets that surround her. Samara is determined to unearth the answers, even if she must escape to the old, cursed city of Canaan to find them.

Someone else is on their way to Canaan too . . . a spaceship from Earth is heading toward the planet, like a figment of the city's forgotten past. Beck is traveling with his parents, researchers tasked with finding the abandoned settlement effort. When Beck is stranded without communication, he will find more in Canaan than he was ever trained for. What will happen when worlds and memories, beliefs -- and truths -- collide?
~~~~~~~~~~~~~~~~~~~~
Reign the Earth (The Elementae, #1) by A.C. Gaughen
Published by Bloomsbury
Published: January 30th 2018
Buy on Amazon
Add to Goodreads

Shalia is a proud daughter of the desert, but after years of devastating war with the adjoining kingdom, her people are desperate for peace. Willing to trade her freedom to ensure the safety of her family, Shalia becomes Queen of the Bonelands.

But she soon learns that her husband, Calix, is motivated only by his desire to exterminate the Elementae—mystical people who can control earth, wind, air, and fire. Even more unsettling are Shalia's feelings for her husband's brother, which unleash a power over the earth she never knew she possessed—a power that could get her killed. As rumors of a rebellion against Calix spread, Shalia must choose between the last chance for peace and her own future as an Elementae.

This intense, richly drawn high-fantasy by the author of Scarlet will hold readers spellbound.
~~~~~~~~~~~~~~~~~~~~
What's coming up on you TBR? Have you read any of these?
Related Posts