I have been a fan of romance books for a long time, but I never got into the habit of reviewing them unless it was for a blog tour. To be honest I always found it hard to review a romance book. The set up is the same 95% of the time so there really isn't much to talk about besides characters and the love of the story, which can be quite short. Well that brings me to this. Welcome to my new review feature, Briefly Romantic.
This post is dedicated to the publisher Forever
One and Only
by
Jenny Holiday
Published by
Forever
Published:
February 27th 2018
Buy on Amazon
Add to Goodreads
In this laugh-out-loud romantic comedy, USA Today bestselling author Jenny Holiday proves that when opposites attract, sparks fly.

Miss Responsibility meets Mr. Reckless
With her bridezilla friend on a DIY project rampage, bridesmaid Jane Denning will do anything to escape - even if it means babysitting the groom's troublemaker brother before the wedding. It should be a piece of cake, except the "cake" is a sarcastic former soldier who is 100% wicked hotness and absolutely off-limits.

Cameron MacKinnon is ready to let loose after returning from his deployment. But first he'll have to sweet talk the ultra-responsible Jane into taking a walk on the wild side. Turns out, riling her up is the best time he's had in years. But what happens when the fun and games start to turn into something real?
I received this book for free in exchange for an honest review. This does not affect my opinion of the book or the content of my review.
One and Only was such a fun book. It had the typical plot, good girl with the reckless guy, but it felt anything but typical. It felt new and fresh. Jane and Cameron were anything but the stereotypes they were place in if you got to know them. And quite honestly they brought out the best in each other, kind of the ying to each others yang. They also had some of the best banter! They played off ea ch other nicely and were able to just be themselves when they were together without having to worry about the preconceived notions others had of them. All in all this was a fantastic start to a new series. I personally can't wait to see what the next bridesmaid will be up to!
Slammed
by
Victoria Denault
Published by
Forever
Published:
December 5th 2017
Buy on Amazon
Add to Goodreads
Not every goalie plays it safe...
As a publicist for the San Francisco Thunder hockey team, Dixie Braddock is too busy rescuing the players from trouble to get into any of her own. Except, of course, when it comes to the super hot new goalie. Because when a guy's kiss curls your toes and sets your heart on fire, how the hell do you just walk away? But if anyone ever catches them together, she'll lose her job faster than any slapshot.Eli Casco is on the brink of having everything he ever wanted. He's finally been called up from the minor leagues to play on a championship team. And he just had the most mind-blowing night with the woman of his dreams. But now that he's an official Thunder player, Dixie is determined to keep her distance. None of the fame and fortune means anything to him without her to share it. If he truly wants Dixie in his life, it's time to throw down his gloves and put everything on the line.


The San Francisco Thunder series:

Score

It was strongly suggested I read Slammed, so I went against my policy of starting a series from the beginning and picked this one up. I'm so happy that I did. It was a really fun book. Eli and Dixie had the most amazing chemistry from the beginning to the end and I didn't get that romance reading anxiety from the break-up that almost always comes. Because of how the story was written I wasn't anxious for the dreaded moment and I really appreciated that. As a fan of hockey romances (I read a lot of them), this was definitely up there as a favorite and I'm grateful I broken my rule. After meeting Eli and Dixie I will happily go back and read book one.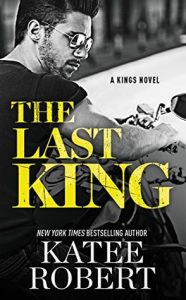 The Last King
by
Katee Robert
Published by
Forever
Published:
April 3rd 2018
Buy on Amazon
Add to Goodreads
Ultra wealthy and super powerful, the King family is like royalty in Texas. But who will keep the throne? New York Times bestselling author Katee Robert introduces a red-hot new series.

THE MAN SHE HATES TO LOVE

Beckett King just inherited his father's fortune, his company-and all his enemies. If he's going to stay on top, he needs someone he can trust beside him. And though they've been rivals for years, there's no one he trusts more than Samara Mallick.

The rebel. That's how Samara has always thought of Beckett. And he's absolutely living up to his unpredictable ways when he strides into her office and asks for help. She can't help wondering if it's a legit request or just a ploy to get her into bed. Not that she'd mind either one. After all, she likes to live on the edge too.

But soon the threats to the King empire are mounting, and the two find family secrets darker than they ever imagined and dangerous enough to get them both killed.
I received this book for free in exchange for an honest review. This does not affect my opinion of the book or the content of my review.
The Last King is proof why you can't always give up on an author. While I tried to read Katee Roberts before and it ended with a DNF, this one was fantastic! I loved the romance and the thriller involved in it. Beckett and Samara had the greatest push/pull relationship. When they let their guard down with one another the sparks really flew and the chemistry was off the charts. They were smart in understanding what a relationship between them would look like, but they were also unable to stay away from one another. And the thriller aspect was just enough to not feel over the top even with a few of the twists that happened. The end felt a tad off and rushed, but other than that everything about this wooed me. I can't wait for book 2!
Make sure you have all three of these on your TBR!
What kind of romance books do you love? Share in the comments!
Related Posts