Welcome to New to You!
This idea came along last year when I was supporting Lauren Miller's newest book All Things New and I asked Kelsey to read and review Parallel, a book I have read more than once. I didn't really get it going until December when I offered people the chance to sign up to read and review a book that has been a favorite of mine that they have never read. I got a great response and I'm happy to tell you (minus January) you will see a New to You post twice a month.
~~~~~~~~~~~~~~~~~~~~~~
Next up for New to You is Sarah from What Sarah Read. I was really excited she signed up and wanted to read Letters to the Lost. You will see in her review that Gail and I have been telling her to read it for a long time. Check out her review below and find out! (Make sure you check out the giveaway at the end!)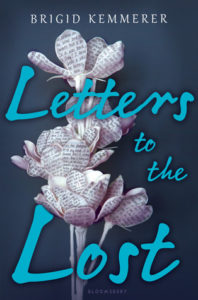 Letters to the Lost
by
Brigid Kemmerer
Published by
Bloomsbury USA Childrens
Published:
April 4th 2017
Buy on Amazon
Add to Goodreads
Juliet Young always writes letters to her mother, a world-traveling photojournalist. Even after her mother's death, she leaves letters at her grave. It's the only way Juliet can cope.

Declan Murphy isn't the sort of guy you want to cross. In the midst of his court-ordered community service at the local cemetery, he's trying to escape the demons of his past.

When Declan reads a haunting letter left beside a grave, he can't resist writing back. Soon, he's opening up to a perfect stranger, and their connection is immediate. But neither Declan nor Juliet knows that they're not actually strangers. When life at school interferes with their secret life of letters, sparks will fly as Juliet and Declan discover truths that might tear them apart.
About a year or so ago I started hearing some buzz about an upcoming new release called "Letters to the Lost" and I was immediately intrigued. More specifically, Andi and Gail were raving about the book and how amazing it was (they both read it in one day), so I KNEW I had to add it to my TBR shelf. I added my copy to the pile of books on my nightstand and it just sat there…and sat there…and sat there. For almost a year. Even after I continued to hear amazing things about it from many other friends, I never got around to grabbing it off the shelf to actually read it. I look back at all those months I wasted and wonder why I was such a fool. How could I have waiting SO long to read such an amazing book? I will be eternally grateful to Andi for hosting this feature and finally giving me that push to read "Letters to the Lost".
I absolutely loved the dynamic between the main characters, Juliet and Declan. The good girl and the bad boy trope is in full effect, but in a totally unique and refreshing way. These two get to know each other before they even meet each other and I absolutely loved how the relationship between them unfolds with plenty of twists, turns and bumps along the way. The chemistry that Juliet and Declan have is undeniable and I couldn't get enough of the letters they shared back and forth. Their relationship was messy, complicated and not at all your standard boy meets girl love story. They were perfectly imperfect. For all the differences between them, the letters they wrote showed that they had more in common then they ever could have imagined. They bonded over their grief and their feelings of isolation, and even without ever meeting, they confided their deepest emotions in each other. The feels are SO STRONG in this book and I loved every minute of it.
All that being said, I think the thing I loved the most about this book was how the author refused to fall back on labels and assumptions, and instead challenged them. In ways both obvious and those more subtle, Kemmerer shows us that you can never really know what is going on in someone's life and that you shouldn't always jump to conclusions. "Letters to the Lost" has some shocking secrets and twists I never saw coming and I was completely invested in the story. Give me a book about friendship, emotions, family dynamics, self-discovery and, yes, falling in love…and I'm a very happy reader. This one had it all!
Oh, and I know this review is supposed to be about "Letters to the Lost", but I can't end my obsessive fangirling without mentioning the companion novel coming out next month, "More Than We Can Tell". It's technically not a sequel but does take place in the same "universe" and features one of my favorite characters from Letters, Declan's best friend Rev. As hard as it may be to believe, I actually loved it more than Letters…and that is saying a LOT! It's even more heart-breaking and complicated and I cried my eyes out several times. If that's not a reason to pre-order I don't know what is.

Giveaway ends at 11:59pm EST on March 3, 2018. It is US ONLY!
Thanks Sarah for signing up for New to You! I'm so happy you loved Letters to the Lost AND More Than We Can Tell. Really such a fantastic companion series!
Have you read Letters to the Lost yet? If so what about the companion?

Related Posts