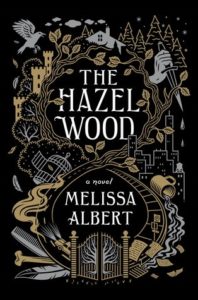 The Hazel Wood
by
Melissa Albert
Published by
Flatiron Books
Published:
January 30th 2018
Buy on Amazon
Add to Goodreads
Seventeen-year-old Alice and her mother have spent most of Alice's life on the road, always a step ahead of the uncanny bad luck biting at their heels. But when Alice's grandmother, the reclusive author of a cult-classic book of pitch-dark fairy tales, dies alone on her estate, the Hazel Wood, Alice learns how bad her luck can really get: her mother is stolen away―by a figure who claims to come from the Hinterland, the cruel supernatural world where her grandmother's stories are set. Alice's only lead is the message her mother left behind: "Stay away from the Hazel Wood."

Alice has long steered clear of her grandmother's cultish fans. But now she has no choice but to ally with classmate Ellery Finch, a Hinterland superfan who may have his own reasons for wanting to help her. To retrieve her mother, Alice must venture first to the Hazel Wood, then into the world where her grandmother's tales began―and where she might find out how her own story went so wrong.
I received this book for free in exchange for an honest review. This does not affect my opinion of the book or the content of my review.
When I first picked up The Hazel Wood I was really excited for a book that would use a modern time but throw fairytales into it. It seemed almost like a Once Upon a Time kind of a vibe based on the description. Sadly the book and my reading aesthetic just didn't mesh as well as I wanted it to. I felt like I was wondering what was happening and what I was reading the whole book and I never quite jived with it. It also started really slow for me. It took a good 25% for me to feel like the story picked up and I also wasn't a fan of some of the choices made in the last fourth of the book.
With that said, there was something that worked for me though. I actually really enjoyed the brief look we got at the Tales of the Hinterland. The writing in those fairytales was magical and enthralling. The story itself was not a creep fest like I had expected, but the fairytales found in Tales of the Hinterland were. They were dark and twisted and a little strange and oddly they were the part of the book I was excited about. The part of the book I wanted more of. Every time I got to read a little of one of the Hinterland fairytales I got excited for the book again, only to be a little let down.
What can I say about The Hazel Wood? It just wasn't a book for me. Many of friends have loved it. Actually way more love it than had the same feelings I did. It just didn't work for me. That being said, it may work for you. I will say that I'm really excited there will be a book released of the fairytales. That made me happy to hear. So while I won't be running out to read this again or pick up the sequel, I will be picking up Tales from the Hinterland. Also the cover is a work of art!
What book is the last one you read that didn't live up to your expectations?
Related Posts