Welcome to New to You!
This idea came along last year when I was supporting Lauren Miller's newest book All Things New and I asked Kelsey to read and review Parallel, a book I have read more than once. I didn't really get it going until December when I offered people the chance to sign up to read and review a book that has been a favorite of mine that they have never read. I got a great response and I'm happy to tell you (minus January) you will see a New to You post twice a month.
~~~~~~~~~~~~~~~~~~~~~~
Next up for New to You is Wendy from Book Scents. After years of begging I finally got her to read my all time favorite book (I have read it at least 14 times), Anna and the French Kiss! I won't lie, I was nervous assigning this book to someone. It's hard to hear if someone doesn't love a favorite, but I can happily report Wendy did not let me down, and Anna didn't let her down either. Come check out her review and enter my giveaway for a copy!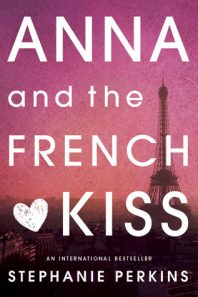 Anna and the French Kiss (Anna and the French Kiss, #1)
by
Stephanie Perkins
Published by
Dutton Juvenile
Published:
December 2, 2010
Buy on Amazon
Add to Goodreads
Anna is looking forward to her senior year in Atlanta, where she has a great job, a loyal best friend, and a crush on the verge of becoming more. Which is why she is less than thrilled about being shipped off to boarding school in Paris--until she meets Étienne St. Clair. Smart, charming, beautiful, Étienne has it all...including a serious girlfriend.

But in the City of Light, wishes have a way of coming true. Will a year of romantic near-misses end with their long-awaited French kiss?
Anna and the French Kiss is one of those quintessential YA books that everyone seems to have read and everyone talks about! Except me! To be honest, I was worried that it would be too fluffy and I wanted to love it like everyone else! The fear of not loving it made me keep putting it off until my good friend Andi laid down an ultimatum on our friendship to have to read it. Just kidding!! I am so glad I finally read it though and I shouldn't have worried about too much fluff at all!
Anna gets sent off to a boarding school in Paris for her senior year and she's not happy about it. As she slowly makes friends though, she begins to fall in love with the city — not to mention a certain boy named Etienne. I have a terrible case of wanderlust and anytime I read books set in different locales, my wanderlust feelings flare. This was no exception! I absolutely loved seeing Paris through Anna's eyes as she gradually goes out and explores the city and sights! She loves film and makes it a point to visit different theaters and I wanted to be there with her! And of course, how better to see a new city than with the swooniest boy at your side?
I LOVED Etienne so so much. I get it now, you guys! The British accent, that certain something that just grabs you from the first second you meet this boy! He is sweet, funny, caring– and has a girlfriend. This is that major something that tripped me up in this book. I couldn't stand how long he was with that girl. She's not actually IN the book a whole lot but I didn't expect him to still be "with" her for the majority of the book! So that aspect kept hanging over me the whole time and I wish it wasn't so!!
However, that aside, I really loved everything else. I liked how real the friendships Anna made at school felt. Sometimes in YA, certain aspects can seem below the age range but everything felt so authentic here. Anna's thoughts and feelings were spot on for a teen senior. I really appreciated that! There is also depth in relationships, both familial and romantic, and much about finding yourself.
I really enjoyed this one so much! A combination of vicariously living abroad through Anna and a dreamy boy made for such a perfect YA contemporary. I can't wait to read the rest of the companion books!

Giveaway ends at 11:59pm EST on April 30, 2018. It is US ONLY!
Thanks Wendy for signing up for New to You and finally listening to me about my favorite book!
My Anna and the French Kiss review.
Have you read Anna and the French Kiss yet?

Related Posts