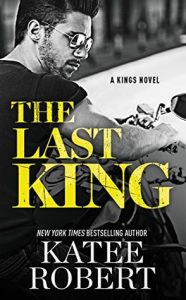 The Last King (The Kings, #1)
by
Katee Robert
Published by
Forever
Published:
April 3, 2018
Buy on Amazon
Add to Goodreads
Ultra wealthy and super powerful, the King family is like royalty in Texas. But who will keep the throne? New York Times bestselling author Katee Robert introduces a red-hot new series.

THE MAN SHE HATES TO LOVE

Beckett King just inherited his father's fortune, his company-and all his enemies. If he's going to stay on top, he needs someone he can trust beside him. And though they've been rivals for years, there's no one he trusts more than Samara Mallick.

The rebel. That's how Samara has always thought of Beckett. And he's absolutely living up to his unpredictable ways when he strides into her office and asks for help. She can't help wondering if it's a legit request or just a ploy to get her into bed. Not that she'd mind either one. After all, she likes to live on the edge too.

But soon the threats to the King empire are mounting, and the two find family secrets darker than they ever imagined and dangerous enough to get them both killed.
Back at the end of January I came across a book on Netgalley that seems like it would be a fun read. I was a little leery because I had tried a different book by the same author and it wasn't for me. But I downloaded it anyway and I was so happy I did. I ended up totally enjoying The Last King. So much in fact I made a fool of myself and went up to the author to tell her how much I enjoyed the book when I was at ApollyCon back in March.
It's hard to pinpoint what I loved the most about this story. It could have been the romance (I seriously loved Beckett and Samara. They had amazing chemistry) or the thriller aspect. Whatever it was it all worked really well for me and I found myself pretty captivated by the whole book in general. They was just something that clicked for me and now I want it to click for you as well.

The publisher has kindly offered to allow me to give out two copies of The Last King by Katee Robert. This giveaway is opened to the US and Canada and will be shipped by the publisher so your address will be shared with them. Giveaway will go until May 6, 2018 at 11:59pm EST.
Related Posts