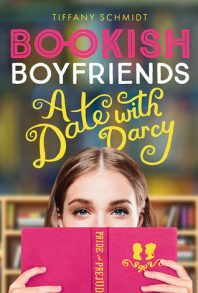 A Date with Darcy
by
Tiffany Schmidt
Series:
Bookish Boyfriends #1
Published by
Amulet Paperbacks
Published:
May 1, 2018
Buy on Amazon
Add to Goodreads
Boys are so much better in books. At least according to Merrilee Campbell, fifteen, who thinks real-life chivalry is dead and there'd be nothing more romantic than having a guy woo her like the heroes in classic stories. Then she, her best friend, Eliza, and her younger sister, Rory, transfer to Reginald R. Hero Prep—where all the boys look like they've stepped off the pages of a romance novel. Merri can hardly walk across the quad without running into someone who reminds her of Romeo.

When the brooding and complicated Monroe Stratford scales Merri's trellis in an effort to make her his, she thinks she might be Juliet incarnate. But as she works her way through her literature curriculum under the guidance of an enigmatic teacher, Merri's tale begins to unfold in ways she couldn't have imagined. Merri soon realizes that only she is in charge of her story. And it is a truth universally acknowledged that first impressions can be deceiving . . .
I received this book for free in exchange for an honest review. This does not affect my opinion of the book or the content of my review.
I'm going to start by saying I have read a couple of books by Tiffany Schmidt, and I have met her in person. Bookish Boyfriends is probably the most Tiffany book I have ever read. It felt like she was reading the book too me instead of me reading it and it was perfect. I don't even know how to describe just how perfect it was.
Bookish Boyfriends is the story of Merrilee, a new transfer student (along with her BFF, Eliza and sister, Rory), to Hero High. Having been in all girl school Merri is ready to go to a co-ed school and live out the fantasies she has been reading in books for years. She is ready to hold a breath she didn't know she was holding, swoon, have her heart skip a beat. She wants it all. But when Merri finds some of her book fantasies actually coming true and things just aren't as she thought they would be she starts to wonder if life is really better in books.
What I loved most about Merrilee is she is basically every book nerd that has ever lived. She lives with her nose in a book, believes in the magic and power and storytelling of books, and believes that boys in books are just better than real life. She is a dreamer. She felt like a piece of me so she was easily relatable. But she was also a mess and ALWAYS getting herself in trouble because she lead with that dreamer heart and seemed to miss everything that was right in front of her, especially the most perfect guy for her.
Other things I loved (not including the awkwardly, perfect guy)? Merri's sisters, Rory and Lilly, and her best friend Eliza. These ladies were the perfect counterpart to Merri's crazy. The 4 of them together, although not in scenes altogether, brought out the best in Merri because they were all so different from her. They were a great supporting cast. They loved her for who she was, dreamer and all, even if they didn't 100% agree with her.
Sorry if this review is all over the place. When I love a book I have trouble finding the right words. What I will leave you with is that I'm not a fan of Austen books and Pride & Prejudice is a part of this story. But I am a fan of Tiffany and Bookish Boyfriends and I'll take her version of Darcy ANY DAY! Just make sure this is on your TBR. You won't be sorry.
Now give me book 2!!!!!!!!!!

Abrams has kindly offered to giveaway a copy of Bookish Boyfriends to a reader of Andi's ABCs. Giveaway is US only and will end at 11:59EST on May 7, 2018.
Is Bookish Boyfriends on your TBR?
Related Posts