As a huge fan of Mary Pearson and her Remnant Chronicles series I was so excited to be asked to join the blog tour for Dance of Thieves (seriously ask someone. I emailed back a nonsensical email in about 30 seconds). I was given the opportunity to ask Mary a question and let me tell you this is harder than you think. I had so much I wanted to ask her about this world she created and how she managed to expand it and make me love it even more. But I finally decided on a question and I'm really happy I asked what I did.
Before we get to that though, let me share a little about the book with you. Also if you haven't read The Remnant Chronicles, you don't *have* to read them before reading Dance of Thieves. But as I have told anyone that has asked me, I highly recommend you do because 1) they are FANTASTIC and 2) you will be spoiled on stuff that happens in that series. So I recommend taking the time to read the other three.
Okay, on to a little about Dance of Thieves: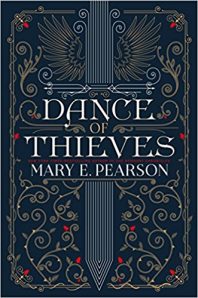 Dance of Thieves (Dance of Thieves, #1)
by
Mary E. Pearson
Published by
Henry Holt and Co. (BYR)
Published:
August 7, 2018
Buy on Amazon
Add to Goodreads
A new novel in the New York Times–bestselling Remnant Chronicles universe, in which a reformed thief and the young leader of an outlaw dynasty lock wits in a battle that may cost them their lives—and their hearts.

When the patriarch of the Ballenger empire dies, his son, Jase, becomes its new leader. Even nearby kingdoms bow to the strength of this outlaw family, who have always governed by their own rules. But a new era looms on the horizon, set in motion by a young queen, which makes her the target of the dynasty's resentment and anger.

At the same time, Kazi, a legendary former street thief, is sent by the queen to investigate transgressions against the new settlements. When Kazi arrives in the forbidding land of the Ballengers, she learns that there is more to Jase than she thought. As unexpected events spiral out of their control, bringing them intimately together, they continue to play a cat and mouse game of false moves and motives in order to fulfill their own secret missions.
Question
Andi: Kazi, from Dance of Thieves, is an amazingly strong female character. She is mysterious and can be cunning when it comes to getting what she wants, much like Lia, from The Remnant Chronicles. But what I loved most about Kazi was her likeability behind it all. How do you balance keeping the character true to herself but making sure your readers can see what is behind the mask? 
Answer
Mary Pearson: I think most everything always goes back to motivations. Why does a character do what she does? I tried to lay that groundwork—those "behind the mask" moments—so even when Kazi is stealing something as simple as oranges, we understand why she is doing it, from both her present circumstance and her past one.  I think understanding that motivation allows us to root for her.
Most of the time, even when Kazi is doing something questionable, she is grasping for some kind of justice, to tip the balance of power just a bit, and I think justice is something we can all root for.
I'm glad you found her lovable. I have a huge soft spot for her and what she's been able to accomplish in spite of her horrific beginnings. She is a very different kind of hero from Lia.  Lia had to give everything up to achieve her goals, but Kazi never had anything to begin with—not even a home or family.  Instead, Kazi was a survivor, and learned to make use of what she had—her drive, her hunger, and her ingenuity—and she turns those things into a powerful force to help herself and others. And she learns to tell a good riddle too ; )
~~~~~~~~~~~~~
Have you read any of Mary's amazing books? (spoiler alert…DO IT!)
Related Posts