Today is the last day for ARC August and I'm really proud of my accomplishments. On a personal level my August didn't go as planned and I didn't have as much reading time as I thought I would. Life unfortunately got really hard in the middle of the month and reading time was a struggle. But when all is said and done I read 7 full books (8 if you count the book that is out next year that I read to help an author out that but isn't on Goodreads) and am in the middle of Six of Crows. Not too bad if you ask me.
Here are my mini reviews for all 7 completed books:
These Things I've Done
by
Rebecca Phillips
Published by
HarperTeen
Published:
August 1, 2017
Buy on Amazon
Add to Goodreads
Before: Dara and Aubrey have been inseparable since they became best friends in sixth grade. Dara is the fearless one, Aubrey the prodigy, yet despite their differences they support each other unconditionally. However, as they begin their sophomore year of high school, cracks in their friendship begin to form, testing the bond they always thought was unbreakable.

After: It's been fifteen months since the accident that killed Aubrey, and not a day goes by that Dara isn't racked with guilt over her role in her best friend's death. Now, after spending a year away from home in order to escape the constant reminders of what happened, Dara is back at her old high school to start her senior year. Dara thought the worst thing about coming home would be confronting the memories of Aubrey that relentlessly haunt her, but she soon realizes it's not half as difficult as seeing Ethan, Aubrey's brother, every day. Not just because he's a walking reminder of what she did, but because the more her feelings for him change, the more she knows she's betraying her best friend one final time.
I received this book for free in exchange for an honest review. This does not affect my opinion of the book or the content of my review.
I don't think I have the words to talk about how much I loved this book. I'm actually really mad at myself for waiting so long. I downloaded this book over 550 days ago and am ashamed of myself for taking so long. The writing was fantastic, the story was amazing, and the characters were perfect. It was the perfect storm for me. Everything that I love in a book was there. My heart broke for Dara and all the blame she put on herself for an accident. It was heartbreaking to read, but it was also beautiful to see her build herself back up and be the Dara she was before tragedy struck her. And let's not forget how adorable Ethan was! Definitely a book everyone needs to check out. I highly recommend it!
Far from the Tree
by
Robin Benway
Published by
HarperTeen
Published:
October 3, 2017
Buy on Amazon
Add to Goodreads
A contemporary novel about three adopted siblings who find each other at just the right moment.

Being the middle child has its ups and downs.

But for Grace, an only child who was adopted at birth, discovering that she is a middle child is a different ride altogether. After putting her own baby up for adoption, she goes looking for her biological family, including—

Maya, her loudmouthed younger bio sister, who has a lot to say about their newfound family ties. Having grown up the snarky brunette in a house full of chipper redheads, she's quick to search for traces of herself among these not-quite-strangers. And when her adopted family's long-buried problems begin to explode to the surface, Maya can't help but wonder where exactly it is that she belongs.

And Joaquin, their stoic older bio brother, who has no interest in bonding over their shared biological mother. After seventeen years in the foster care system, he's learned that there are no heroes, and secrets and fears are best kept close to the vest, where they can't hurt anyone but him.
I received this book for free in exchange for an honest review. This does not affect my opinion of the book or the content of my review.
After reading Robin Benway's book Emmy & Oliver I was so excited for her next book. Why I waited over a year to read it I have no idea. It was everything I expected from Robin. It was touching and moving and broke my heart (you will notice a theme in some of the ARC August books I read). How these three siblings were separated by something beyond their control and managed to find one another was just beautiful. They each lived very different lives, raised very differently, yet they managed to find a way to connect and support one another. I loved seeing how they supported one another even when they were dealing with stuff themselves. Honestly my only complaint was that the book wasn't written in 1st person for each of the three main characters. But besides that another book I would definitely recommend. Be prepared to cry.
When It's Right
by
Victoria Denault
Published by
Forever Yours
Published:
August 14, 2018
Buy on Amazon
Add to Goodreads
IT'S ALL A MATTER OF TIMINGGriffin Sullivan is handling the ultimate balancing act. Between being a single dad to an active six-year-old and the crazy demands of his job as a hockey coach, finding love is not in the cards. But when the team's goalie is rushed to the ER, he's immediately captivated by the gorgeous, sassy nurse on duty... who just happens to be the sister of one his players.

Sadie Braddock has always had a big, open heart and a bit of a wild side. But since her dad got sick, she's closed herself off to life and love. Relationships are way too complicated - and so is Griffin. He's also funny and tender and sexy as hell. How can something that feels so right come at the worst time ever? Then again, someone to lean on may be exactly what they each need - if they're only brave enough to take the risk.
I received this book for free in exchange for an honest review. This does not affect my opinion of the book or the content of my review.
The Braddock family is by far one of my favorite families in fiction. I fell in love with them when I read Slammed and that love has only grown stronger after reading When It's Right. What I love about this family is how funny and supportive they are of one another. They are going through a really hard time yet they still manage to find something to laugh about or celebrate. And watching Griffin and Sadie fall for each other was definitely something to celebrate, especially since Sadie takes on so much of the burden for her family. I laughed and even cried reading this fun hockey themed romance. This is a series I would say you need to pick up. I still need to read book 1, but 2 and 3 ae fantastic!
Girl Out of Water
by
Laura Silverman
Published by
Sourcebooks Fire
Published:
May 2, 2017
Buy on Amazon
Add to Goodreads
Anise Sawyer plans to spend every minute of summer with her friends: surfing, chowing down on fish tacos drizzled with wasabi balsamic vinegar, and throwing bonfires that blaze until dawn. But when a serious car wreck leaves her aunt, a single mother of three, with two broken legs, it forces Anise to say goodbye for the first time to Santa Cruz, the waves, her friends, and even a kindling romance, and fly with her dad to Nebraska for the entire summer. Living in Nebraska isn't easy. Anise spends her days caring for her three younger cousins in the childhood home of her runaway mom, a wild figure who's been flickering in and out of her life since birth, appearing for weeks at a time and then disappearing again for months, or even years, without a word.

Complicating matters is Lincoln, a one-armed, charismatic skater who pushes Anise to trade her surfboard for a skateboard. As Anise draws closer to Lincoln and takes on the full burden and joy of her cousins, she loses touch with her friends back home – leading her to one terrifying question: will she turn out just like her mom and spend her life leaving behind the ones she loves?
I received this book for free in exchange for an honest review. This does not affect my opinion of the book or the content of my review.
I don't know if it was because of things going on in my personal life when I read this or if it was a mood I was in, or what, but although I enjoyed Girl Out of Water, something felt like it was missing. I loved the characters, especially the twins, but something just didn't click with me. Don't get me wrong, the book was enjoyable and a quick read. I didn't struggle to pick it up, I actually wanted to read more. It just felt like something wasn't there which disappointed me because I was really looking forward to this one. Lincoln was by far the best of all the awesome characters. He was just a good, solid, stand-up guy and exactly what Anise needed when she was kind of lost. All in all I enjoyed this one. Not a favorite, but still a really well done book. You should check it out.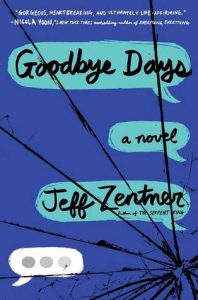 Goodbye Days
by
Jeff Zentner
Published by
Crown Books for Young Readers
Published:
March 7, 2017
Buy on Amazon
Add to Goodreads
What if you could spend one last day with someone you lost?

One day Carver Briggs had it all—three best friends, a supportive family, and a reputation as a talented writer at his high school, Nashville Academy for the Arts.

The next day he lost it all when he sent a simple text to his friend Mars, right before Mars, Eli, and Blake were killed in a car crash.

Now Carver can't stop blaming himself for the accident, and he's not the only one. Eli's twin sister is trying to freeze him out of school with her death-ray stare. And Mars's father, a powerful judge, is pressuring the district attorney to open a criminal investigation into Carver's actions.

Luckily, Carver has some unexpected allies: Eli's girlfriend, the only person to stand by him at school; Dr. Mendez, his new therapist; and Blake's grandmother, who asks Carver to spend a Goodbye Day with her to share their memories and say a proper goodbye to his friend.

Soon the other families are asking for a Goodbye Day with Carver, but he's unsure of their motives. Will they all be able to make peace with their losses, or will these Goodbye Days bring Carver one step closer to a complete breakdown or—even worse—prison?
I received this book for free in exchange for an honest review. This does not affect my opinion of the book or the content of my review.
This was my first time reading a Jeff Zentner book and it won't be my last. Goodbye Days was a super powerful book. It was an emotional journey of guilt and grief and loss and how to move on with life after a tragedy. Carver broke my heart for about 99% of the book. He was just wracked with so much guilt and couldn't see a way about of it. On top of that he had no friends anymore and was under a constant microscope at school or home. He was slowly drowning and it was heartbreaking. But it was also uplifting to see him slowly dig himself out of the dark hole he had made for himself. It really was an excellent story and one I'm so happy to have read.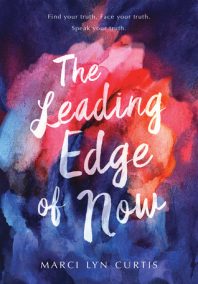 The Leading Edge of Now
by
Marci Lyn Curtis
Published by
Kids Can Press
Published:
September 4, 2018
Buy on Amazon
Add to Goodreads
Just when Grace is beginning to get used to being an orphan, her estranged uncle suddenly comes forward to claim her. That might have been okay if he'd spoken to her even once since her father died. Or if moving in with Uncle Rusty didn't mean returning to New Harbor.

Grace once spent the best summers of her life in New Harbor. Now the place just reminds her of all she's lost: her best friend, her boyfriend and any memory of the night that changed her forever.

People say the truth will set you free, but Grace isn't sure about that. Once she starts looking for it, the truth about that night is hard to find --- and what happens when her healing hurts the people she cares about the most?
When a friend asked if I wanted to take part in a book tour for this book I said sure. It sounded like a good book and I had been meaning to read the author. I really had no idea how the book would be, but I can happily report it was really fantastic. It had everything I love in a good realistic contemporary book. My heart really felt for Grace and everything that she had been through over a two year period. How alone and confused she must have felt and how her world unraveled  shortly after the worst night of her life. It was hard to see her go through all the things she went through and finding out things she thought were true for so long might not have been. But I loved everything about Grace and how strong she was. My only complaint was I thought there were too many smaller stories building on the outskirt that weren't important and were a little distracting. But besides that, this book was truly amazing and a must read for any YA contemporary lover.
Wait for Me
by
Caroline Leech
Published by
HarperTeen
Published:
January 31, 2017
Buy on Amazon
Add to Goodreads
The perfect blend of sweet romance and historical flavor, Wait for Me, from debut author Caroline Leech, brings a fresh new voice to a much-loved genre.

It's 1945, and Lorna Anderson's life on her father's farm in Scotland consists of endless chores and rationing, knitting Red Cross scarves, and praying for an Allied victory. So when Paul Vogel, a German prisoner of war, is assigned as the new farmhand, Lorna is appalled. How can she possibly work alongside the enemy when her own brothers are risking their lives for their country?

But as Lorna reluctantly spends time with Paul, she feels herself changing. The more she learns about him—from his time in the war to his life back home in Germany—the more she sees the boy behind the soldier. Soon Lorna is battling her own warring heart. Loving Paul could mean losing her family and the life she's always known. With tensions rising all around them, Lorna must decide how much she's willing to sacrifice before the end of the war determines their fate.
I received this book for free in exchange for an honest review. This does not affect my opinion of the book or the content of my review.
I think my hopes were too high for this one. After waiting about 2 years to read it I think I expected something it wasn't and I ended up disappointed. Don't get me wrong, it was good enough, but I was bored a lot of the time reading it but that could be on me. I think I was excited thinking I would get Summer of my German Solider (which I LOVED when I read it many, many years ago) but I didn't feel the same love in Wait for Me. It did have its good moments for sure. There were parts I didn't want to end because they were great, but there were just too many slow moments for my liking. All in all it wasn't a terrible book, but not one I would reach for again. I do think you should check it out for yourself. Maybe if your expectations aren't so high it will be a hit for you.
~~~~~~~~~~~~~~~~~~~~
So far Six of Crows is great! I know I won't finish it today, but just wanted to mention that I'm loving it. I also did pretty okay on my Bingo card and got two bingos. (I counted Six of Crows as the start of a series and I considered I made my goal because I think I did well for the month I had:
How did you do in ARC August? Huge shout out to Read. Sleep. Repeat for hosting!
Related Posts