Welcome to New to You!
This idea came along last year when I was supporting Lauren Miller's newest book All Things New and I asked Kelsey to read and review Parallel, a book I have read more than once. I didn't really get it going until December when I offered people the chance to sign up to read and review a book that has been a favorite of mine that they have never read. I got a great response and I'm happy to tell you (minus January) you will see a New to You post twice a month.
~~~~~~~~~~~~~~~~~~~~~~
Next up for New to You is Amber from YA Indulgences. She will be reviewing a book that made me fall in love with dystopian stories when I was binging everything YA I could get my hands on. Let's see what Amber thought about Delirium by Lauren Oliver: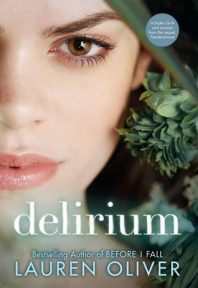 Delirium
by
Lauren Oliver
Series:
Delirium #1
Published by
HarperTeen
Published:
August 2, 2011
Buy on Amazon
Add to Goodreads
Ninety-five days, and then I'll be safe.I wonder whether the procedure will hurt.I want to get it over with.It's hard to be patient.It's hard not to be afraid while I'm still uncured, though so far the deliria hasn't touched me yet.Still, I worry.They say that in the old days, love drove people to madness.The deadliest of all deadly things: It kills you both when you have it and when you don't.
CW: Suicide mentions, animal death
My first Lauren Oliver book was Before I Fall, I've owned Delirium for years. I was happy when I was finally given a reason to read it with Andi's feature.
The first and only dystopian novel I ever read was The Hunger Games and even then I didn't read Mockingjay. Delirium has a really interesting premise with not wanting people to feel love. I thought this aspect while fascinating ended up being a bit meh.
Love is described as having negative effects and even causing death. Due to this, once teenagers are eighteen, they are given a cure to stop it. In addition to the cure, they take evaluations for proper marriage "choices". They are given four choices based on their evaluations.
The cure essentially erases people's pasts as well. They don't retain many loving memories from their life before much therefore their lives are dulled. I couldn't really get behind the whole "Let's cure people of love", it seemed too far out there as far as dystopian consequences. It would have made sense to somehow "cure" people from feeling at all rather than just love.
Another issue with Delirium was the insta-love. Somehow in only three meetings, Lena and Alex fall in love. Somehow Lena is so positive towards the cure and in two months is completely against it after her eyes are opened. There's a situation in the book where Lena and Hana (her best friend) talk and I felt like their roles really should have been reversed. I could not get into their relationship at all. I thought some moments were sweet but other than that, not at all believable to me. I liked Lena well enough, I thought she was a decent protagonist. I hate how I liked her more after she got to know Alex. It didn't seem like she could stand on her own feet.
Now, onto the things I enjoyed, the look at the darkness of this world through raids and prisoners. It seemed so real, especially with the world today with protests. I loved Hana a bunch. I'm excited to read the novella involving her. I liked Lena's friendship with Hana. I did love Alex, even if he did seem like a bit of a manic pixie dream boy. I was surprised at the ending which unexpectedly broke me.
Overall, I would rate Delirium three stars. I will definitely read or listen to the follow-ups.
~~~~~~~~~~~~
Thanks Amber for signing up for New to You! Sorry it was not an instant love for you, but that's books for you. Personally I'm a massive fan of the audios for this series and recommend everyone trying them out!
Have you read anything by Lauren Oliver?


Enter to win a Kindle copy of Delirium by Lauren Oliver. Giveaway is US ONLY. Ends 10/12/18 at 11:59pm EST.
Related Posts