Welcome to New to You!
This idea came along last year when I was supporting Lauren Miller's newest book All Things New and I asked Kelsey to read and review Parallel, a book I have read more than once. I didn't really get it going until December when I offered people the chance to sign up to read and review a book that has been a favorite of mine that they have never read. I got a great response and I'm happy to tell you (minus January) you will see a New to You post twice a month.
~~~~~~~~~~~~~~~~~~~~~~
Next up for New to You is Kate from Beyond Bookish. When Kate signed up she mentioned how she heard some really great things about Trish Doller (ALL TRUE!) and how she has been meaning to read her. It was perfect! I love Something Like Normal so much and I hoped she would too. Let's see what Kate had to say: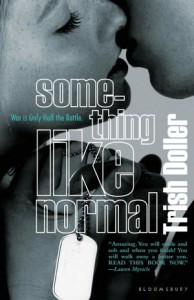 Something like Normal
by
Trish Doller
Published by
Bloomsbury USA Childrens
Published:
June 19, 2012
Buy on Amazon
Add to Goodreads
When Travis returns home from a stint in Afghanistan, his parents are splitting up, his brother's stolen his girlfriend and his car, and he's haunted by nightmares of his best friend's death. It's not until Travis runs into Harper, a girl he's had a rocky relationship with since middle school, that life actually starts looking up. And as he and Harper see more of each other, he begins to pick his way through the minefield of family problems and post-traumatic stress to the possibility of a life that might resemble normal again. Travis's dry sense of humor, and incredible sense of honor, make him an irresistible and eminently lovable hero.
As a school librarian I am constantly looking for stories that introduce my students to different types of characters and experiences. I generally have little issues finding female stories and characters but I constantly struggle reaching boys since many (in my specific experience) either do not like to read, or lean more towards nonfiction and/or sports books. Something Like Normal is an absolutely perfect realistic fiction that will definitely speak to the teens that I work with and has truly made an impact on my reading experience as well!
Here are three reasons to pick up this awesome book!
1. An Unlikely Hero
Travis, while being a typical (albeit flawed) teen is also a combat war veteran. I have never read or heard of a story that has a veteran protagonist in YA and it intrigued me from the very beginning! I knew immediately that Travis was going to be a very special character and I have been book talking him to many of students ever since. Travis is real, complex and complicated and it really shows that you can make mistakes, feel regret but strive to do better. Your mistakes do not define you. I personally identified with him because I felt like I grew up with boys just like him. Boys that went into things with the absolute best of intentions but face the harrowing and real challenges that they must deal with.
2. Imperfect Family and Relationships
Travis is not always painted in the best light but his family and friends certainly have their own issues as well. His father is emotionally abusive and constantly finds fault with his oldest son. Again this can be all too typical for many young people where in they feel their only way to escape is to get as far away as possible. Once Travis comes back home he is dealing with his own demons (plus a not so healthy dose of PTSD) which many of his friends are not sympathetic to, this is just a reality of life and I loved how the author approached it with such a beautiful amount of grace and humility. I certainly do not feel that we as the reader are meant to dislike his friends and family as much as we are to understand that these sort of relationships can be very complex especially surrounding the type of issues that Travis must face.
3. Treatment of Mental Illness
I love it when we get to see proper depictions of mental illness of young people in YA fiction. Even within the best circumstances (which Tyler doesn't necessarily have) things like anxiety and depression can be a real problem and is a huge struggle for a large amount of teens. As someone who struggles with mental illness and family members who deal with PTSD I can understand this stigma surround therapy, medication and other treatments. In Travis's case he feels that he must deal with any issues involving his friend's death as a man and as a soldier which ultimately does not go in his favor. I think this is  probably a common view amongst men and soldiers which makes the barrier to treatment even that more difficult. It is rare to get this perspective in a YA story but I feel it is so important and a necessary piece for young people to see, those dealing with mental illness or not. Doller did a fantastic job of creating a story that is sympathetic but not preachy and allowed for a great journey as Travis continues to grow and learn as he begins to heal.
I could not recommend this novel more! I really am so grateful that Andi allowed me to read and review it. I really suggest this story for anyone serving teens (teachers, librarians, counselors), those struggling with mental illness and especially those who do not feel like they see themselves in what they read. We need more stories like this and I hope Something Like Normal is the catalyst for more amazing stories like it!
Twitter: @beyondbook_kate // Instagram: @beyondbookish // Blog: beyondbookish.com
~~~~~~~~~~~~
Thanks Kate for signing up for New to You. Travis still breaks my heart when I think about him. I'm so happy you loved this gem of a story!
My review of SOMETHING LIKE NORMAL

Giveaway is US only and ends on November 4, 2018 at 11:59pm EST.
Have you ever read any amazing military themed books?
Related Posts