Welcome to New to You!
This idea came along last year when I was supporting Lauren Miller's newest book All Things New and I asked Kelsey to read and review Parallel, a book I have read more than once. I didn't really get it going until December when I offered people the chance to sign up to read and review a book that has been a favorite of mine that they have never read. I got a great response and I'm happy to tell you (minus January) you will see a New to You post twice a month.
~~~~~~~~~~~~~~~~~~~~~~
Next up for New to You is Jennifer from YABookNerd. When Jennifer signed up I knew Second Chance Summer would be the perfect book for her to read. She told me why she put off reading and believe me I understand, but I also knew she would love it. Let's see if I was right: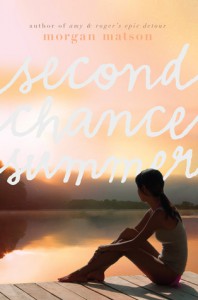 Second Chance Summer
by
Morgan Matson
Published by
Simon & Schuster Books for Young Readers
Published:
May 7, 2013
Buy on Amazon
Add to Goodreads
From the Flying Start author of Amy & Roger's Epic Detour, a powerful novel about hope in the face of heartbreak.

Taylor Edwards' family might not be the closest-knit—everyone is a little too busy and overscheduled—but for the most part, they get along just fine. Then Taylor's dad gets devastating news, and her parents decide that the family will spend one last summer all together at their old lake house in the Pocono Mountains.

Crammed into a place much smaller and more rustic than they are used to, they begin to get to know each other again. And Taylor discovers that the people she thought she had left behind haven't actually gone anywhere. Her former best friend is still around, as is her first boyfriend…and he's much cuter at seventeen than he was at twelve.

As the summer progresses and the Edwards become more of a family, they're more aware than ever that they're battling a ticking clock. Sometimes, though, there is just enough time to get a second chance—with family, with friends, and with love.
The news from Taylor's Dad changed everything. Instead of the summer they planned, the whole family will be spending the summer at the lake house together. The lake house where they once spent every summer before life got in the way. The lake house where everything for Taylor fell apart – including the relationships both her best friend and her first boyfriend.
Now she's back and everything's different and yet the same.She has to face everyone again. Plus she has to face the fact that this is her last summer with her father. As the summer progresses, she must face both her past and her future.
My Thoughts: I adore Morgan Matson, but I put off reading this book because I knew it was going to destroy me. And it did. I made until the last little bit of the book and I bawled like a baby. My puppy grew so concerned that she came over to make sure that I was okay.

But besides the heart wrenching tears, Andi was right, this one is amazing. I loved it. I loved learning about the past and how that influenced the present. I enjoyed the moments at Taylor's job – working with her ex-best friend and trying to navigate those waters. I liked learning how they both had changed in the years apart. I liked the banter between Taylor and Henry. I loved Henry's little brother. I loved the dog and who he inserted himself in to the family. 


I have a hard time reading books that I know will make me cry, but I loved this book. I was sad yet hopeful and of course all about second chances. If you haven't read this one yet, run out to the library and grab it! 



~~~~~~~~~~~~
Thanks Jennifer for signing up for New to You. I'm sorry your puppy was so concerned, but the tears are so worth it.
My review of Second Chance Summer.

Giveaway is US only and ends on November 15, 2018 at 11:59pm EST.
Do you have a book that brings you to tears but you still recommend?
Related Posts