Today for Briefly Romantic I'm reviewing a cowboy romance, a radio jockey romance and a hockey romance. Nothing like a variety of professions to bring on the romance.
~~~~~~~~~~~~~~~~~
Big Bad Cowboy
by
Carly Bloom
Published by
Forever
Published:
October 30, 2018
Buy on Amazon
Add to Goodreads
In the New York Times tradition of Lori Wilde and Carolyn Brown comes the first book in a new western romance series from Forever debut author Carly Bloom about a no-strings cowboy fling with a fairy tale twist.

Who's afraid of the big, bad cowboy?

After one too many heartbreaks, Travis Blake hung up his cowboy hat and put Big Verde, Texas, behind him. But when he gets the call that his young nephew needs him, he knows he has to return home. His plan is to sell the family ranch and hightail it back to Austin, but there's a small problem: the one person who stands in his way is the one person he can't resist.

Maggie is pretty sure she hates Travis Blake. He's irritating, he's destroying her business, and . . . and he's just so frickin' attractive. But when they're forced to work together, Maggie discovers that the Most Annoying Man in the World is more than he seems. He's sweet with his nephew, he helps out in the community, and he makes her heart flutter. Maggie doesn't want to risk everything on a man who wants to leave, but what if she can convince this wayward cowboy to stay?
I received this book for free in exchange for an honest review. This does not affect my opinion of the book or the content of my review.
Big Bad Cowboy is 100% a mix of fairytale magic and You've Got Mail all in one little book package. It was a really fun story but a tad heavier in the serious aspect than some of the other romance books I have read in the past. Travis and Maggie had fantastic chemistry and I loved little Henry. He was a nice addition of comic relief a lot of the time. I also enjoyed the core group of supporting characters. If I had to complain about a thing or two I would have to say the pacing at the end was a little abrupt and I wish that Travis and Maggie fought a little more than they did because I love a good love/hate kind of story. All in all I enjoyed myself reading it and got wrapped up in parts (I almost missed my train stop). I recommend picking this up for a fun, quick read.
~~~~~~~~~~~~~~~~~
Tell Me Something Good
by
Jamie Wesley
Published by
Createspace Independent Publishing Platform
Published:
August 11, 2014
Buy on Amazon
Add to Goodreads
Two radio show hosts. One show. Who will come out on top? In a moment of restlessness, Tate Grayson sold his multimillion-dollar company and spun his love of sports into a radio talk show. Life, and love, is too short to take seriously-a fact he enjoys rubbing in uptight radio host Noelle Butler's face. After the death of her parents, a tragedy she blamed on herself, Noelle vowed to live a controlled, focused life. Now a psychologist, she channels her need for connection into her radio show. But when the arrogant sportscaster next door tells listeners men shouldn't get married, she's all too happy to yank the silver spoon out of his overprivileged mouth. Their heated on-air arguments are a hit, but when the station director forces them to do a joint show for two weeks, Tate and Noelle object. They can't stand each other, despite the attraction sizzling beneath every interaction. But if they can't pull the struggling radio station back from the brink, they'll lose their jobs. Or worse, their hearts.
Tell Me Something Good was a fun story and a very quick read. It played up the enemy to love troupe very well and the banter and flirting between Noelle and Tate was spot on. I would say I enjoyed myself for about 80% of the book and then every cliché imaginable seemed to creep into the book and it pulled me out of the story a little and made me just want to get to the end. Don't get me wrong, it wasn't terrible and I certainly didn't hate it, I just thought it had so much more potential. In the end I would say though to get it if you aren't in the mood for anything too serious and something you can read in a day or even a few hours if you have the time.
~~~~~~~~~~~~~~~~~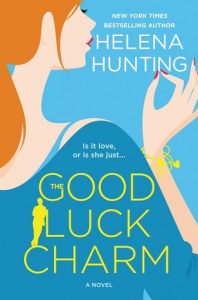 The Good Luck Charm
by
Helena Hunting
Published by
Forever
Published:
August 7, 2018
Buy on Amazon
Add to Goodreads
Experience the hilarity and heartache of first love and second chances in a sexy new romantic comedy from the New York Times bestselling author of the Pucked series.

Lilah isn't sure what hurt worse: the day Ethan left her to focus on his hockey career or the day he came back eight years later. He might think they can pick up just where they left off, but she's no longer that same girl and never wants to be again.

Ethan wants his glory days back. And that includes having Lilah by his side. With her, he was magic. They were magic. All he has to do is make her see that.

Just when Lilah might finally be ready to let Ethan in, though, she finds out their reunion might have nothing to do with love and everything to do with improving his game. But Ethan's already lost her once, and even if it costs him his career, he'll do anything to keep from losing her again.
I received this book for free in exchange for an honest review. This does not affect my opinion of the book or the content of my review.
The Good Luck Charm was a really fun second chance romance story that surrounded around my other romance love, hockey. I swooned a lot reading this one and found Ethan and Lilah to have great chemistry. Honestly I wanted a whole book dedicated to their backstory when I was done. There was a minor part at the end that I wasn't crazy about, but all in all it was a sexy, light, romance read. If you love sports romances mixed with second chance romance, this book is for you!
~~~~~~~~~~~~~~~~~
Do you have a current favorite romance? Share in the comments!
Related Posts