I am so super excited to kick off a series of posts that will happen over the next few months. Back in September I was contacted by a group called Class of 2k19 Books. They wanted to see if I was interested in working with any of the debut authors on their list. I was immediately taken with quite a few and wrote back, maybe scream shouted, that I would love to be a part of it and so began my journey.
I won't lie, I was in a blogging slump and having this new blood reach out helped a lot. It added a spark to my blogging life that was missing and I can't wait to share my thoughts and some guest posts from these fabulous ladies that I have been working with for the past few months.
For my second debut author I have RuthAnne Snow who's book, When the Truth Unravels comes out on 1/8/19
~~~~~~~~~~~~~~~~
1)      Congratulations, RuthAnne! How exciting to have your debut novel coming out! Anyway, where did the idea to write When the Truth Unravels come from?
A lot of different factors played into the idea, actually! I had been wanting to write a friendship book, because I feel like there are not enough positive female friendship books out there. I am fully on Team More Friendship Books, haha. And I had also read THIRTEEN REASONS WHY, which affected me a lot. I think there are a lot of things that book does right and quite a few issues that could be better. So tackling the topic of suicide and how it impacts people on all these different levels, while also wanting to center the experience of the person who is having these ideations and engaging in these behaviors, was on my mind. And then one day, these four girls just popped into my head and I took it from there.
2)      I am always so impressed by authors that write whole stories that essentially take place over one day (flashbacks aside). Was that always something you wanted to do or did it just work out for this particular book?
I also love those books! Ha. I definitely had the goal to keep most of the action on one day with this book the entire time, and I probably will try that again someday, but I will probably steer away from attempting broken timelines/four narrators ever again. I love this book and I am so excited for people to read it, but it was a bear to edit and revise and I have no one to blame for that but myself.
3)      I admit at times I struggle when there are a lot of voices narrating a story. This wasn't the case with When the Truth Unravels. I truly loved all of the girls voices, Rosie and Ket my favorites. Did you have a favorite girl to write for or did they all just come to you organically?
I'm so glad you loved them! I love them too. I really just adore all of them in different ways. I love how funny Ket is, how she bounces back from some pretty bad decisions. I love how ambitious and unapologetically bright Jenna is. I love Rosie and all her awkwardness and I just want to tell her, "College is going to be sooo much better for you, kid." And of course I adore Elin. How can you not just want to give her a hug? And I just love the friendship between the four of them (and Teddy). (I hope that "and Teddy" didn't sound too "and Peggy." It should sound like, "And Teddy!") 
4)      Elin's suicide attempt and the secret behind it is the backbone to the story. How much research did you have to do to make sure the story was told right?
Lots. I really, really wanted to make sure that piece was right–knowing, of course, that everyone's experiences with mental health are as unique as every individual person is and there's no way that any one story can represent all those experiences. That said, I really wanted things to feel true, feel realistic. I didn't want to fall into the cognitive bias of, "Well, this is how *I* experience and perceive certain things and therefore my experience is right." I talked to therapists, academic researchers, people who have had different experiences with mental health. It definitely shaped and informed how I saw Elin and her story and how it impacts her friends and family.
5)      Can you tell us what you are working on now?
No. Haha, sorry. I am seriously the most superstitious writer ever! I hate talking about projects before they're done, except with CPs and my agent. It just feels like I'm jinxing myself! But I will say, I think the vibe will be similar — finding the heartfelt and funny moments in a very serious situation.
6)       Lastly I always ask this question.  What is the one item of clothing or accessory that you could never live without? Basics aside of course.
Oooh, this is such a good question. Hair ties probably count as basics, yeah? I will go with my right hand ring. (Sorry to my husband that I picked the right hand ring instead of my engagement ring, haha.) I bought it for myself for Valentines Day one year when I was single and on the verge of being very mopey, and ever since it's been a good reminder to me that, even though I am blessed to have great friends and a great partner and a great family, I am also pretty great on my own. And I think sometimes everyone needs a little reminder that they are enough. 
~~~~~~~~~~~~~~~~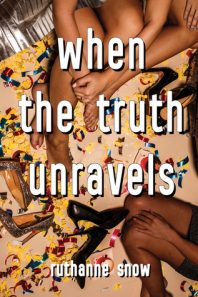 When the Truth Unravels
by
RuthAnne Snow
Published by
Sky Pony
Published:
January 8, 2019
Buy on Amazon
Add to Goodreads
Last month, Elin tried to kill herself.

She knows she's lucky that her parents found her in time. Lucky to be going to prom with her three best friends, like any other teen. Like it never happened. And if she has anything to say about it, no one but her best friends will ever know it did.

Jenna, Rosie, and Ket will do anything to keep Elin's secret--and to make sure it never happens again. That's why they're determined to make prom the perfect night. The night that convinces Elin that life is worth living.

Except, at prom, Elin goes missing.

Now it's up to her friends to find her. But each of the girls has her own demons to face. Ket is being blackmailed by an ex. Rosie is falling in love for the first time. And Jenna . . .

Jenna is falling apart.

And no one, not even her best friends, knows why.

Heart-wrenching and utterly impossible to put down, When the Truth Unravels follows four friends as they confront their greatest hopes and darkest secrets during one life-changing night.
A huge thanks to RuthAnne for taking the time to answer my questions. Make sure you check out When the Truth Unravels when it is released in January!
Related Posts